Two ingredient no churn Banana Fudge Swirl Ice Cream made without cream or eggs and swirled with hot fudge sauce makes an effortless dessert to beat the summer heat.

Bananas are such a mysterious superfruit. I remember in the Honey I Shrunk The Kid movies, the one kid had some kind of health issue and didn't have his medicine. They had him eat a banana because it was high in potassium (which he lacked). Then in college, my roommate had a UTI, and her doctor highly recommended eating bananas to help with it. And now, bananas allow you to make ice cream without the cream part. Crazy, right? But it's true, and I have proof. Check out my Banana Fudge Swirl Ice Cream. If you ignore the hot fudge sauce, this ice cream may actually be healthy.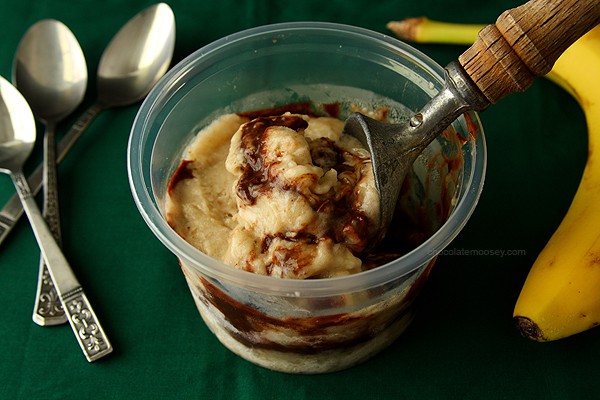 The trick to this creamless ice cream is pureeing frozen banana slices, so this ice cream does take a little bit of planning ahead. Make sure your bananas are on the brown side because of the sweetness; any sign of green may not produce best results. If your mixture is still a little crumbly after processing, just smush the pieces together to form smooth ice cream.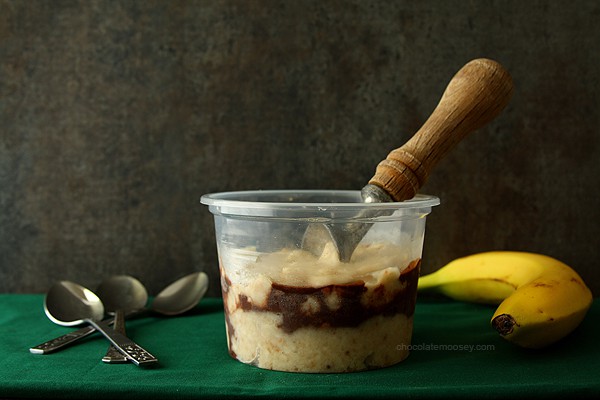 There were so many directions I could have went with banana ice cream. Caramel? Peanut Butter? Chocolate? I went with hot fudge sauce because I had some left over in the fridge. You can either layer it with the ice cream when you put it in a storage container or you can pour it over top when serving in bowls.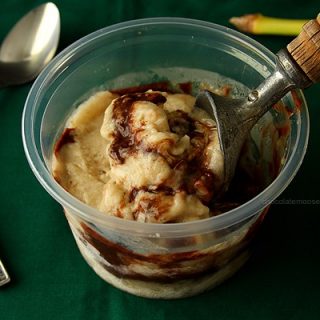 Banana Fudge Swirl Ice Cream
Ingredients
2 cups sliced bananas, frozen (roughly 2 overripe medium bananas)
1/4 cup hot fudge sauce (homemade or store bought)
Instructions
Process the frozen banana slices in a food processor for a few minutes until smooth (if the mixture is too crumbly and won't smooth out, press the mixture together and it'll smooth out). Spoon half of it into a freezer-proof bowl. Pour the fudge sauce on top. Spoon the rest of the ice cream on top. Freeze for at least an hour before serving.
Notes
© Chocolate Moosey. All images and content are copyright protected. Please do not use my images without prior permission. If you want to republish a recipe, please rewrite it in your own words or link back to the post for the recipe.
If you liked my Banana Fudge Swirl Ice Cream, then you may also like these recipes:
From me: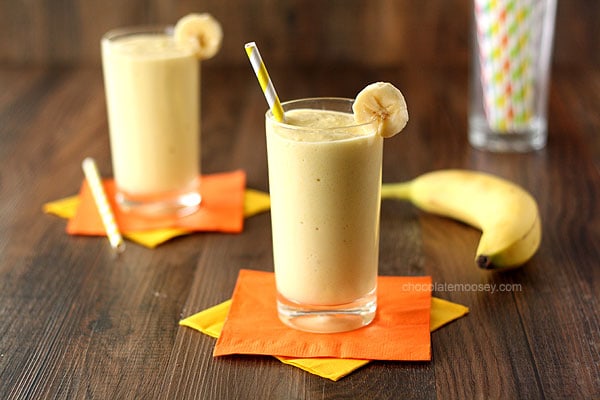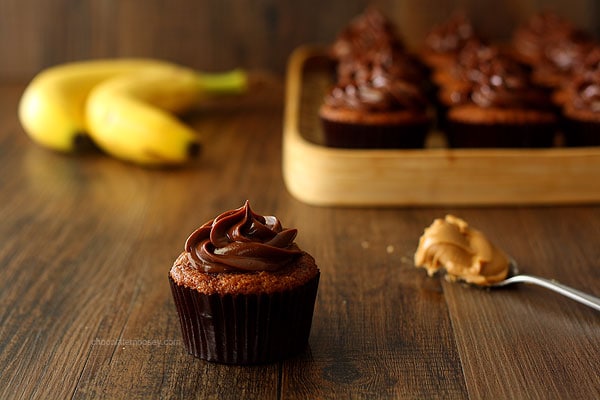 From others: