Chocolate Peanut Butter Squares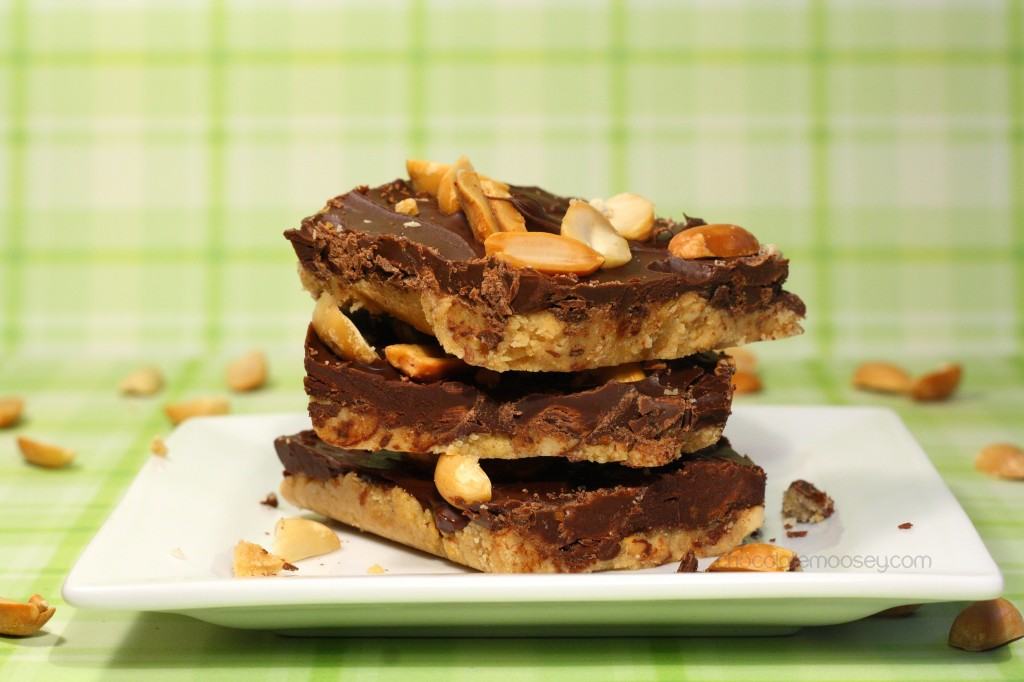 Today is Sunday and do you know what that means? #SundaySupper time! About one month ago when I made the
Bacon and Dried Cherry Chocolate Chip Cookies
, the #SundaySupper group teamed up with Katie Workman,
author of The Mom 100 Cookbook
. Today we are back in the kitchen with Katie! And I made her Chocolate Peanut Butter Squares – a layer of creamy peanut butter goodness topped with a thick, teeth-sinking layer of chocolate.

The purpose of The Mom 100 is to provide fresh and quick recipes for parents to prepare with kids. I'm not a mom, but fresh and quick still applies to me because I work full-time during the week. My rule is dinner must be ready within an hour after getting home. In this case, it's dessert. I woke up an hour early before work, made these Chocolate Peanut Butter Squares, put them in the fridge, then went to work (with chocolate on my arm). When you need a last-minute treat, these bars are it. Yes, it takes an hour to chill, but it's one less thing to worry about when you are running around doing a million things.
I modified the recipe ever so slightly by adding peanuts on top while the chocolate was still hot. I like reemphasizing that these are peanut butter. The chocolate layer was my favorite part, mainly because it's so thick, it literally cracks like a magic shell when you bite into it. I had plans to take extras into work Monday, but Dad and I kept eating them all weekend…
Chocolate Peanut Butter Squares
Ingredients
Peanut Butter Layer:
5 tablespoons unsalted butter, room temperature
1/4 cup brown sugar
1 1/4 cups powdered sugar
3/4 cup creamy peanut butter
1/4 cup graham cracker crumbs
Chocolate Layer:
1 Tbsp unsalted butter, softened
2 cups semisweet chocolate chips
1 cup salted peanuts, chopped
Instructions
Lightly grease a 9-inch square pan with cooking spray.
For the peanut butter layer: In a large bowl, beat together butter, brown sugar, powdered sugar, peanut butter, and graham cracker crumbs until well-combined (it may still be a bit crumbly). Press the peanut butter layer into the pan as evenly as possible.
For the chocolate layer: Boil water in a medium saucepan. When the water is boiling, place a heatproof bowl on top.
Add the chocolate chips and butter and melt, stirring frequently.
Remove the bowl from the heat and evenly spread it on top of the peanut butter layer. Top with peanuts. Cover with plastic wrap (don't let it touch the chocolate layer. Use toothpicks if necessary) and refrigerate until firm, about 1 hour. Cut into squares before serving.
Source:
The Mom 100 Cookbook
This post may contain affiliate links. As an Amazon Associate and member of other affiliate programs, I earn from qualifying purchase.