Tomato, Spinach, and Goat Cheese Pasta
This stovetop Tomato, Spinach, and Goat Cheese Pasta is a summer mac and cheese recipe that can be ready in 30 minutes.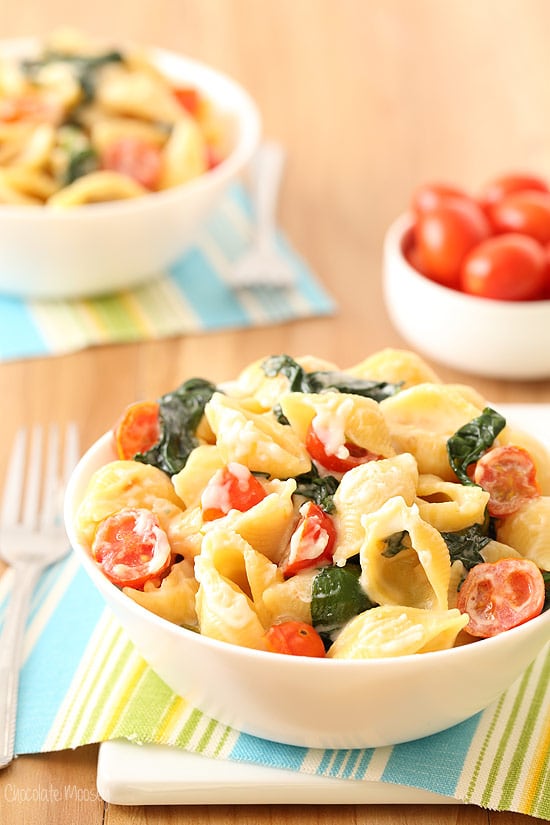 Now that we're halfway through summer, I realized I haven't made it to many farmer's markets. I used to be all about them, trying to find the best one in the area.
Last summer with having only a month left of summer when I moved, I went to a few in Pittsburgh, and to be honest, I wasn't completely happy with them.
Some only had 3-5 vendors. Others had more vendors, but they were also selling homemade salsas or candles.
I'm happy to support local businesses, but when I go a farmer's market, I want fresh produce, maybe a cookie or two if I'm hungry for a snack.
I'm going to be totally honest – part of the reason I haven't gone this year is I haven't been very motivated lately with my cooking.
Last year I made a goal to start menu planning so I'm not stuck wondering what's for dinner. I was pretty good at keeping up, but for the past few months I've slacked big time.
Lately I don't know what I'm making for dinner until an hour before, and even then I still don't know what to make. Now it's time for me to turn it around and start menu planning again.
When it comes to summer cooking, I think of two things – fresh produce and quick stovetop cooking.
I still use my oven during the summer as I have central air conditioning, but I prefer not to if I can avoid it. Plus if I cook at my parents, it's usually pretty hot in their kitchen.
One of my go to stovetop dinners is pasta, especially if a homemade cheese sauce is involved. Who doesn't love a good mac and cheese?
Although you may think of mac and cheese as winter comfort food, you can totally enjoy it in the summer too. I summer-ized this Tomato, Spinach, and Goat Cheese Pasta with ingredients you can find at most farmer's markets.
Best part is it's ready in 30 minutes, so you don't have to spend much time cooking in front of a hot stove.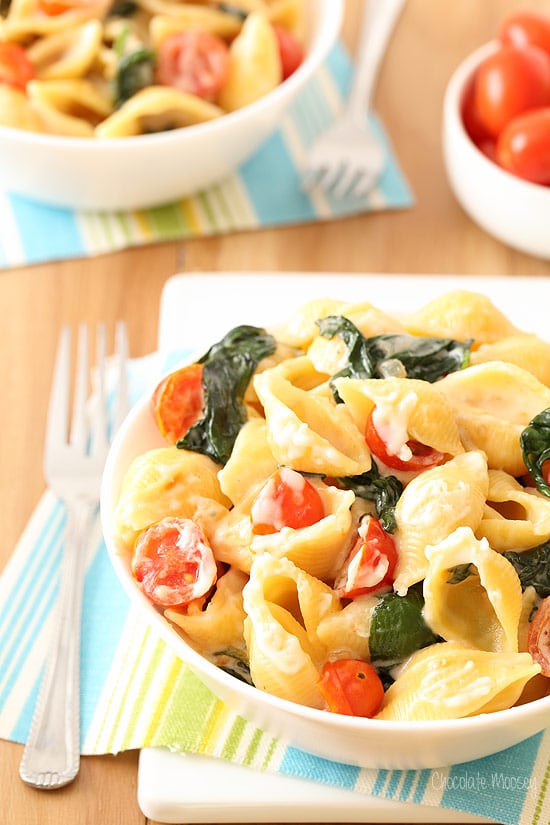 What I love about cooking pasta is you can use almost any produce you have on hand.
Sometimes I'll add mushrooms and carrots when cooking the onions. Or I'll use Swiss chard instead of spinach.
Sometimes I might have regular tomatoes instead of grape, so I just chop them up into bite-sized pieces.
If I'm out of goat cheese, I'll use cream cheese. Or I may throw in shredded mozzarella. The idea is getting dinner on the table quickly using what you have on hand.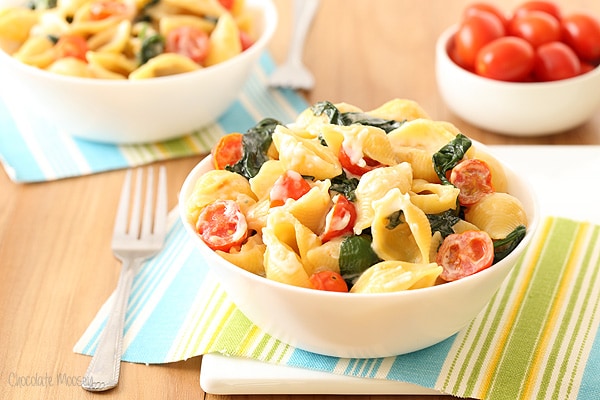 Chances are you'll have a lot of fresh spinach in the bag leftover. Instead of letting it go to waste, here are ways to use up spinach.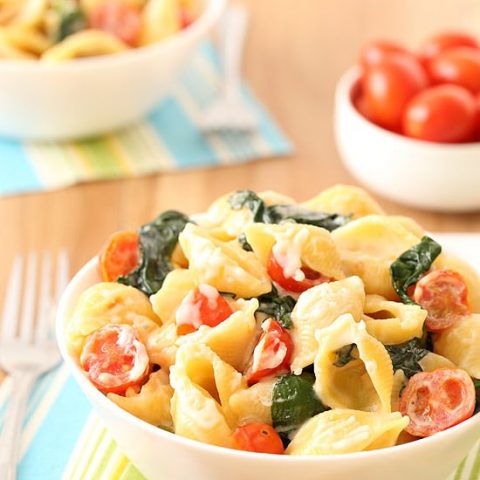 Tomato, Spinach, and Goat Cheese Pasta
Yield: 4 servings
Prep Time: 15 minutes
Cook Time: 15 minutes
Total Time: 30 minutes
This stovetop Tomato, Spinach, and Goat Cheese Pasta is a summer mac and cheese recipe that can be ready in 30 minutes.
Ingredients
1/2 pound (8 ounces) uncooked medium shell pasta
2 tablespoons unsalted butter
1/2 cup chopped onion
1 clove garlic, minced
2 tablespoons all-purpose flour
1 cup whole milk, room temperature
1/2 teaspoon salt (preferably kosher salt)
4 ounces goat cheese, crumbled
1 tablespoon lemon juice
4 cups fresh spinach leaves
1/2 cup halved grape tomatoes
Instructions
Bring a large pot of water to a boil. Once boiling, add a big handful of salt then add shells. Cook as directed on the package until al dente, about 8-10 minutes. Drain into a colander.
Meanwhile, in a large skillet melt the butter. Once hot, add the onion and a pinch of salt then cook until softened, about 5 minutes. Add the garlic and cook 1 minute.
Stir in the flour to coat and cook 1 minute. Slowly whisk in the milk. Add the salt then bring to a boil and cook until thickened, about 3-5 minutes.
Stir in the cheese and lemon juice until melted. Taste and adjust for salt if necessary.
Add the spinach and let sit for 1 minute. Gently fold the spinach into the sauce until combined (the leaves will shrink as they cook). Cook until wilted and bright green, about 2-3 minutes. Stir in the tomatoes.
Once everything is cooked, mix together the cooked pasta and sauce.
More Pasta Recipes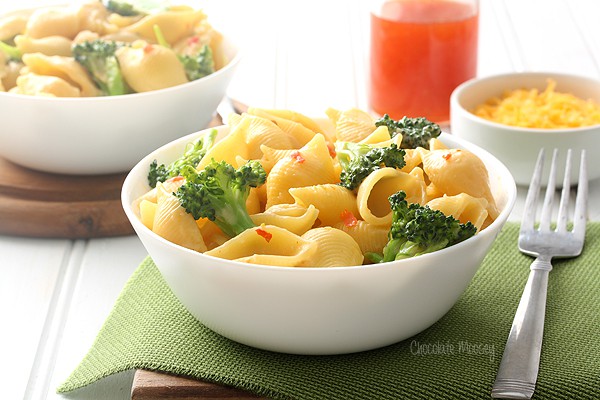 Sweet Chili Mac and Cheese Shells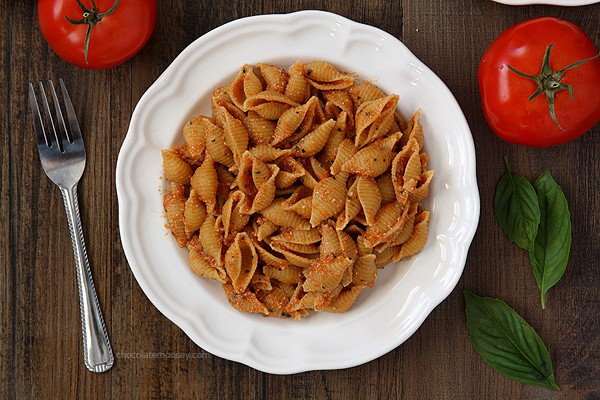 Caprese Pesto

Buffalo Chicken Mac and Cheese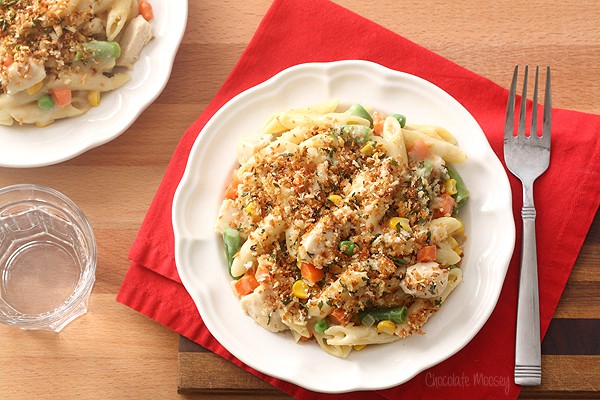 Chicken Pot Pie Pasta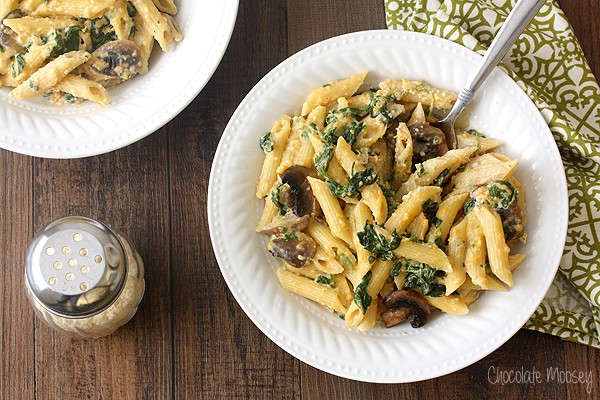 Butternut Squash, Spinach, and Mushroom Penne Alfredo
Disclosure: This recipe was originally developed for Yum Food & Fun For Kids, Summer 2015 issue.
This post may contain affiliate links. As an Amazon Associate and member of other affiliate programs, I earn from qualifying purchase.