Toasted Marshmallow Ice Cream Cookie Sandwiches
If you love classic Chipwiches, then you'll love this s'mores twist with Toasted Marshmallow Ice Cream Cookie Sandwiches.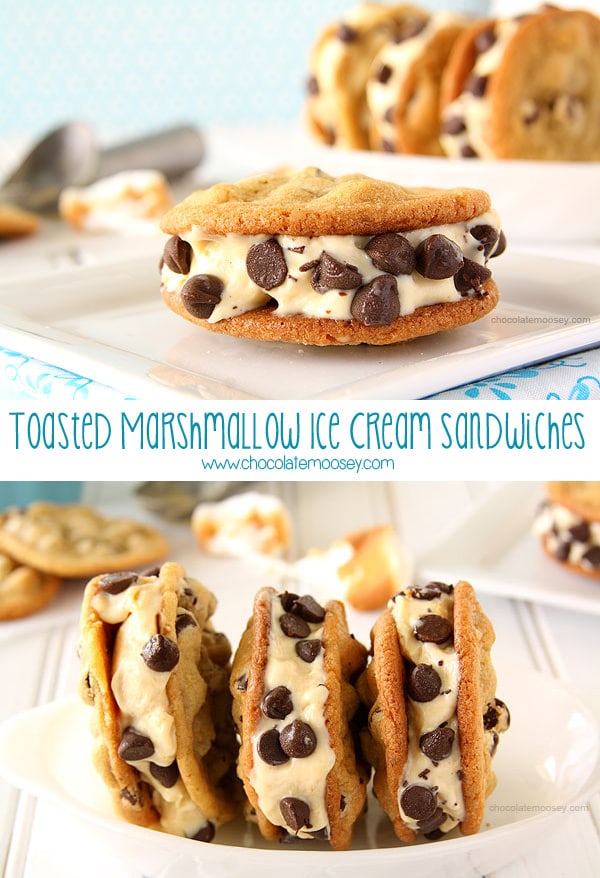 Today is a day of celebration because it is my birthday. Happy birthday to me! I'm not the type to have big birthday celebrations. Growing up, my birthdays usually flopped, ranging from nobody showing up to my skating party to family being sick to just not being very good days. However, the one thing that is a must is a decadent dessert. Instead of cake this year, I made Toasted Marshmallow Ice Cream Cookie Sandwiches, a few of my favorite things rolled into one dessert. Chocolate chip cookies, toasted marshmallows, and ice cream. Looks like today is going to be a great day.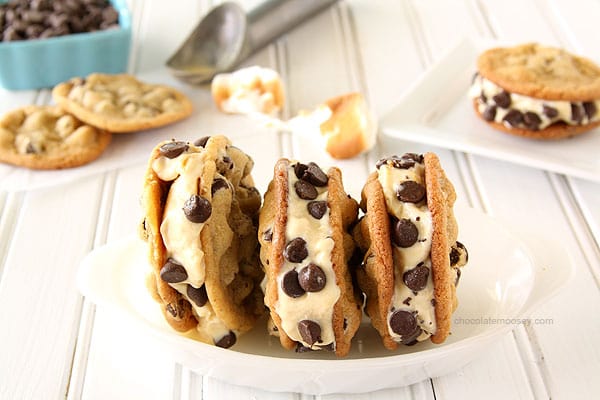 A few weeks ago,
I went down to DC
, and it was a bit on the warm side. Ice cream trucks lined the streets, bribing everyone with childhood treats, including those chocolate chip cookie sandwiches. You know, vanilla ice cream sandwiched between two chocolate chip cookies then rolled in chocolate chips. However, I couldn't justify spending $4 on one, so I put it out of my mind.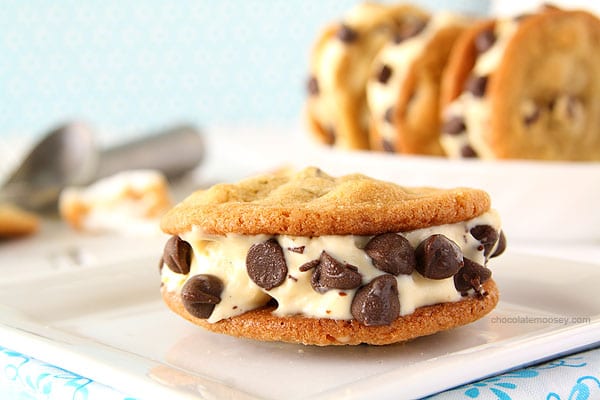 But I couldn't stop thinking about it. Why don't I make my own? However, I didn't want to blog the traditional chipwich. No, I wanted to put a moosey twist on it, and then I started thinking about toasted marshmallows (well, I'm always thinking about toasted marshmallows). I've melted toasted marshmallows
into hot cocoa
, why don't I melt them into ice cream?
I broiled the marshmallows then melted them into a basic ice cream custard base. I was debating on adding chocolate and graham crackers to make it smores ice cream, but since the sandwiches were going to be rolled into chocolate, I decided not to (but it's on my list for this summer – don't you worry!)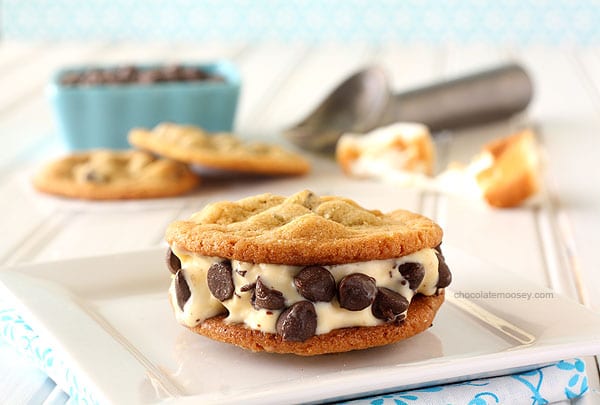 The hardest part was getting the chocolate chips to stick. I tried rolling but then gave up and just started sticking them by hand into the ice cream. The cookie sandwiches do get a bit messy assembling, but it isn't ice cream without a bit of a mess.

So here's to another year of being alive, another year of discovering life's answers, another year taking risks and having fun (and another year of consuming calories).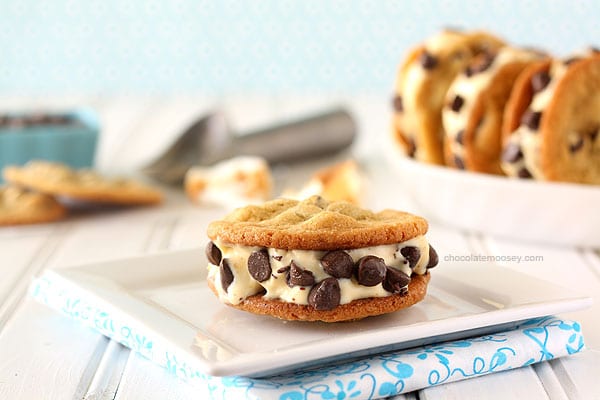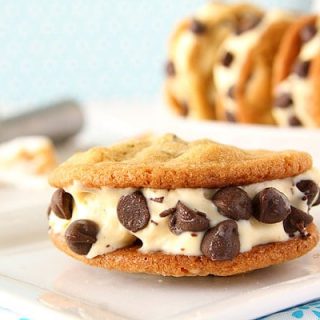 Toasted Marshmallow Ice Cream Cookie Sandwiches
If you love classic Chipwiches, then you'll love this s'mores twist with Toasted Marshmallow Ice Cream Cookie Sandwiches.
Ingredients
12 large marshmallows
1 cup heavy whipping cream
1/2 cup whole milk
1/4 cup + 2 tablespoons granulated sugar
Pinch of salt
2 egg yolks
1/2 teaspoon vanilla extract
12 chocolate chip cookies
Chocolate chips, for rolling
Instructions
Preheat the broiler. On a broiler-safe pan, toast the marshmallows until brown, rotating to toast all of the sides. Remove from the broiler and let cool.
In a large bowl, add some ice and water to create a water bath. Place a smaller bowl inside the water bath. Add 1/2 cup cream to the smaller bowl.
In a medium saucepan, warm up the remaining 1/2 cup cream, milk, sugar, and salt.
Once warm but not boiling, add a little bit of the milk to the yolks in a small bowl and whisk together.
Pour the yolks into the saucepan and cook until the mixture thickens enough to coat the back of a spoon.
Whisk in the toasted marshmallows and vanilla until melted and smooth.
Remove from the heat and pour into the reserved cream sitting in the water bath. Let cool to room temperature then refrigerate for at least 1 hour or until cold.
Once cold, churn the ice cream mixture according to your ice cream machine's instructions. Freeze until firm, preferably overnight.
Freeze the cookies for at least 15 minutes.
Working with one sandwich at a time, place a scoop or two of the ice cream onto the flat side of one cookie. Sandwich it together with another cookie. Roll (or press) the chocolate chips into the ice cream Place in the freezer as you finish assembling. Repeat with the remaining cookies and ice cream.
Source: Ice cream base adapted from
The Perfect Scoop
More Ice Cream Recipes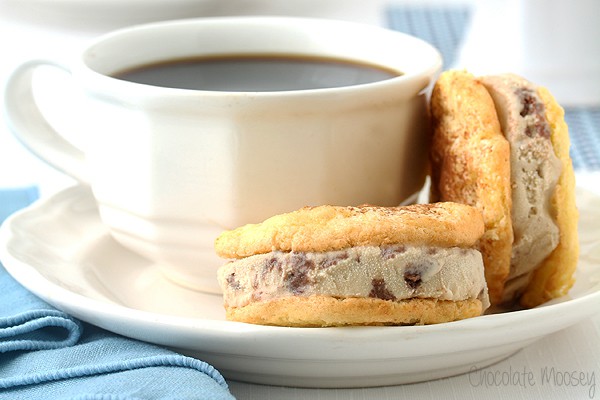 Tiramisu Ice Cream Sandwich Cookies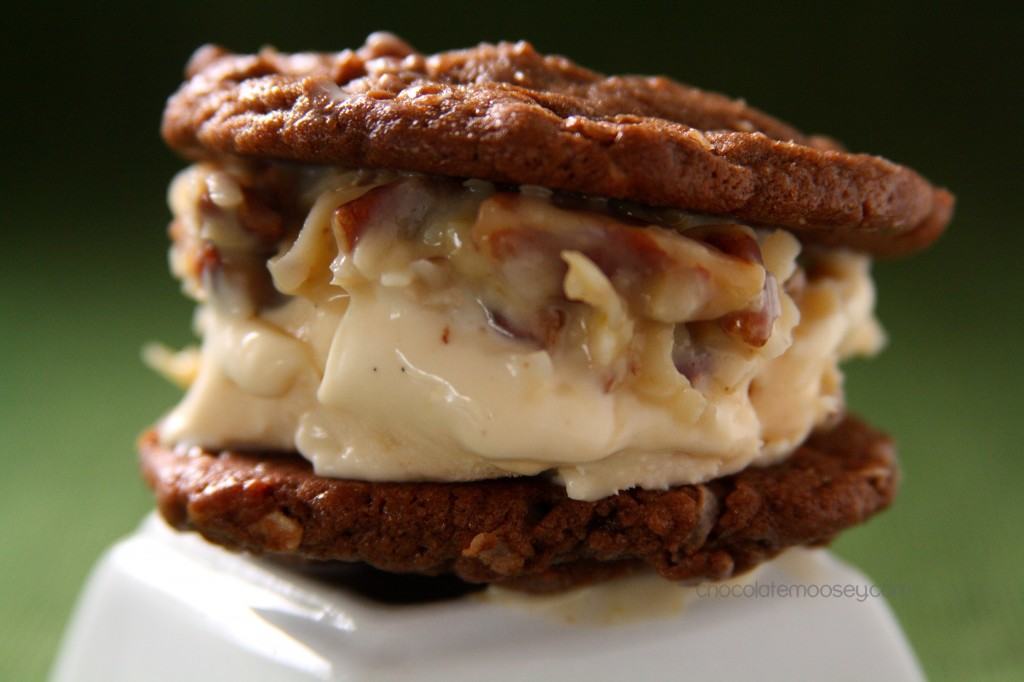 German Chocolate Ice Cream Sandwich Cookies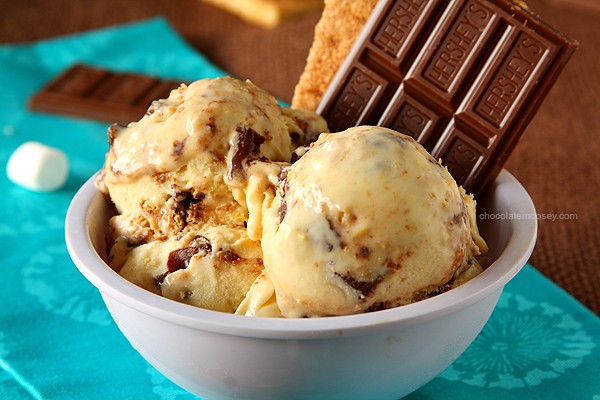 S'mores Ice Cream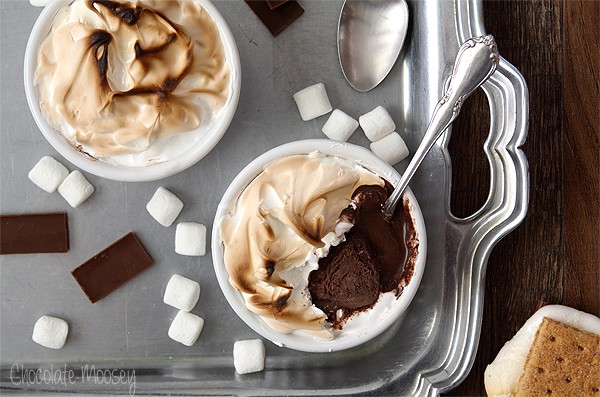 S'mores Baked Alaska
This post may contain affiliate links. As an Amazon Associate and member of other affiliate programs, I earn from qualifying purchase.