Stuffed Pumpkin Spice Kiss Cookies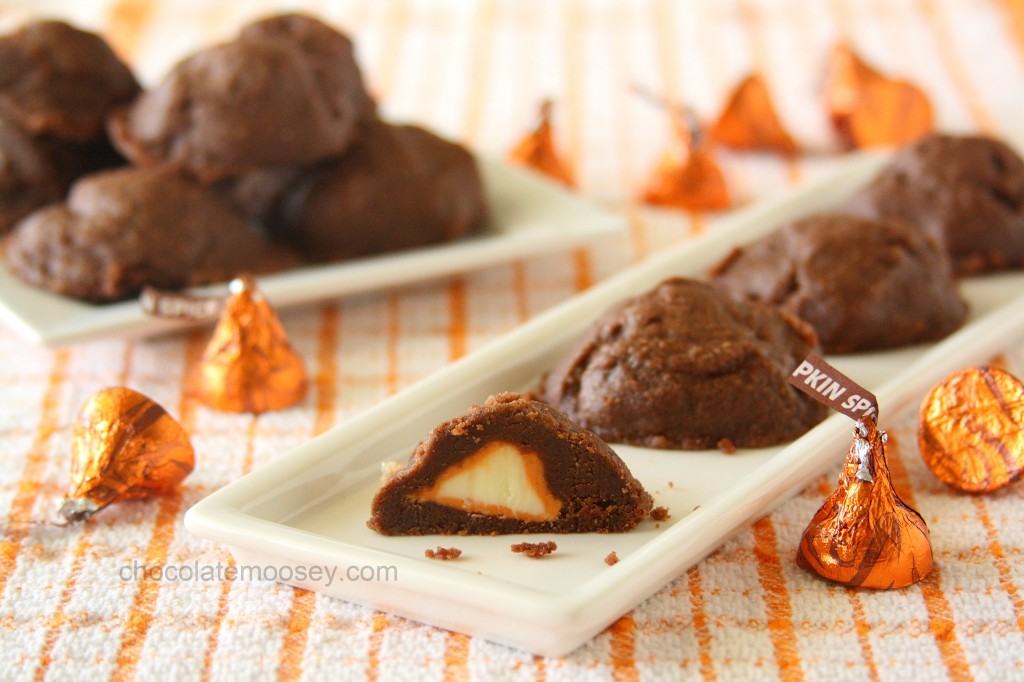 I have a confession – I am a holiday candy hoarder. If it's a specialty flavor only available for a certain time, chances are I've tried it. The two big ones I find every year are M&Ms and Hershey Kisses. This year, I tried the
candy corn white chocolate M&Ms
and the pumpkin spice kisses. I also have another confession – I can't simply just eat the candy from the bag. Nope, I actually have to make something with it (which is why I still have holiday candy from last Christmas – hey chocolate lasts awhile!) I knew I wanted to make cookies with the kisses, but what kind? First I was going to do pumpkin blossoms (cookies with a kiss on top), but then I ended up doing these Stuffed Pumpkin Spice Kiss Cookies. It's much more fun to do a chocolate spice cookie with a pumpkin spice kiss hiding in the middle.
Years ago, I tried making these kiss cookies with a friend, and we failed miserably. It's been so long, I couldn't tell you what went wrong. Maybe we used margarine. Or maybe we didn't cover the kisses well enough. Either way, the cookies were a hot mess. I was convinced it was the recipe (when really it was my lack of knowledge). Fast forward to last weekend, and I decided to give it another chance. My baking skills have definitely improved since then!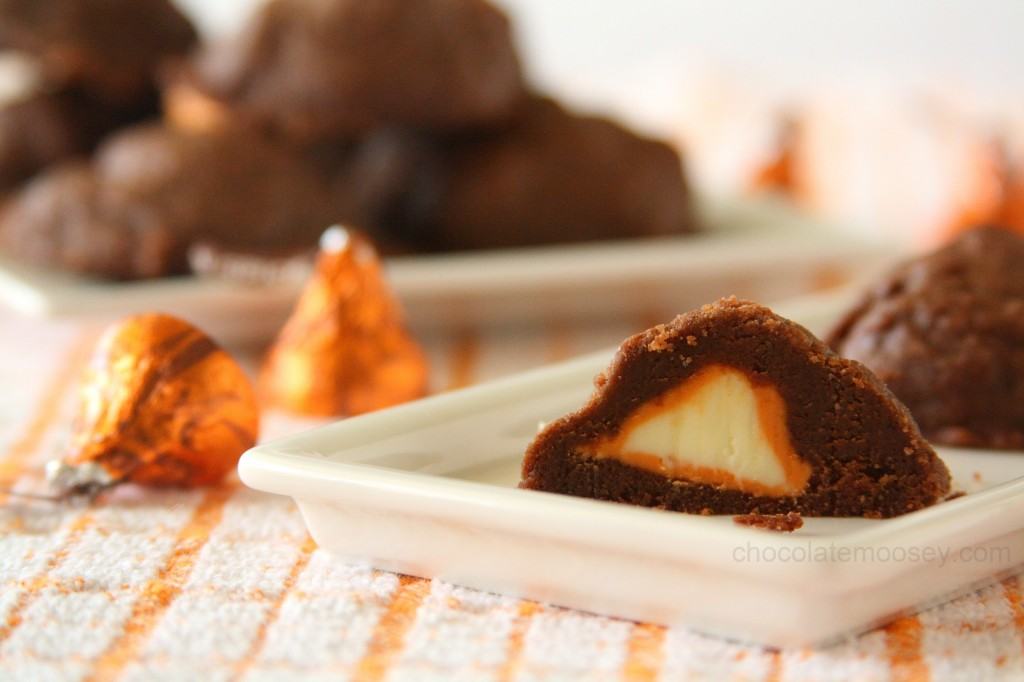 Since I'm on a confession roll, one more – I can't separate cinnamon and clove. I just can't do it. If there is cinnamon, there is clove. If there is clove, there is cinnamon. Add chocolate and you have one amazing trio. Seriously, add cinnamon and clove to your next batch of chocolate chip pancakes. You'll thank me.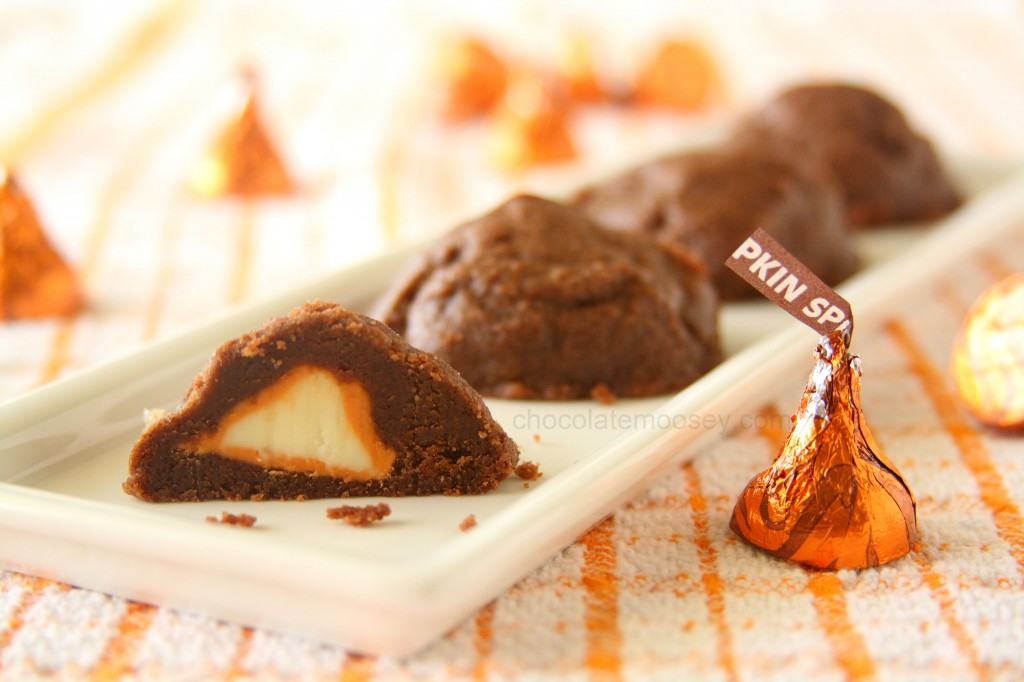 Back to the cookies – I am in love with the texture. They melt in your mouth similar to shortbread, which I was shocked because I thought it was just an average cookie! I ended up baking them a few minutes longer than directed because they are so delicate that I had trouble removing them from the cookie sheet.
I was also surprised at the pumpkin spice kisses themselves. I thought it was just a chocolate kiss with a pumpkin-flavored cream, but they are orange! Orange! That was quite a surprise when I unwrapped them, which meant a beautiful contrast when you bite into the cookie.
Of course, if you don't have the specialty pumpkin spice kisses (which I've seen at Walmart and Target), you are more than welcome to use any kiss you want – regular, caramel, hugs, almond, aerated, pretty much whatever the store has. You can even wait until winter and get the mint or cherry kisses. There is also a cookies and cream kiss, but I can't remember which holiday (Easter?).
Stuffed Pumpkin Spice Kiss Cookies
Stuffed Pumpkin Spice Kiss Cookies
Ingredients
3/4 cup + 1 Tbsp flour
2 Tbsp cocoa
1/4 tsp cinnamon
1/4 tsp clove
Pinch of salt
1 stick (1/2 cup) butter, softened
1/3 cup sugar
1/2 tsp vanilla
12 Pumpkin Spice Kisses, unwrapped
Instructions
In a small bowl, whisk together the flour, cocoa, cinnamon, clove and salt. Set aside.
In a large bowl, cream together the butter, sugar, and vanilla until light and fluffy, 2-3 minutes. Slowly add the flour mixture until well blended and the dough comes together. Chill the dough 1 hour or until firm.
Preheat the oven to 375F. Line a cookie sheet with parchment paper. Divide the dough into 12 even balls (roughly 1 tablespoon). Mold each ball around one kiss and place on the cookie sheet. Bake 12-14 minutes or until almost set. Cool a few minutes then gently remove to a cooling rack. Cool completely.
Source: Adapted from
Hershey's Make It Chocolate
This post may contain affiliate links. As an Amazon Associate and member of other affiliate programs, I earn from qualifying purchase.