Apple Butter Cheesecake Ice Cream
Creamy cheesecake ice cream with an apple butter swirl served in baked apple bowls.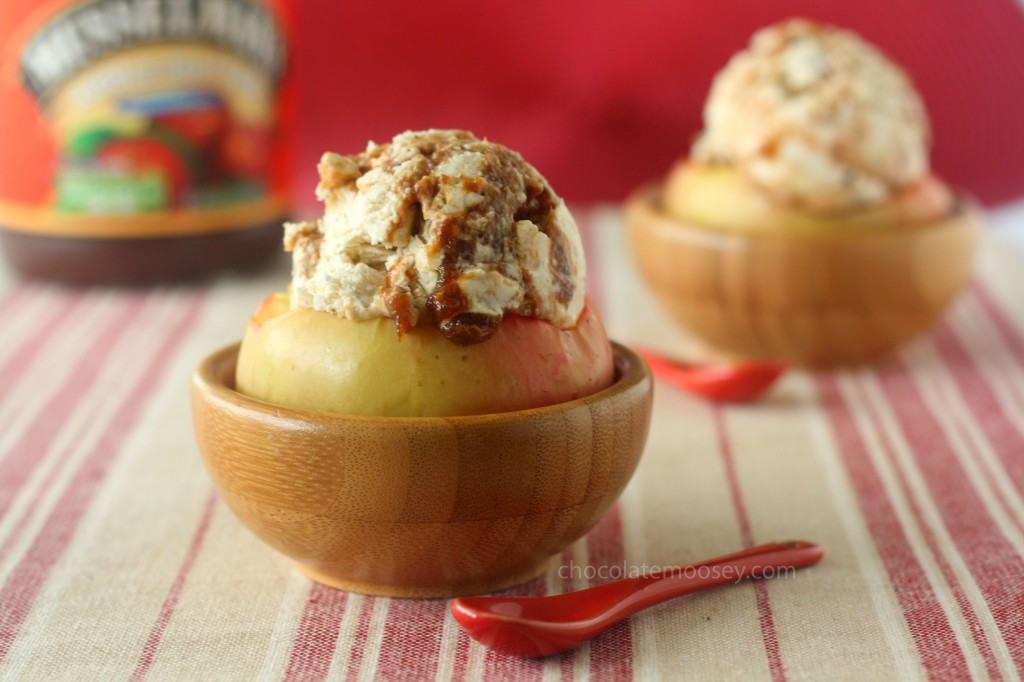 What comes to mind when you hear apple butter? Do you imagine the leaves becoming vibrant, the days getting shorter, the weather getting chillier?
What about eating it? Can you think of anything other than spreading it on toast?
Most people tend to think about apple butter as a spread eaten during September and October. However, it is much more than that.
Apple butter is such a versatile ingredient, you can use it any day of the year, in both savory and sweet recipes.
Take this Apple Butter Cheesecake Ice Cream for example. All of these ingredients can be found any day of the year, so it can be made whenever I want it.
You can eat it right now with your slice of warm apple pie or you can make it during summer for a nice cold treat.
We eat all kinds of fruit during the summer, why not apples?
I know what you're thinking – fresh apples aren't available until September, why (or how) would I want to eat apples in June?
That's the point of apple butter! Sometimes you can't get fresh apples when you need them. Apple butter is readily available all year round and can curb those apple cravings.
Right now, it is mid-October and I want a peach cobbler. There are no more local fresh peaches, so I have to settle for canned.
Same thing with apples. If I want apples in June, apple butter is the next best thing.
Of course if it is apple season, you can certainly make my small batch apple butter.
Trust me, one bite of this ice cream, and you'll learn there is nothing wrong with that.
Did you know apple butter is a highly concentrated form of apple sauce? The long and slow cooking of the apples caramelizes the fruit sugars for rich taste and texture. It is available in stores nationally all year round, so you don't have to wait for fall.
For more apple butter recipes, check out my guide on what to do with apple butter.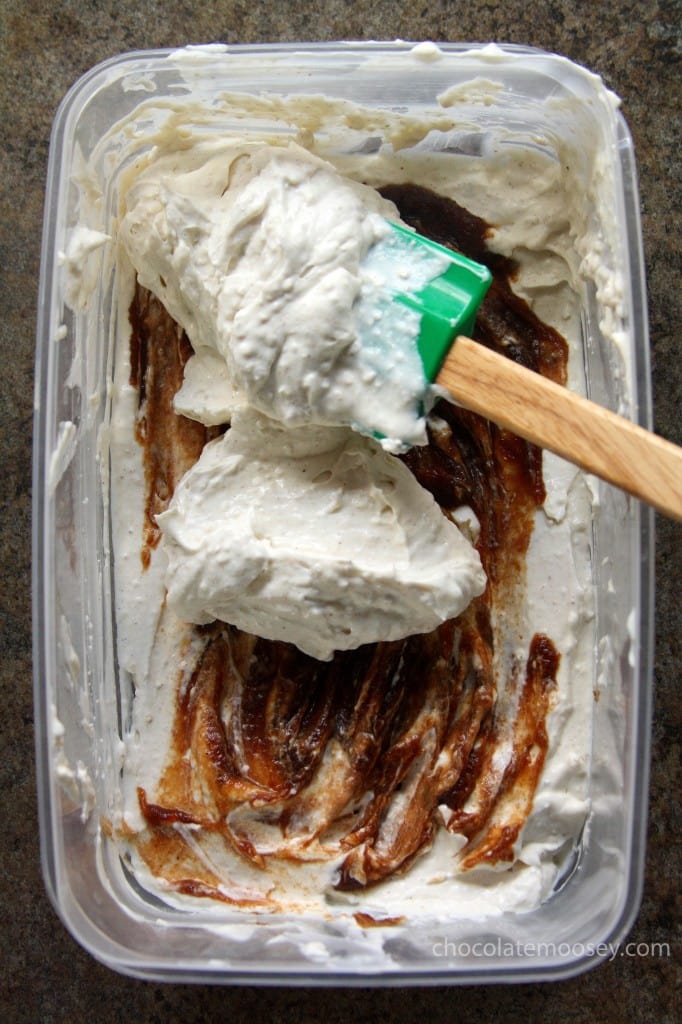 I narrowed down my recipe to ice cream or cheesecake. As you can probably guess by the name, I opted for the best of both worlds.
The best way to swirl is put down a layer of ice cream, then a layer of apple butter, then another layer of ice cream, and finally one more layer of apple butter.
If you try to fold in the apple butter, it gets a bit too muddled.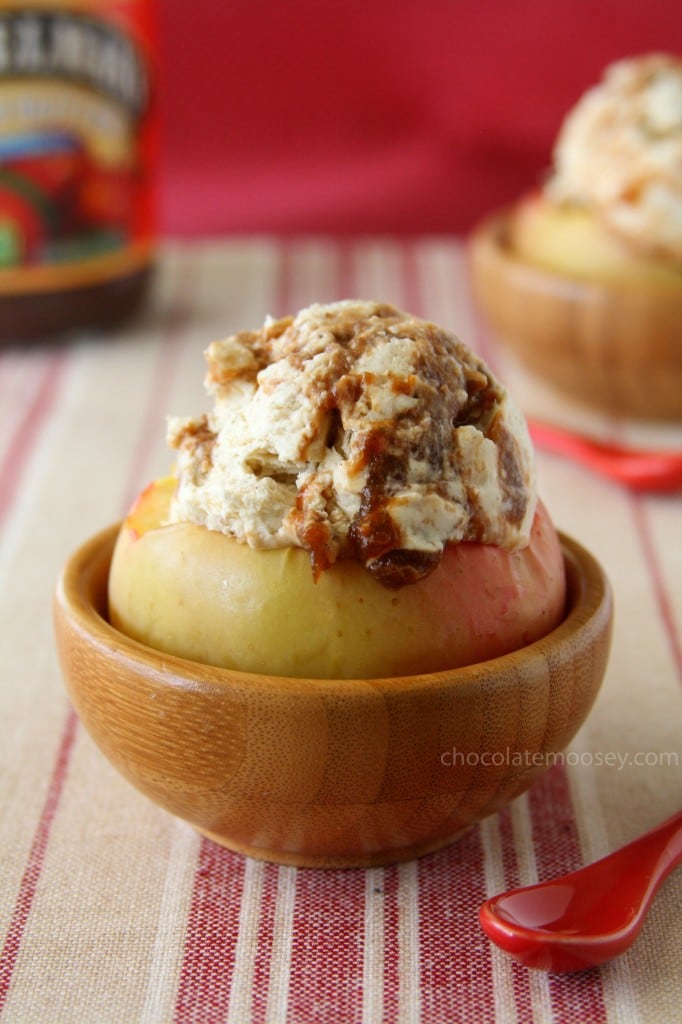 Want even more apple butter? Top it with some Apple Butter Caramel Sauce! Mix 1/4 cup
caramel sauce
with 1/2 cup apple butter.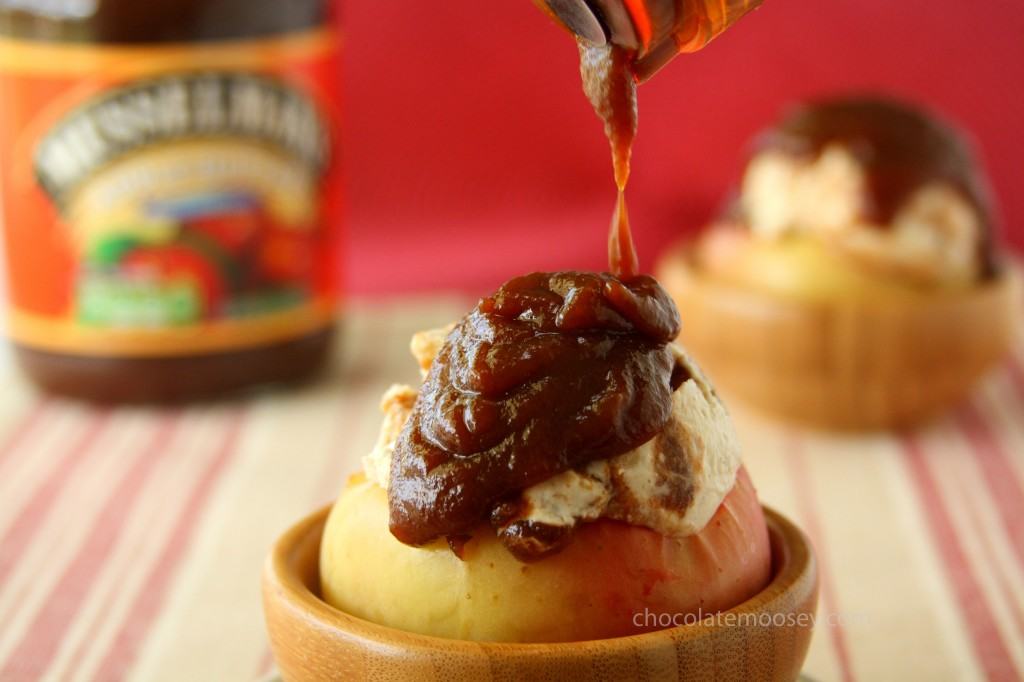 Enjoyed this recipe? Check out my other Small Batch Ice Cream Recipes you can make.
Apple Butter Cheesecake Ice Cream in Apple Bowls
Creamy cheesecake ice cream with an apple butter swirl served in baked apple bowls.
Ingredients
1/2 cup heavy whipping cream
1/2 cup whole milk
1/4 cup sugar
1 tsp. lemon zest, divided
Pinch of salt
1 egg yolk
1/4 tsp. vanilla
8 ounces cream cheese, room temperature
2 tsp. lemon juice
1/2 tsp. ground cinnamon
1/2 tsp. ground clove
1/2 cup Musselman's Apple Butter
Apple Bowls (optional):
One medium apple per serving
1/2 tsp. lemon juice per apple
1/8 tsp. cinnamon per apple
1/4 tsp. sugar per apple
Instructions
Prepare an ice bath in a large bowl. Place another bowl inside the ice bath then pour the cream into the bowl. Set aside.
In a medium saucepan, whisk together the milk, sugar, 1/4 tsp. lemon zest, and salt. Heat over medium-high heat for 5 minutes, stirring often.
In a small bowl, whisk the egg yolk. While whisking constantly, slowly add in some of the hot milk mixture. Pour the mixture back into the saucepan. Cook until the mixture is thick enough to coat the back of a spoon, about 5 minutes. Turn off the heat and strain the mixture into the bowl with the cream. Whisk in the vanilla. Let the mixture cool to room temperature in the ice bath then cover and transfer to the refrigerator.
Once the custard is cold in the refrigerator, in a separate, large bowl, beat together the cream cheese, lemon juice, remaining 3/4 tsp. lemon zest, cinnamon, and clove until smooth and creamy (make sure there are no lumps). Gradually beat in the custard mixture. Freeze the mixture in an ice cream maker according to manufacturer directions.*
Spread half of the churned ice cream into a freezer-proof bowl with a lid. Spoon about half of the apple butter on top and swirl around with a knife, being careful not to muddle it too much. Add the rest of the ice cream mixture on top then finish with spooning the rest of the apple butter and swirling around. Cover with a lid and freeze about an hour before serving.
For the apple bowls: Preheat oven to 350F. Core each apple then scoop out the top large enough to hold a scoop of ice cream. Brush with some lemon juice. Whisk together the cinnamon and sugar then sprinkle on each apple. Bake for 15-20 minutes or until softened.
To assemble: Place an apple into a bowl. Top with a scoop of ice cream. Serve immediately.
Notes
*To freeze by hand, place the ice cream mixture into the freezer. Whisk every 30-45 minutes until the mixture is just about frozen.
This post may contain affiliate links. As an Amazon Associate and member of other affiliate programs, I earn from qualifying purchase.