Strawberry Cheesecake Parfaits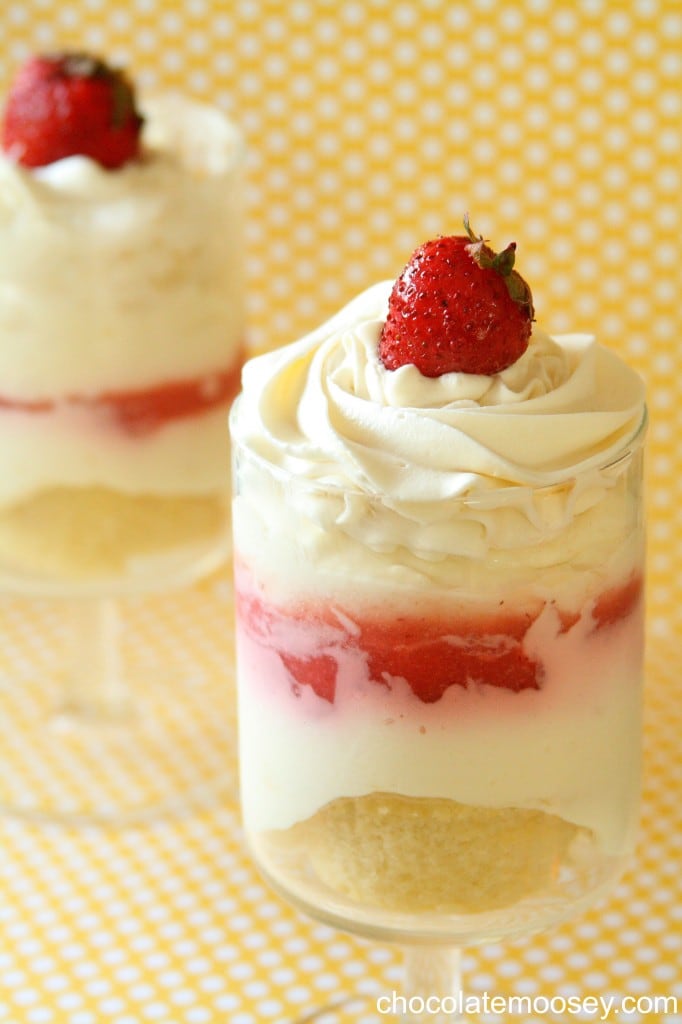 Remember the
strawberry curd
I made last week? Did you know you can do a lot more with it than eat it with a spoon? Assuming that you have any left, layering it with cheesecake makes a great summer treat. It's strawberry curd. It's cheesecake. It's Strawberry Cheesecake Parfaits, and it's love in a glass.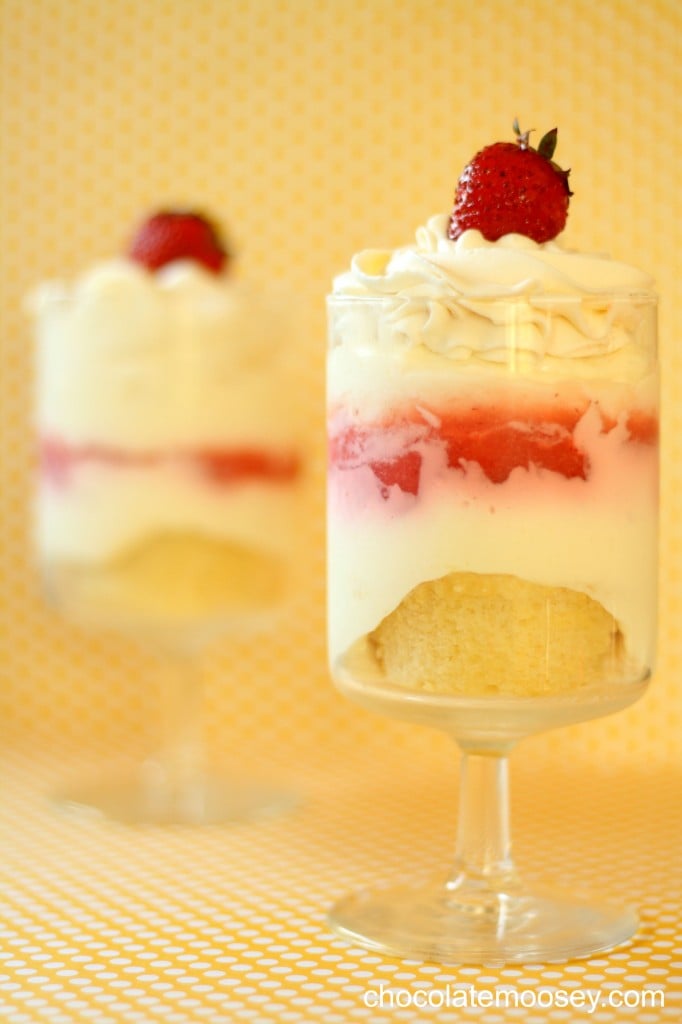 I made
these parfaits last year
when black raspberries were in season. The original recipe called for lemon curd, but as you can see, I subbed strawberry. The cheesecake makes a great base to do any flavor you want. Don't have curd? Use jam (I also
made small-batch strawberry jam
last week). Need something less time-consuming? Try
some strawberry sauce
(also from last week).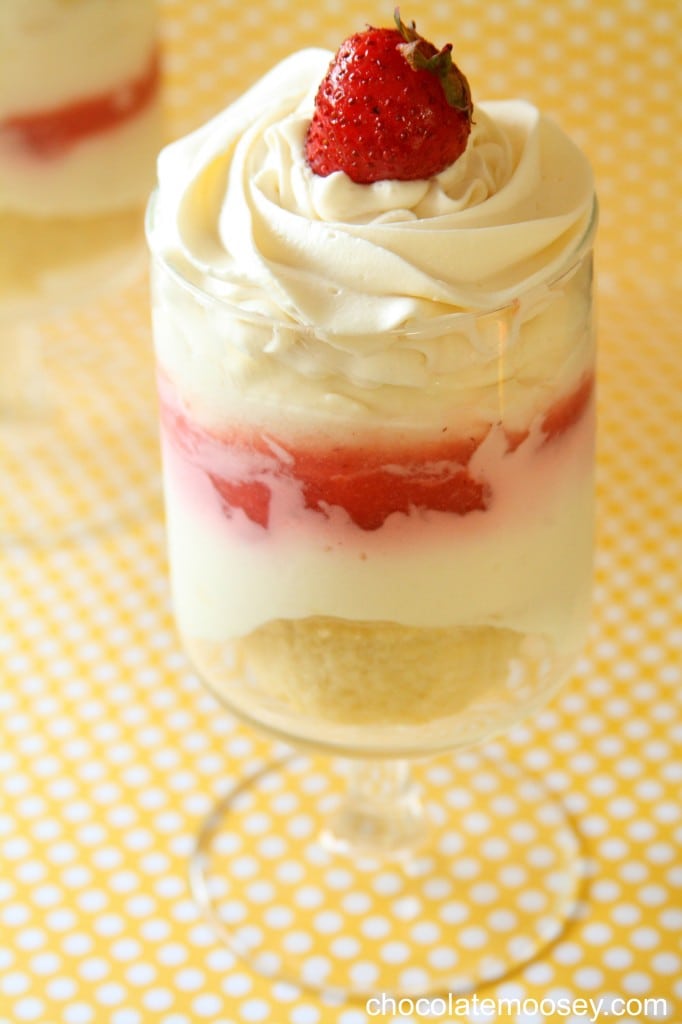 The bottom layer is a sponge cupcake from the
Strawberry Shortcake Cupcakes
last week (are you sensing a theme?). However, you can change it up – graham cracker crumbs, pound cake cubes, gingersnap cookies, crushed Oreos. Or you can skip the bottom layer and just do cheesecake and curd/jam/sauce. Feel free to add mix-ins, such as chocolate chips or mini marshmallows.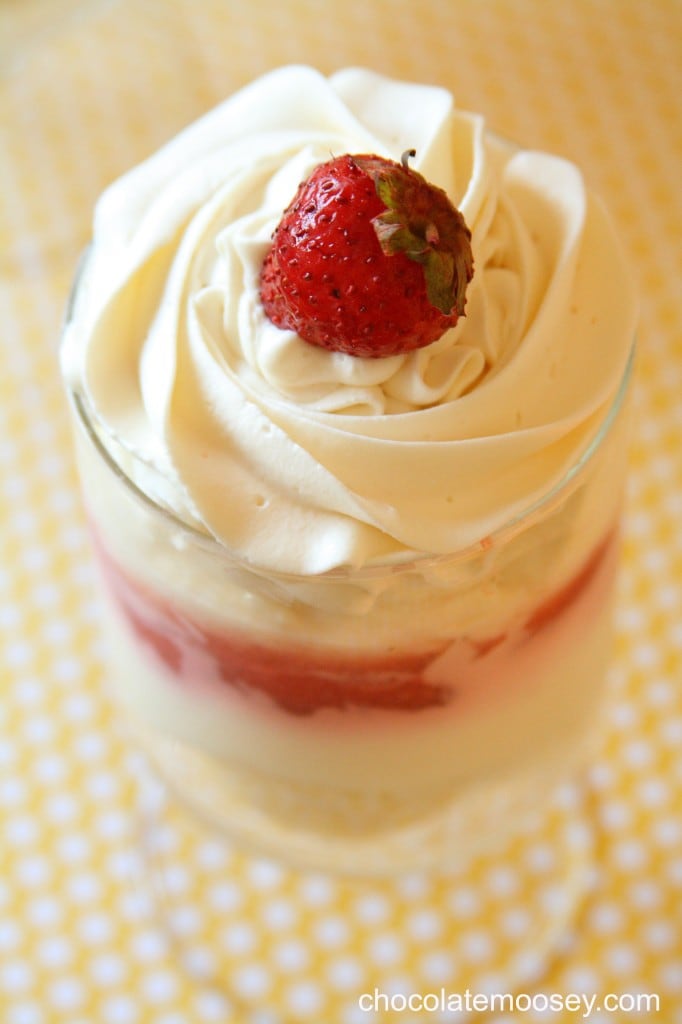 In case it wasn't obvious, these Strawberry Cheesecake Parfaits can be adjusted for any mood and can reflect whatever fresh produce is in season. Or if you aren't into fruit, you can do hot fudge or caramel sauce. Seriously, the only limitation is your imagination.
Word of advice – if you taste the cheesecake batter right after you make it, don't be alarmed by how it tastes. I promise the flavor develops with time (hence chilling overnight). The first time I made this recipe, I was upset because the batter definitely didn't taste like cheesecake, but once it chilled, the parfaits were almost gone immediately.
Strawberry Cheesecake Parfaits
Ingredients
4 ounces cream cheese, softened
1/4 cup sweetened condensed milk
1 tablespoon lemon juice
1/2 teaspoon lemon zest
1/8 teaspoon vanilla
1/4 cup heavy whipping cream
2 tablespoons sour cream
2 tablespoons strawberry curd, jam, or sauce
Graham cracker crumbs, shortcake pieces, or cookie crumbs
Whipped Cream:
1/3 cup heavy whipping cream
2 tablespoons powdered sugar
1/2 teaspoon vanilla
Instructions
In a large bowl, beat cream cheese, milk, lemon juice, lemon zest, and vanilla for 1 minute or until smooth. Beat in 1/4 cup cream for 2 minutes or until thickened. Make sure you get all of the lumps. Fold in sour cream.
In the bottom of each parfait glass, place the graham cracker crumbs, cake pieces, or cookie crumbs. Layer in cheesecake batter with the curd/jam/sauce, ending with cheesecake layer. Cover and refrigerate overnight.
For the whipped cream: In a small bowl, whip together 1/3 cup cream, sugar, and vanilla until stiff peaks form. Top each parfait with whipped cream and berry before serving.
Source: Adapted from Cooking Club Summer 2011
This post may contain affiliate links. As an Amazon Associate and member of other affiliate programs, I earn from qualifying purchase.