Award-Winning Strawberry Pecan Upside Down Spice Cake
Are you spontaneous or are you a planner? I'm definitely a planner and get thrown off if things don't according to plan. It's the control freak in me. Last week I entered this Strawberry Pecan Upside-Down Spice Cake into a recipe contest I found out about the night before. No time to plan. No time for details. Just bake and go. I got nothing else done that night but this cake, but it was worth it. I took first place in the cake category contest.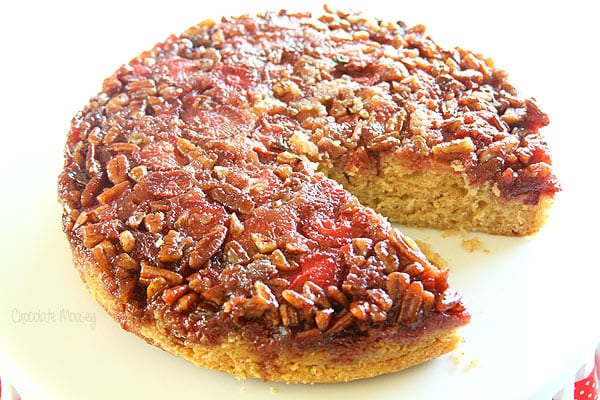 There was a strawberry festival in my small town (read: one street with some food and some crafts). Wednesday afternoon, my coworker asked me if I've been entering any more recipe contests lately. Turns out there was a strawberry contest at the festival, but we didn't see details on the website. Since it was late, I had to wait until the next day to find out anything. In the meantime, my wheels were turning. Everything I've made recently had to be refrigerated. I can't do pies. What about cupcakes? Cake? As I was looking for ideas, I saw a recipe for peach upside down cake. Hmm what if I used strawberries?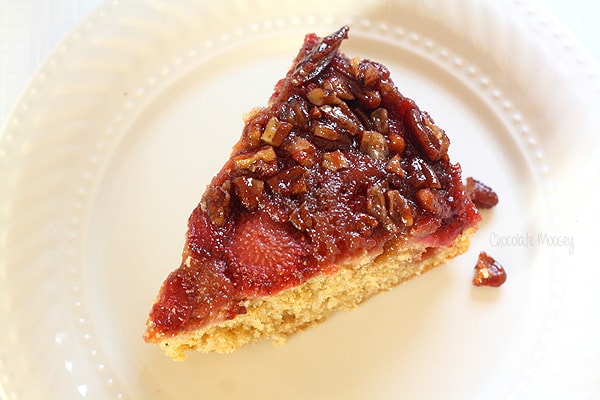 The next day shortly before lunchtime, I got the contest rules. Entries were due the next morning. Wait what? Friday morning?! I thought it was Saturday morning? Oh man, should I still enter? Do I even have time?! I've never made this cake before, let alone adapting it, and no time to test it. I took my chance.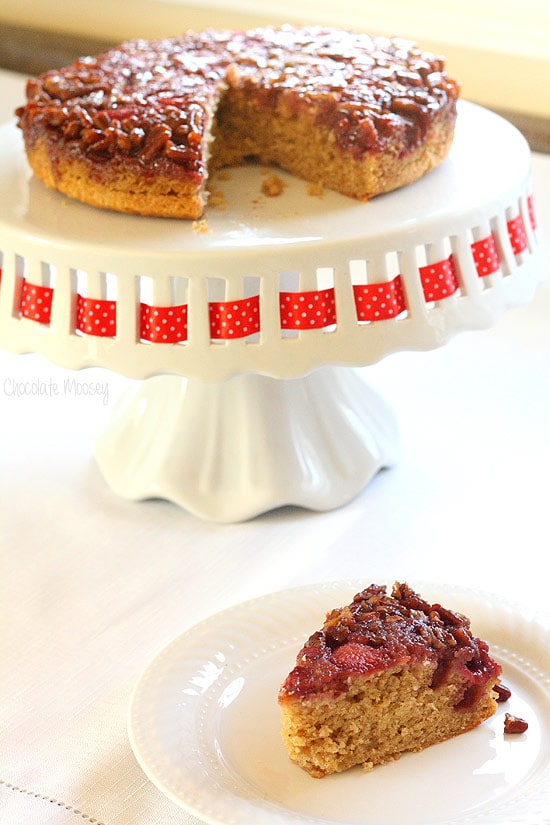 I think this situation was the true test for a baker's skills. You had to get it right the first time, no do-overs (I did make a mini test cake so I at least knew how it tasted). Although I adapted the recipe, I still had to execute the cake with my adaptations and hope it didn't stick to the pan. You see, I stick with cupcakes because my regular cakes don't come out too pretty. And don't even get me started on pies.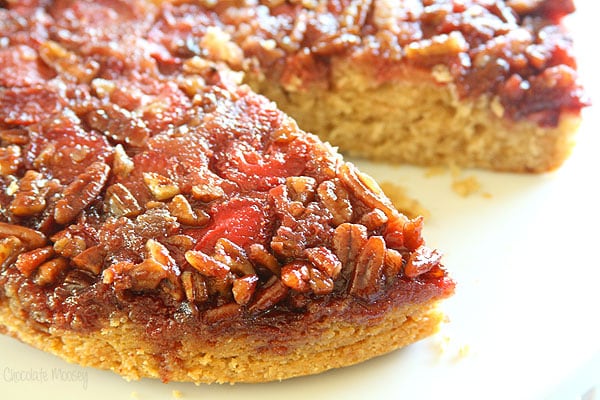 The cake unmolded beautifully, so the next morning, I dropped it off right before work. There were three categories, so I entered the cake one. The rules said they would announce the winner by 11 AM. Lunchtime rolled around. Nothing. I stopped by the festival and asked. They got swamped all morning serving food, so they were "too busy to judge." Um, ok. Poor neglected cake. The work day ended, and I still heard nothing. Whatever, I'll stop by the next day and find out. I stopped for dinner and right when I was leaving, my coworker called. She ran into the lady in charge at the grocery store, but she lost my information and couldn't call me *facepalm* Turns out I won the cake category!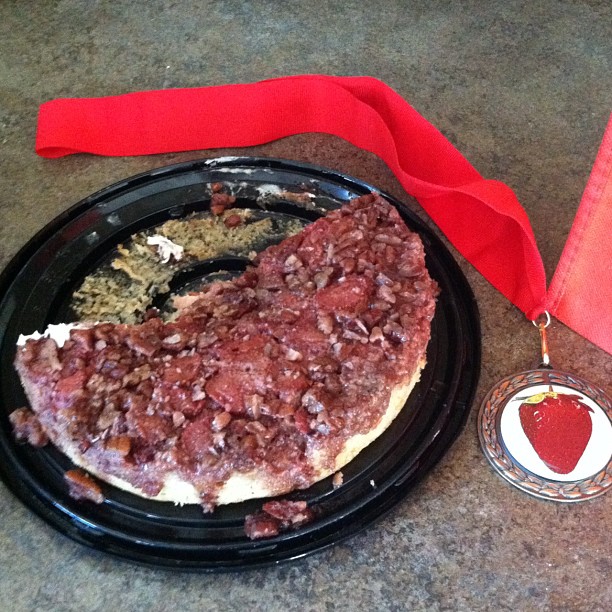 The actual winning cake that looks like mush because it was outside all day.
I live in a small town, so nothing glorious happened. I won a medal, a tote bag (I love tote bags!! True story) and a balloon. Oh and I got the rest of my cake back (now with evidence of whipped cream…). Good thing Murray doesn't live with me or that balloon wouldn't have any string left.
Can you tell I live in a small town? Sometimes I wonder if I should count this contest since I don't know any of the details.
As for the cake itself, it is a brown sugar spice cake topped with caramelized strawberries and pecans. The idea behind upside-down cake is you put the topping in first then the cake batter. Once baked, you flip the cake out of the pan, so now the topping is on top (hence the name). Removing the cake is a little tricky. If you remove it too soon, the cake will fall apart for being too warm. If you remove it too late, the topping will cool and stick to the pan. I've made this cake twice, and waiting 10 minutes worked fine. The cake came out a beautiful red, but as it cooled, it lost its color.
Looking for more strawberry cake recipes? Check out Strawberry Layer Cake, Strawberry Cupcakes, and Strawberry Snack Cake. All are made from scratch without Jello or cake mix.
Award-Winning Strawberry Pecan Upside-Down Spice Cake
Wow your guests with this elegant yet super easy Award-Winning Strawberry Pecan Upside Down Spice Cake
Ingredients
Topping:
2 tablespoons unsalted butter, softened
1/4 cup brown sugar
1/4 teaspoon ground cinnamon
1/4 teaspoon ground clove
1/2 cup chopped pecans
1 cup sliced strawberries
Cake:
1 1/3 cups all-purpose flour
1 teaspoon baking powder
1/4 teaspoon baking soda
1/4 teaspoon salt
1/4 teaspoon ground cinnamon
1/4 teaspoon ground clove
1/2 cup (4 ounces or 8 tablespoons) unsalted butter, softened
2/3 cup brown sugar
1 egg, room temperature
1 teaspoon vanilla
2/3 cup sour cream, room temperature
Instructions
For the topping: Preheat oven to 350F. Put butter into an 8-inch round pan and place into the oven. Heat until butter is melted then remove from oven. Brush the melted butter around the bottom and sides of the pan. Set aside.
In a small bowl, whisk together brown sugar, cinnamon, clove, and pecans. Set aside.
For the cake: In a medium bowl, whisk flour, baking powder, baking soda, salt, cinnamon, and clove.
In a large bowl, cream together butter and sugar until pale and fluffy, 3 minutes. Add egg and vanilla then beat 1 minute. Gently beat in the flour mixture then the sour cream. Do not overbeat the batter.
Sprinkle the brown sugar topping into the pan over the melted butter then lay strawberry slices on top in a single layer. Spoon in the cake batter and spread evenly. Bake for 35 minutes or until a toothpick in the middle comes out clean. Let cake rest for 10 minutes before running a knife around the edge and inverting it onto a plate. Serve warm with whipped cream.
Source: Adapted from
Joy the Baker
This post may contain affiliate links. As an Amazon Associate and member of other affiliate programs, I earn from qualifying purchase.