Chocolate-Dipped Orange Shortbread Cookies
Melt-in-your-mouth Chocolate-Dipped Orange Shortbread Cookies served with tea will instantly transport you to England and make you feel like royalty.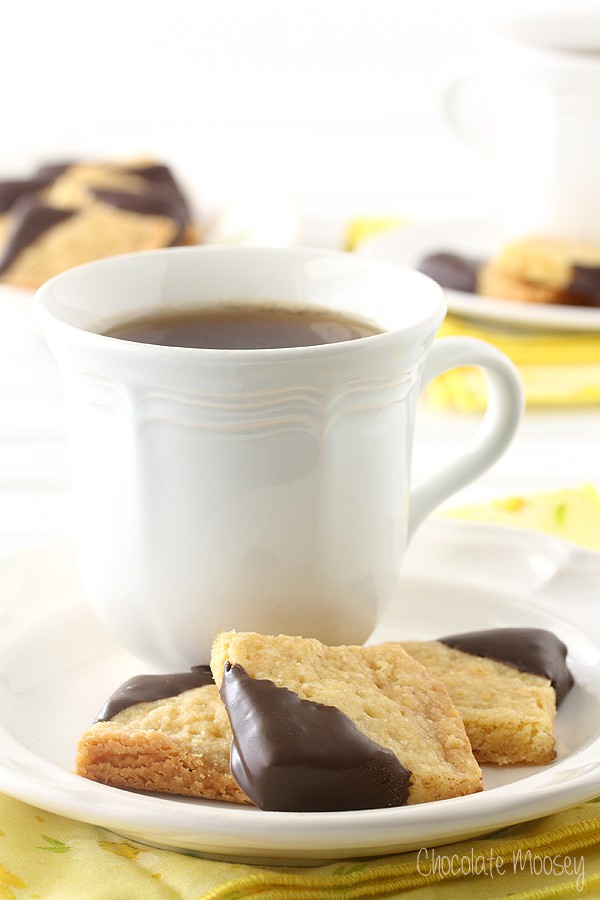 Is there a word that describes being homesick for a place you've visited? After some research, I can't seem to find one word that sums it up. That's how I feel about Ireland, although to be fair, I did live there for four months while attending the University of Limerick. I feel like I talk about Ireland all the time, mainly because studying abroad was a big part of my life, but I never talk about traveling while overseas. It was so easy to hop on a plane and travel to Europe for the weekend, but given my small college budget, I just visited next door to England, Scotland, and Wales, collectively known as Great Britain. Great Britain was very similar to Ireland for two reasons: One, everyone drove on the left side of the road (even after four months, you still don't get used to that) and two, everyone loves tea. In fact, I was never a big tea drinker until after that trip and bought a box of Earl Grey tea upon my return to the U.S. Fast forward seven years, and I'm still drinking tea. Not religiously like I do with coffee, but drinking tea is a time for me to relax, whether it's an afternoon pick-me-up, on the couch after a long stressful day, or in the evening chatting with a friend. And you can't have tea time without a British-inspired treat like my Chocolate-Dipped Orange Shortbread Cookies. What makes these shortbread cookies a little extra special is using organic pure cane sugar from the British-based and Fairtrade certified brand Tate + Lyle® Sugars. A feel-good cookie to go with your tea – it just makes tea time that much sweeter.
(Also, there's a chance to win $100 Walmart Gift Card if you keep reading.)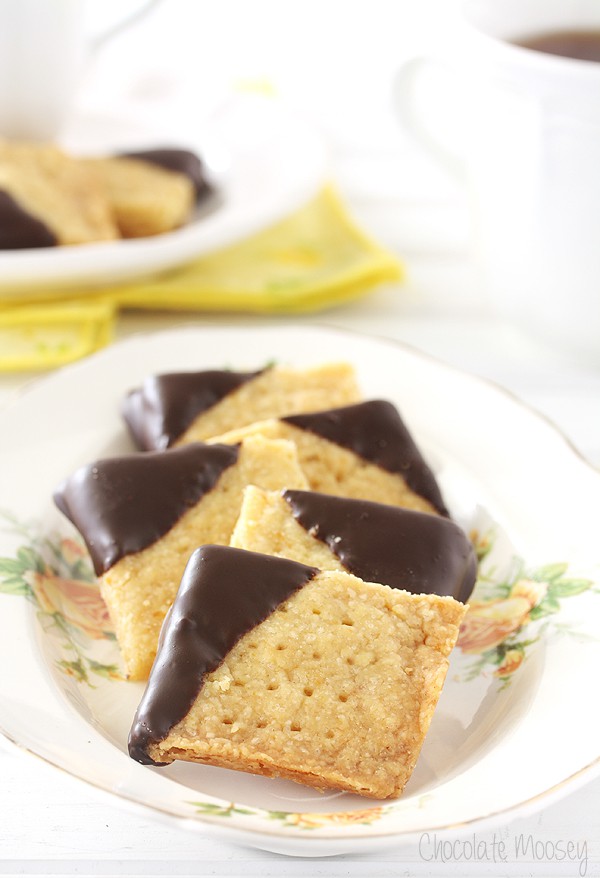 Shortbread cookies are very traditional melt-in-your-mouth British biscuits you serve with tea. I'd say cookie, but the British refer to cookies as biscuits. As I was brainstorming flavor combinations, I immediately thought of my favorite cookie in the whole wide world (that isn't chocolate chip!) – Jaffa Cakes. Never heard of them? That's because I can't find them in the U.S. They are little sponge cookies topped with chocolate and filled with some orange jelly. I bet I can devour a whole box in under five minutes. Since they aren't available to buy around here, I opted to incorporate the chocolate and orange flavors into my shortbread. Although they are a completely different cookie than Jaffa Cakes, they were still pretty darn good.
The best (and also the messiest) part of making these cookies is dipping them into chocolate. You'll need a narrow yet deep enough container to dunk your cookies for maximum chocolate coverage. I used
this narrow coffee mug
and only needed to melt two ounces of chocolate. However, if your container is a bit wider, you may need to melt up to four ounces. Otherwise, the chocolate won't be deep enough to dunk your cookies.
It is only fitting that my British cookies were made with Tate+Lyle® Sugars. For over 130 years, Tate+Lyle® has graced Britain's finest tables and now some of these carefully grown and refined sugars are available in the U.S. I used their Organic Pure Cane Sugar in my cookies by substituting an equal amount of organic cane sugar for granulated sugar. They also make Organic Turbinado Raw Cane Sugar and Natural Pure Cane Sugar,
which you can read more about here
. Right now you can find Tate+Lyle® Sugars at Walmart in the baking aisle, and in about a month when fall is here, they are releasing their line of gourmet flavored beverage syrups for your coffee and tea. For more recipes featuring Tate+Lyle® Sugars, visit their
recipe page
, like their
Facebook Page
, and join their
email list
.
It's hard to believe that it's been seven years since studying abroad. I swear it feels like yesterday, and every day I yearn to go back and take it all in again. Well, if I can't go there, then I might as well bring it here, right? Shortbread cookies, British sugar, and tea. Now I just need to turn on BBC and pretend I'm back in my university housing unit again.
Chocolate-Dipped Orange Shortbread Cookies
Melt-in-your-mouth Chocolate-Dipped Orange Shortbread Cookies served with tea will instantly transport you to England and make you feel like royalty.
Ingredients
1/2 cup (1 stick or 4 ounces) unsalted butter, softened
1/3 cup granulated sugar
1/2 teaspoon salt
1 tablespoon orange zest
1/4 teaspoon orange extract
1 cup + 2 tablespoons all-purpose flour
2-4 ounces semisweet chocolate, chopped
Instructions
Preheat oven to 300F. Line an 8x8 pan with parchment paper.
In a large mixing bowl, beat together the butter, sugar, salt, orange zest, and orange extract until creamy and smooth, about 2-3 minutes.
Gradually beat in the flour.
Pat the dough into the bottom of the pan, forming a smooth layer. Make holes for decoration using a fork, if desired. Bake 30-35 minutes or until the top is golden brown. Let cool 15 minutes then cut into squares using a pizza cutter or knife*. Cool completely.
In a heatproof bowl, melt 2 ounces chocolate either in the microwave or over simmering water on the stove. If necessary, pour chocolate into a narrow yet deep bowl or cup**. Dip each corner of the shortbread into the chocolate and let sit on parchment or wax paper until chocolate hardens. If necessary, melt the remaining 2 ounces chocolate. Once set, store cookies in an air-tight container.
Notes
It's best to cut the shortbread while still warm. Otherwise, they won't cut very neatly when cool.

*The width of the container will determine how much chocolate to use. I used a small, narrow coffee mug and only 2 ounces chocolate.
More Tea Time Cookie Recipes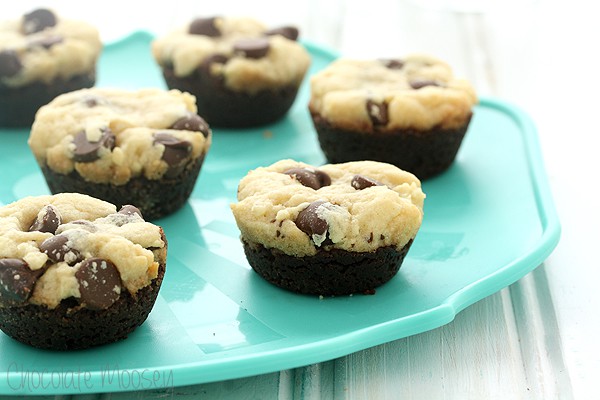 Chocolate Chip Cookie Brownie Bites
**Giveaway now closed**
Disclosure: This post is sponsored by Tate + Lyle via The BlogHer Network. Thank you for supporting me and the companies I work with as sponsored posts help pay for the costs of running Chocolate Moosey, including website hosting and groceries for recipe development.
This post may contain affiliate links. As an Amazon Associate and member of other affiliate programs, I earn from qualifying purchase.