Bloody Mary Tomato Soup
Turn your favorite brunch drink into a meal with one pot Bloody Mary Tomato Soup with shrimp for two! Serve it hot for comfort food or serve it cold for a refreshing meal.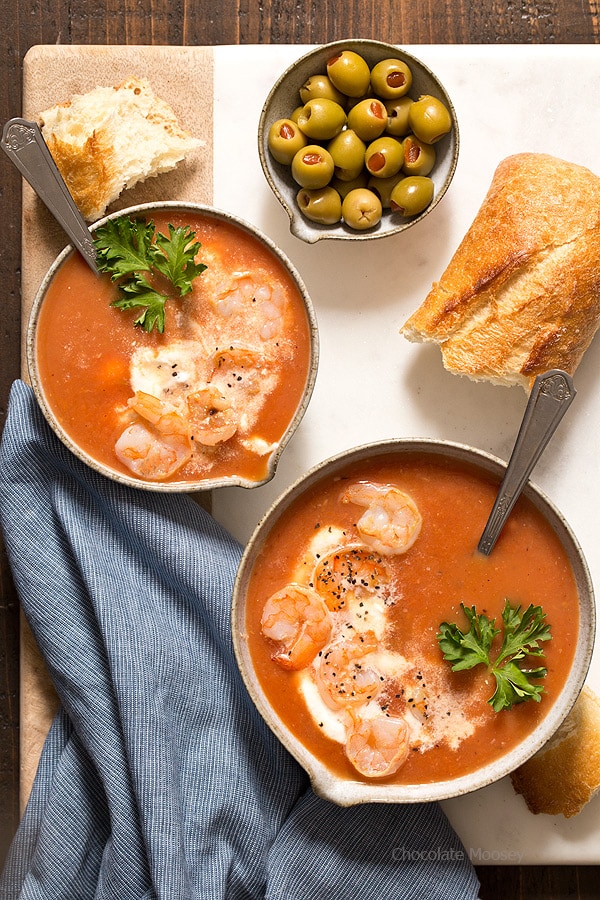 I'm about two months done with culinary school and haven't had a chance to blog about it.
Mainly because everything I've learned so far is the opposite of what I've been posting: salads, vinaigrettes, eggs, stocks, and soups.
I still have another four months to go and will finish up by mid July.
It's a bit untraditional as it's an online school, but the materials taught is the same as if I were going to a traditional school.
My skills are tested by uploading photos of everything from my mise en place (prepping my ingredients) to process shots to the final dish.
I've been enjoying it so far but at the same time I'll be happy to get my Sundays back (at least it's a fun kind of work).
It's funny how you think you know how to cook until you take the course and realize how many notes you ended up taking.
On the plus side, I'm learning little tricks here and there to make my recipes even better for you, like how many eggs per person and what size pan to use for the right-sized frittata for two people.
The past two weeks I've been learning about stocks and soups, which is where this Bloody Mary Tomato Soup with shrimp comes into play.
Of course I already knew how to make soup, but I learned there are different categories of soup and what the difference between stock and broth is.
This tomato soup is reminiscent of a Bloody Mary because of the celery, hot sauce, Worcestershire sauce, horseradish, shrimp (which is often used as garnish), and of course tomatoes.
It's only missing vodka, but I suppose to honor the name you can add a tablespoon or so.
I used canned tomatoes due to convenience (especially in the winter), but feel free to use fresh tomatoes during the summer.
You can even serve this chilled for a hot summer day.
I finished up the soup course last week. One question I've always had was what's the difference between stock and broth?
Originally I thought stock was made with bones and broth wasn't, but I was only half right.
Stock is made by simmering bones, yes. However, broth is made with meat left on the bones, cooking the meat while simultaneously flavoring the liquid (unless you're making vegetarian broth). Think chicken quarters.
For this tomato soup, I used chicken broth, but you can also use vegetable or seafood.
I cooked the shrimp right in the pan, making it a one pot meal.
I love shrimp, but feel free to leave it out and the Worcestershire sauce if making a vegetarian soup.
The amount of hot sauce and horseradish is based on personal preference. I love horseradish so I tend to add more than what I listed in the recipe.
Since making stock/broth takes a few hours, it's ok to buy boxed if you don't have homemade on hand. I rarely do, so it's always been boxed for me.
Please note depending on what you use, you may need to adjust the salt content to taste. Some stocks/broths are saltier than others.
Bloody Mary Tomato Soup
Ingredients
2 tablespoons olive oil
4 ounces shrimp, peeled, deveined, and patted dry
1/2 cup chopped onion
1 celery stalk, chopped
1 clove garlic, minced
1 (14.5 ounce) can diced tomatoes
1 cup chicken or vegetarian broth or stock
1 tablespoon hot sauce
1 tablespoon Worcestershire sauce
1 tablespoon freshly squeezed lemon juice
2-3 teaspoons prepared grated horseradish
1/2 teaspoon salt
Sugar, optional
Sour cream, ground black pepper, and parsley for garnish
Instructions
In a Dutch oven or large pot, heat 1 tablespoon oil until hot. Add the shrimp and cook 2-3 minutes then flip and cook another 2-3 minutes or until the shrimp are pink and no longer transparent. Transfer the shrimp to a bowl and keep warm.
Heat the remaining 1 tablespoon oil. Cook the onion and celery until soft, about 5 minutes. Add the garlic and cook 30 seconds.
Add the tomatoes with juices, broth, hot sauce, Worcestershire sauce, lemon juice, horseradish, and salt. Bring to a simmer then cook for 10 minutes, stirring occasionally. Taste and adjust seasoning, adding sugar if the soup is too acidic.
Transfer the soup to a blender then puree until smooth, about 1-2 minutes (be very careful as hot liquid expands when blended).
Pour the soup back into the pot and bring to a simmer. Stir in the shrimp and heat until warmed. Serve garnished with sour cream, black pepper, and parsley.
This post may contain affiliate links. As an Amazon Associate and member of other affiliate programs, I earn from qualifying purchase.