Pumpkin Layer Cake with Cream Cheese Frosting
This two layer Pumpkin Layer Cake with Cream Cheese Frosting is made all from scratch and stays incredibly moist and flavorful, even a few days later.
Well that didn't take long.
Already I'm hearing rumors and news stories about there being yet another pumpkin shortage this year. Every year it's the same thing. Stock up on canned pumpkin now because it'll be all gone.
Then when it's only a few days before Thanksgiving, surprise – you can still find canned pumpkin. Will the bad weather in the Midwest finally make this rumor come true? Or is it a marketing scheme to sell more pumpkin? Is someone out there crying wolf pumpkin again?
I got most of my pumpkin recipes for the blog done, but I may pick up one more small can, just in case.
If the shortage is true, maybe I can sell it on eBay for millions of dollars. People are usually pretty desperate for pumpkin, right?
I've had the idea for this Pumpkin Layer Cake since last year, but the only time I eat pumpkin is between Labor Day and Thanksgiving, so I waited until now.
It has nothing to do with staying on trend; my body simply does not want it. It's like my pumpkin craving turns off on Black Friday and doesn't turn back on until Labor Day. Then it's game on for pumpkin.
With all of the layer cake recipes I have, I can't believe I haven't done pumpkin yet. It's moist and flavorful with thick cake layers and creamy frosting, all made from scratch. Sometimes you can't mess with traditional pairings.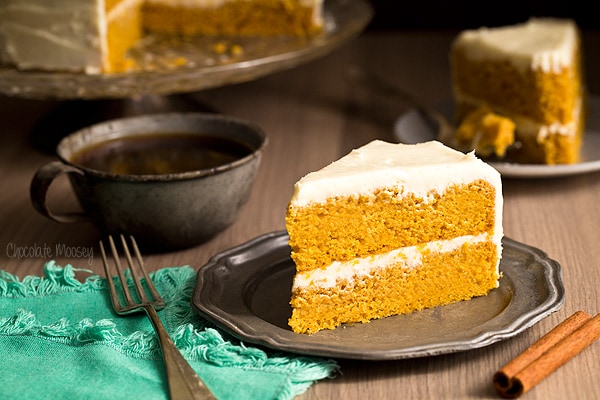 It's funny how sometimes simple is best. I thought about fussing with it – should I add nuts? Should I add a garnish? Should I drizzle it with caramel sauce? Should I add another flavor to the cream cheese frosting?
Nope. It was perfect the way it is, simple and all.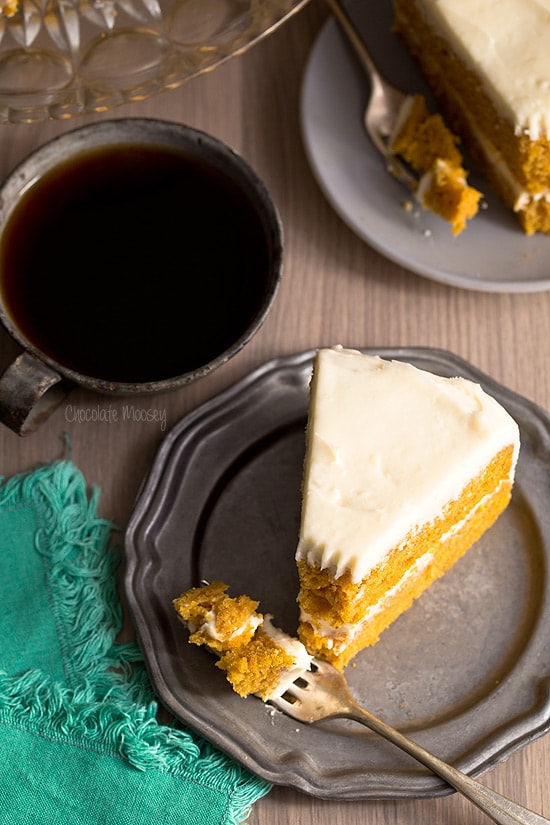 I did try a new-to-me kitchen hack in order to get flat layers without having to trim. I made
homemade bake even strips
where you wrap a wet (but not soaking) strip of towel around the cake pan. The wet towel cools down the outside of the cake so it bakes more evenly and the top stays flat.
Except it didn't work. I think it helped but I still had to trim a bit. Maybe I didn't spread the batter evenly enough in the pan to begin with. I read somewhere that maybe my batter was too thick. I'll keep trying with future cakes, but if you have tips on getting flat cake layers, I'd love to hear them!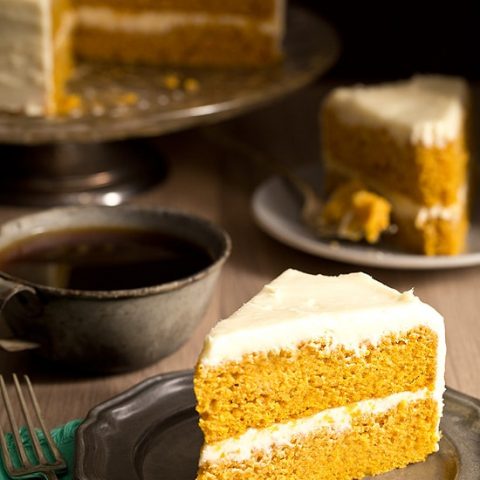 Pumpkin Layer Cake with Cream Cheese Frosting
Yield: 8-10 servings
Prep Time: 1 hour
Cook Time: 30 minutes
Total Time: 1 hour 30 minutes
Ingredients
2 1/2 cups all-purpose flour
1 1/2 teaspoons baking powder
1 teaspoon baking soda
1 teaspoon ground cinnamon
1/2 teaspoon ground nutmeg
1/2 teaspoon salt
1/2 cup vegetable oil
1 cup granulated sugar
1/2 cup brown sugar
2 eggs, room temperature
1 1/2 cups canned pumpkin puree
1 teaspoon vanilla extract
1/2 cup whole milk, room temperature
Double batch of Cream Cheese Frosting (click here for the recipe)
Instructions
Preheat oven to 350F. Line the bottom of two 8-inch round cake pans (1 1/2 inches deep) with parchment paper then lightly grease with cooking spray.
In a large bowl, sift together the flour, baking powder and baking soda (do not skip this step). Stir in the cinnamon, nutmeg, and salt.
In a large mixing bowl, beat together on medium speed the oil, sugar, and brown sugar until combined. Beat in the eggs, one at a time, until smooth. Beat in the pumpkin and vanilla. Add the flour mixture alternately with the milk, adding the flour in 3 additions and the milk in 2 additions (begin and end with dry ingredients).
Divide the batter between the two cake pans and bake 30-35 minutes or until a toothpick inserted in the center comes out clean. Cool for 15 minutes then invert the cake pans. Cool completely on a wire rack.
If the cake layers are not flat, trim some of the cake off of the top until flat. Place one cake layer on a cake stand or plate. Slide pieces of parchment or wax paper underneath the cake for easy clean up later. Spread some of the frosting on top of the cake for the filling. Top with the remaining cake layer. Spread a thin layer of frosting all over the cake, sealing in the crumbs (don't use more than half of the frosting). Refrigerate 15 minutes.
Finish covering the cake with the remaining frosting. Carefully remove the paper pieces. Refrigerate until the frosting is firm. Store the cake covered in the refrigerator. For best results, let the cake sit at room temperature 15-30 minutes before serving.
Source: Adapted from my
apple butter layer cake
More Layer Cakes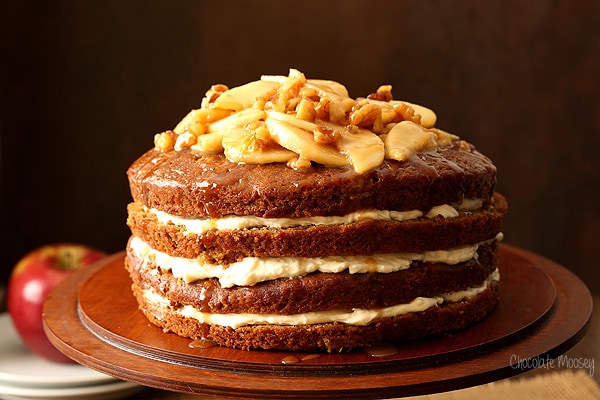 Caramel Apple Butter Layer Cake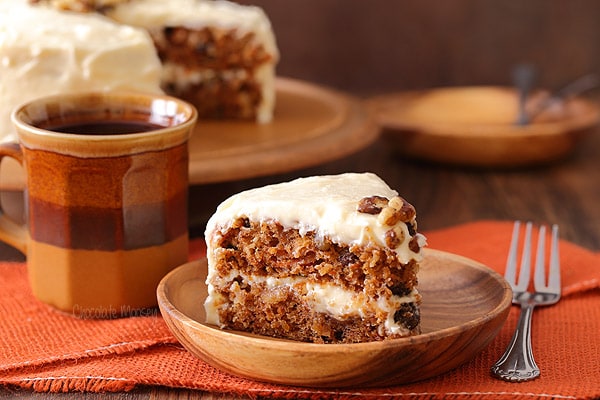 Carrot Cake Layer Cake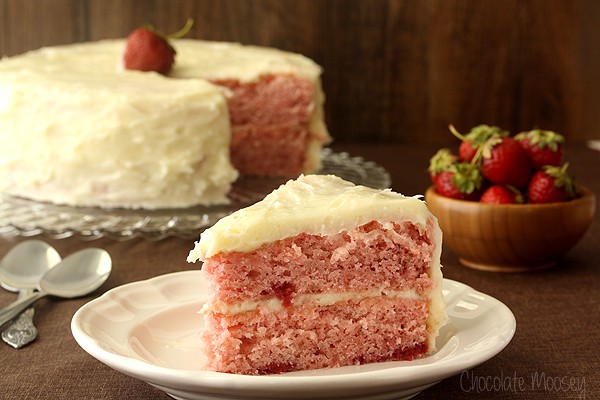 Strawberry Layer Cake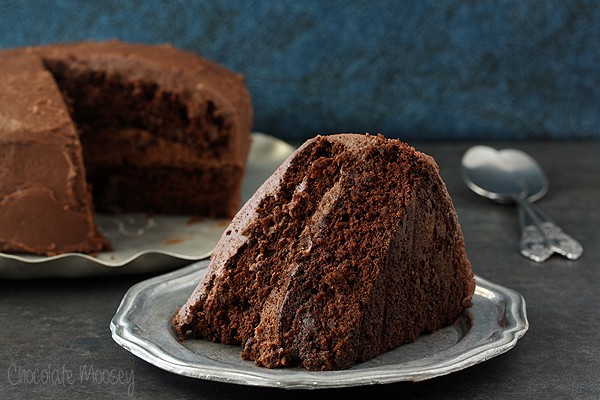 Devil's Food Layer Cake

Funfetti Layer Cake
This post may contain affiliate links. As an Amazon Associate and member of other affiliate programs, I earn from qualifying purchase.