Apple Cinnamon Coffee Cake
This Apple Cinnamon Coffee Cake with a crumb-like topping and vanilla glaze on top is a sweet alternative to apple pie when you have an abundance of apples to use.
Now that it's mid-October, I'm sad.
Not because I'm wearing sweaters or because farmer's markets have moved onto butternut squash and Brussels sprouts.
I'm sad because it's getting dark way too early.
These past few months, I had the same routine – make dinner, wash dishes, go to the park. If it was a Zumba night, I would leave Zumba and still make it home before dark.
Now? I have to rush through cooking and washing dishes. If I'm lucky, I can get to the park by 7 PM, which means I can get one lap in until the sun is gone and have to walk my second lap with the street lights.
Pretty soon the weather will get too cold to walk and I'll have to spend my evenings either cooped up or walking around the mall. I love my evening walks and will miss them until spring.
With the sad always comes the happy. Let's talk about why October also makes me happy.
Wearing sweaters (I have a few that I really like). Drinking hot coffee again. Leaves changing colors. Bugs dying from the cold. Eating pumpkin and butternut squash. Picking apples and not knowing what to do with them all.
Earlier this month was the annual apple festival I go to every year. You walk inside the barn and fill a bag with a variety of apples (I want to say 8 varieties but I didn't count).
It's similar to pick your own apples except you pick from crates rather than a tree.
That way you get exactly what you want (and if you're a photographer like me, you look for the pretty apples with stems. Leaves left on are a bonus).
I have so many apple recipes, I had to think about what I didn't have yet.
Now we can add this Apple Cinnamon Coffee Cake to the never ending list of apple inspiration on my site – a moist coffee cake that isn't cloyingly sweet to balance the crumb-like topping and vanilla glaze on top.
Cake for breakfast – does it get any better than that?
It's still a cake by nature, but because it's not over the top like birthday cake, it's totally acceptable to eat for breakfast or even brunch.
After all, it has the word coffee in the title (named for eating with coffee. There is no coffee in the recipe itself).
Not all apples are created equal; some apples are better for snacking while others are better for baking.
The baking varieties hold their shape better and don't get mushy from cooking.
While I was doing research on which apples to use, information varied from site to site. However, The Kitchn does have a pretty solid list of good apples for baking.
I used McIntosh apples in my coffee cake, but you can easily use your favorite baking apple such as Golden Delicious, Jonagold, Jonathan, and Cortland.
Items You May Need (affiliate links):
Apple Cinnamon Coffee Cake
Yield: 8-10 servings
Prep Time: 45 minutes
Cook Time: 55 minutes
Total Time: 1 hour 40 minutes
This Apple Cinnamon Coffee Cake with a crumb-like topping and vanilla glaze on top is a sweet alternative to apple pie when you have an abundance of apples to use.
Ingredients
Topping
3/4 cup all-purpose flour
1/4 cup packed brown sugar
1/4 cup granulated sugar
1 teaspoon ground cinnamon
1/2 teaspoon ground nutmeg
6 tablespoons unsalted butter, cold and cut into 6 pieces
Cake
1 1/2 cups all-purpose flour
2/3 cup granulated sugar
2 teaspoons baking powder
1 teaspoon ground cinnamon
1/2 teaspoon ground nutmeg
1/2 teaspoon salt
1/4 cup (2 ounces or 4 tablespoons) unsalted butter, melted
1 egg
1/2 cup whole milk
1 teaspoon vanilla extract
1 large apple, cored, peeled, and chopped
Glaze
1/2 cup powdered sugar
1 tablespoon milk
1/4 teaspoon vanilla extract
Instructions
Preheat oven to 350F. Lightly grease a 9 inch springform pan.
Make the topping first: In a large bowl, whisk together the flour, brown sugar, sugar, cinnamon, and nutmeg.
Using a pastry blender or your fingers, cut in the butter until the mixture resembles coarse crumbs. Refrigerate while you make the cake.
Make the cake next: In a large bowl, whisk together the flour, sugar, baking powder, cinnamon, nutmeg, and salt.
In another large bowl, beat on medium speed the melted butter and egg until smooth. Beat in the milk and vanilla.
Scrape down the sides of the bowl. Gradually beat in the flour mixture until combined (do not overmix). Stir in apples.
Transfer dough to prepared pan. Top evenly with cold topping. Bake 45-55 minutes or until a toothpick inserted in the center of the cake comes out clean. Cool for at least 15 minutes before removing the sides of the pan.
While cake is cooling, make the glaze: Whisk together the powdered sugar, milk, and vanilla. Drizzle over warm cake. Let harden before serving.
Source: Adapted from
Sally's Baking Addiction
More Apple Recipes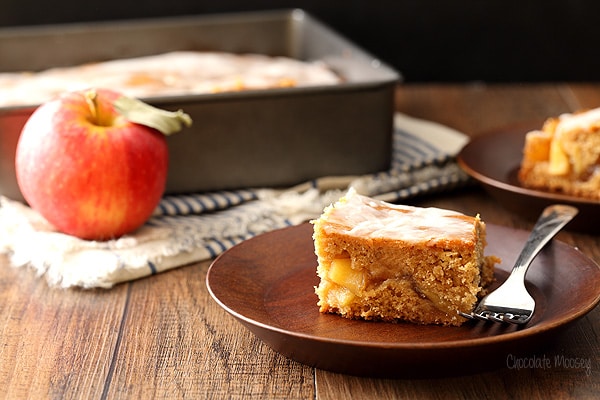 Apple Fritter Cake

Apple Butter Crumb Cake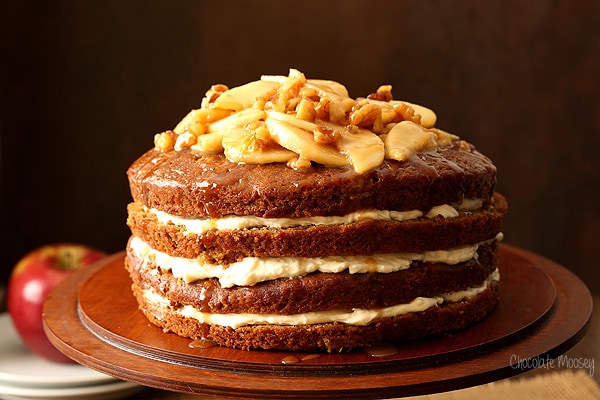 Caramel Apple Butter Layer Cake

Caramel Apple Shortcakes
This post may contain affiliate links. As an Amazon Associate and member of other affiliate programs, I earn from qualifying purchase.