Pork Wonton Soup
Pork Wonton Soup stuffed with pork, green onion, garlic, and ginger has been a family favorite for years and will hopefully be yours too. Serve with egg rolls for a complete Chinese dinner without needing to order take out.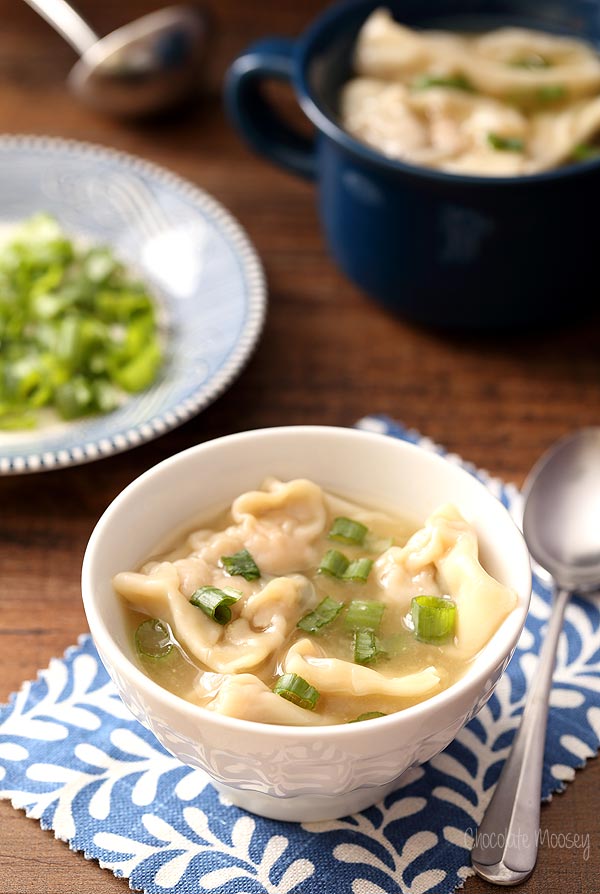 Just like you, I have a list of tried and true recipes that I'm constantly making.
Some I've already posted, such as my Haluski and Italian wedding soup, while some I still have yet to share.
Since I've been blogging for almost 8(!) years now, there are recipes I shared at the very beginning that deserve a second chance in the spotlight (because let's face it – photos draw you into making the recipe and mine back then…did not).
I've lost track of how many times I've made my trusted Pork Wonton Soup, which is mainly when I see my family (whether they're visiting me or I'm visiting them).
I remember when I was a kid, Mom and I would order wonton soup from the little fast food Chinese place in the mall food court.
Then they stopped serving it altogether, which left us very disappointed.
Eventually as I got older, I learned how to make it for dinner so we could enjoy it again (someday I'll learn how to make homemade egg rolls, but for now we pair our soup with frozen egg rolls).
This wonton soup does take some prep time as the pork filling needs to marinate about 30 minutes and then some time to assemble the wontons, but they cook fast (faster than it takes to prep!).
I promise the outcome is so worth it. I also included step by step photos of how to stuff a wonton so you can see exactly how I do it.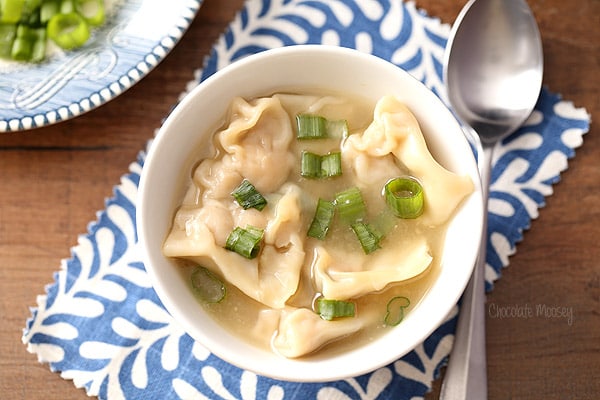 Once upon a time, I went through a phase where I wanted to cook my own Chinese food at home and asked for a wok for my birthday.
My parents very graciously bought me one, and it was HUGE. It was the biggest pan I owned (and also the hardest to store).
Wonton soup was the first dish I made it. Since then, I've adapted the recipe to make it in my Dutch oven.
Unfortunately, I had to part ways with my giant wok simply because I couldn't justify storing it for what very little cooking I did in it (sorry, Mom and Dad).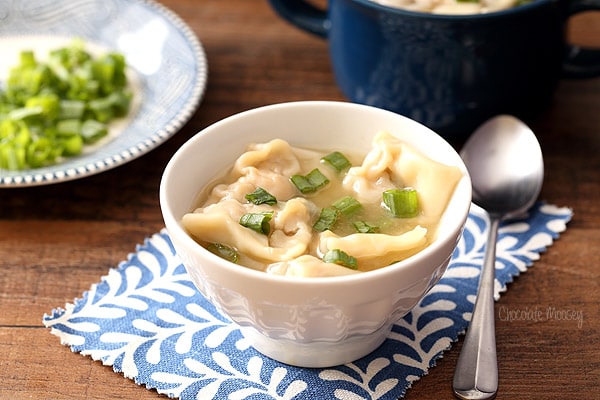 As I mentioned, I first posted my wonton soup back in 2008 when my blog was still a baby. Man, how much I have grown since then!
The post consisted of an old photo with one paragraph that said exactly this:
My mom is very hard to please when it comes to dinner, so I know this soup is a winner when she keeps asking for it. I remember the first time I planned on making it, I could not find wonton wrappers. First, I checked the Asian food aisle. After running around the store, I asked the front desk. Turns out they are in the produce section by the tofu since the wrappers are made of soy. Wonton wrappers are very versatile because you can fill them with anything, whether it's an appetizer, dinner, or dessert. We serve this soup along with egg rolls.
My mom is still a little picky for dinner (especially now that she has some health restrictions), but I've gotten better at predicting what she wants.
Most of the time, I'll make recipes that I know she already loves. Also, wonton wrappers are still located in the produce section, usually near the mushrooms (I have no idea why).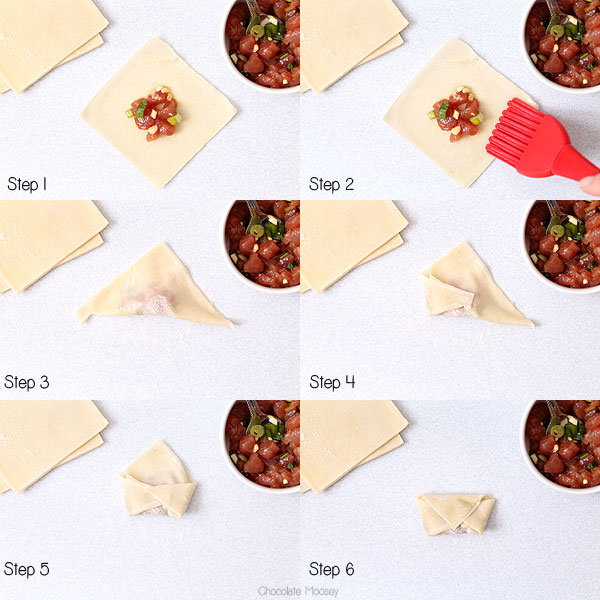 Filling the wonton wrappers is easy. The key is keeping the package covered while you work, usually with a damp towel, as the wrappers will dry out when exposed.
Wetting the edges when you fold them not only helps them from breaking, it helps everything stick together and not fall apart when cooking (although if a few do fall apart, it still all comes together as soup in a bowl).
Since you'll more than likely have leftover wonton wrappers, the best way to store them is wrapped tightly in the freezer (I usually attempt to seal the package back up, wrap that in plastic wrap, then place that in a freezer-proof plastic bag).
When you are ready to use them, it's best to thaw them in the refrigerator rather than directly on the counter as they have a tendency of being gummy.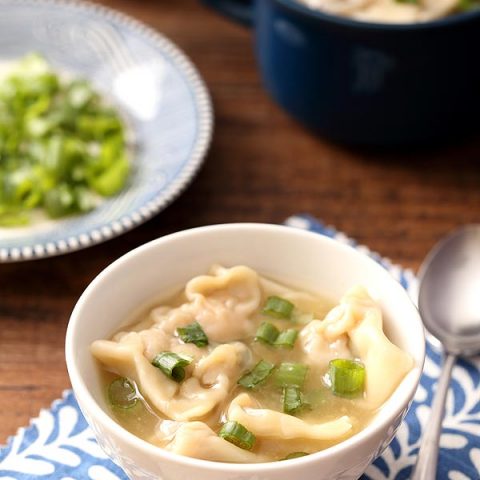 Pork Wonton Soup
Yield: 4-6 servings
Prep Time: 1 hour
Cook Time: 10 minutes
Total Time: 1 hour 10 minutes
Pork Wonton Soup stuffed with pork, green onion, garlic, and ginger has been a family favorite for years and will hopefully be yours too.
Ingredients
1/4 pound ground pork (can also use boneless pork sirloin cut into 1/4-inch pieces)
1 green onion, chopped
1 garlic clove, minced
1 tablespoon orange juice
1 tablespoon soy sauce
1 teaspoon packed brown sugar
1/4 teaspoon fresh ginger paste or ground ginger
24 wonton wrappers
6 cups chicken broth/stock
Additional soy sauce and green onion, for garnish
Instructions
In a medium bowl, mix together the pork, brown sugar, orange juice, soy sauce, green onion, and garlic. Refrigerate for at least 30 minutes.
Place roughly 1 teaspoon of the pork mixture in the center of one wonton wrapper. Wet the edges with a little water and press two opposite corners together to seal, forming a triangle. Fold all three corners so they meet in the middle (if they aren't sticking, use a little more water). Repeat with the remaining wrappers and filling.
Meanwhile, in a Dutch oven or large pot, bring broth to a rolling boil. Once boiling, add wontons and cook 8-10 minutes or until wontons are soft and no longer gummy.

Taste the broth - if it needs more salt, add some soy sauce then garnish with green onion before serving.
More Soup Recipes

Italian Wedding Soup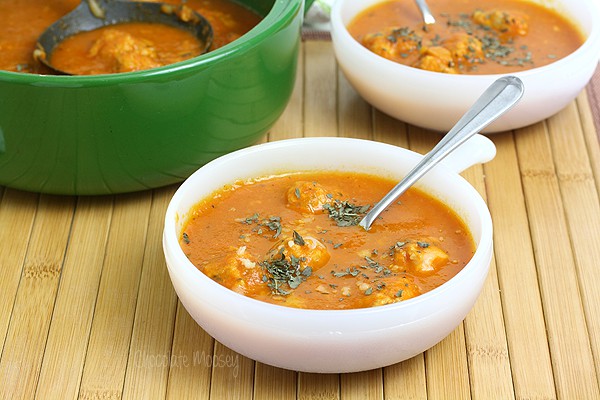 Chicken Parmesan Meatball Soup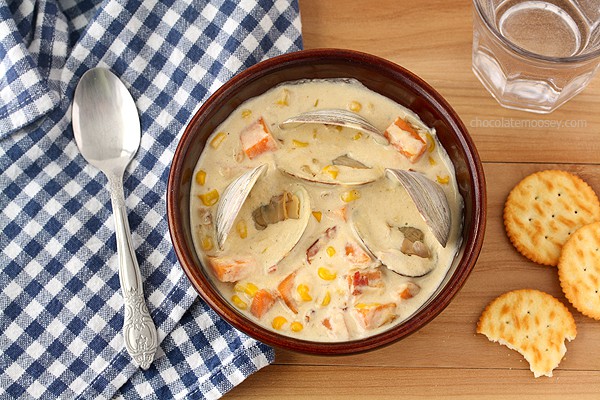 Sweet Potato and Corn Clam Chowder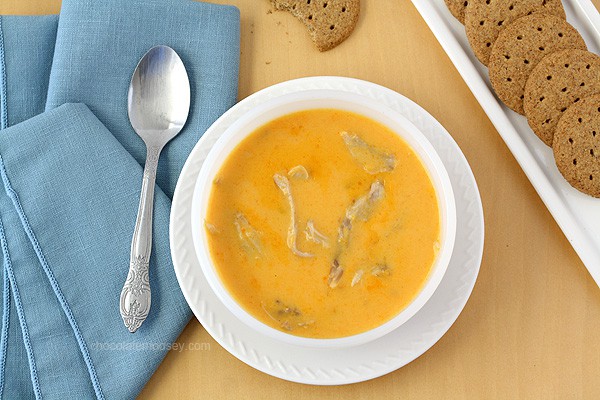 Cheesy Buffalo Chicken Soup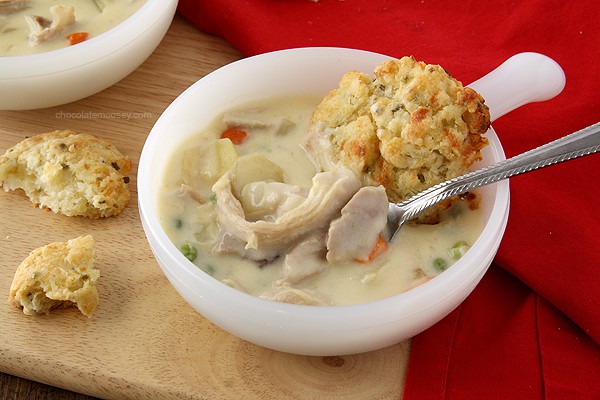 Chicken Pot Pie Soup with Cheddar Biscuits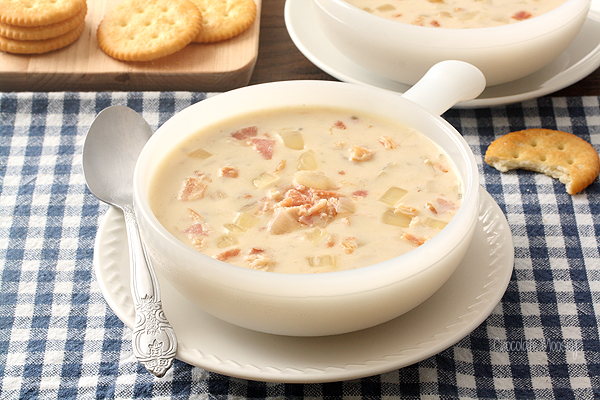 Creamy Onion Bacon Soup
This post may contain affiliate links. As an Amazon Associate and member of other affiliate programs, I earn from qualifying purchase.