5 Easy Party Dip Recipes
Need dip recipes for chips? Chips and dip are the best part of any party (not to mention they are quick and easy party food). Whether you are looking for hot party dips or cold dips with sour cream, here are my 5 favorite easy party dips that take 60 minutes or less to prepare.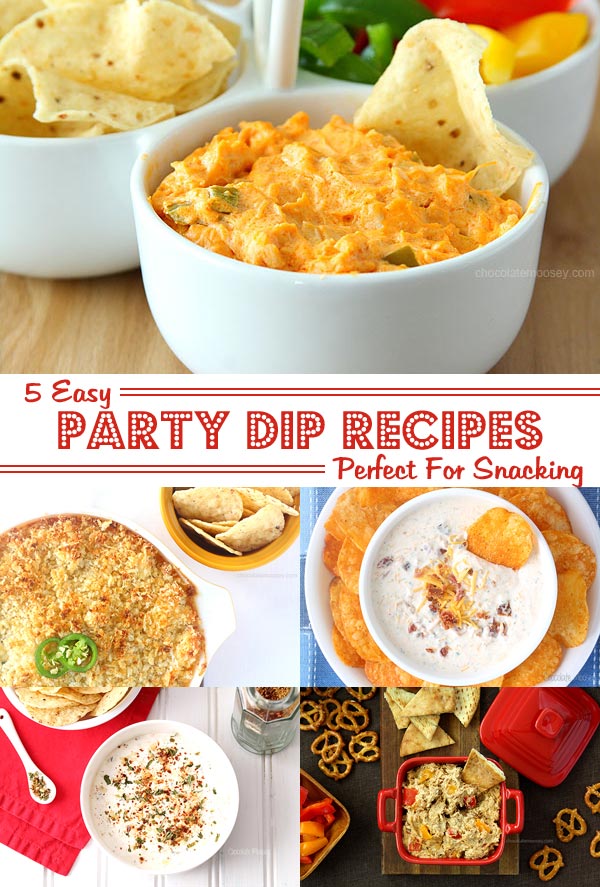 Tell me if this sounds familiar: A major event or holiday is coming up, usually Game Day or Christmas, and your coworkers all agree to bring in one dish to share in celebration (and because everybody loves to snack at the office). You have a wide variety of food – cookies, meatballs, vegetable trays, little cocktail wieners. Then you spy the best part of all – chips and dip – and you make a mad dash towards the table with your plate ready. If I could live on dips alone for dinner, I'd be one happy moose. Whether you're getting together with coworkers, friends, family, or neighbors, I have 5 Easy Party Dip Recipes you can make in 60 minutes or less (give or take some time for the cold dips to chill). Just don't forget the chips!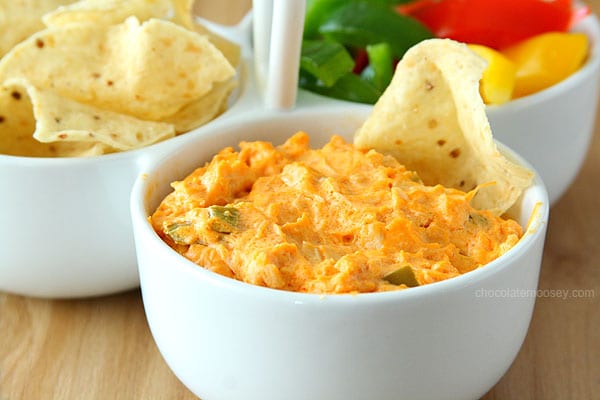 1. Buffalo Chicken Dip – I don't think I've ever gone to a party where there wasn't Buffalo Chicken Dip (and usually 2-3 bowls of it too). Chicken and hot sauce come together to make one cheesy dip without the mess of chicken wings. It's the most popular dip that anyone can make (and is also the first dip to disappear).
2. Jalapeno Popper Dip – Another popular party dip is Jalapeno Popper Dip. Making traditional jalapeno poppers takes time because you have to stuff individual peppers before baking and eating. Skip all that work and just combine everything into one bowl. With all that cheese, bacon, and jalapeno, how can you go wrong?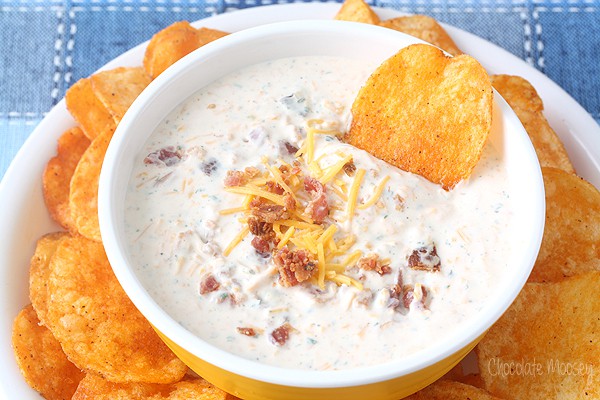 3. Cheesy Bacon Ranch Dip – This sour cream based dip with bacon, cheese, and ranch seasoning requires no cooking to put together (minus some cooked bacon, which you can easily do in the microwave) and takes longer to chill than to actually make. If you can wait that long, your patience will be rewarded.
4. Fiesta Dip – Another sour cream based dip that uses a homemade dip mix and can be thrown together in minutes (literally). I keep the dip mix in my pantry for a last minute dip. By the time everyone arrives and settles in, the dip is ready to eat.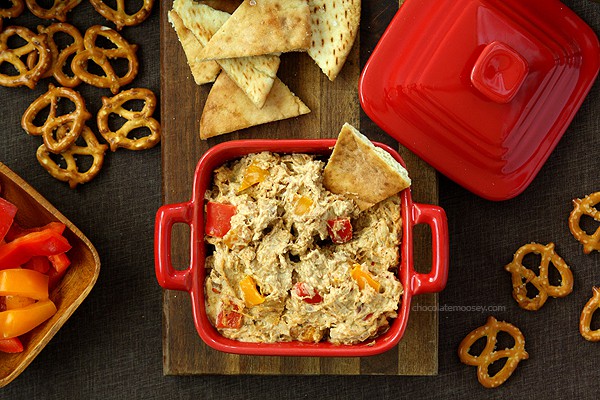 5. Chicken Fajita Dip – Inspired by one of my favorite meals, Chicken Fajita Dip is the cousin to buffalo chicken dip and combines chicken, bell peppers, and fajita seasoning into one flavorful dip. Make this dip, and you might just forget about buffalo chicken.
Bonus Party Recipes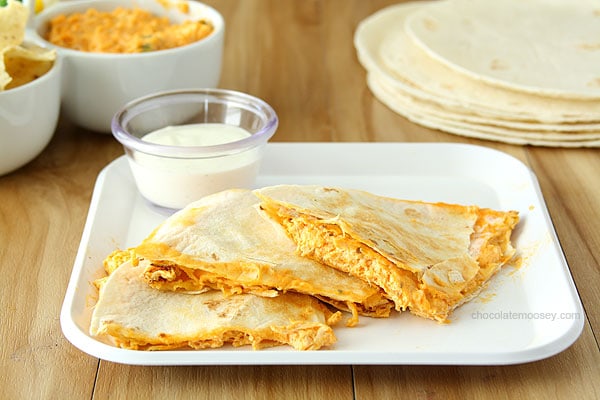 Buffalo Chicken Quesadillas – Remember how I said if I could eat dips for dinner, I'd be happy? I figured out exactly how to do that – by turning my favorite dips into quesadillas! This recipe is for buffalo chicken dip, but you can also use chicken fajita dip or jalapeno popper dip for the filling.
Homemade Pita Chips – What is a party without chips? Whether you serve these with one of my homemade dips or with hummus, pita chips is a healthier alternative to potato chips (and can be ready in just 20 minutes).
This post may contain affiliate links. As an Amazon Associate and member of other affiliate programs, I earn from qualifying purchase.