Pizzelles (Italian Wafer Cookies)
Learn how to make Pizzelles, which are thin Italian wafer cookies that have been a Christmas tradition in my family for years.

Making Pizzelles (Italian Wafer Cookies) has always been a Christmas tradition. Every December, usually Christmas Eve or the day before, Mom and I will bring out the pizzelle maker and make stacks and stacks of these delicate, "fancy" cookies. Half vanilla, half chocolate. Traditionally, anise extract is used, but the smell of anise alone makes me sick. Although the ingredient list seems a little plain, there is something about a warm, crunchy pizzelle that gives it a wonderful vanilla (or chocolate) taste.

One of my first signs of recipe developing. The company didn't do a good job with instructions.
Pizzelles are very thin Italian wafer cookies that take about 45-60 seconds to make in a machine similar to a waffle maker. You can find pizzelle makers in Italian grocery stores, especially around Christmas time in different shapes. Ours is a round circle with a fancy design in the middle. Although our pizzelles don't come out as perfect circles, they still get devoured within minutes of making.
Just like with making waffles, I can never figure out how much batter to put each time. I can't help but giggle when we put too much because it sounds like a train whistle when you close the lid (I never knew cookie making could be so noisy. Or that batter spreading actually made a noise).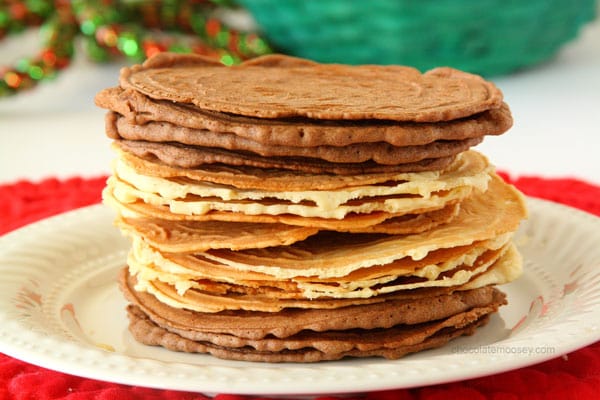 The fun part about pizzelles is immediately after removing from the maker, they are flexible for about 30 seconds. You can bend them into serving vessels, such as cannoli shells or waffle bowls, or leave them flat as regular cookies. One year, I made cannolis with the cookies as shells and filled them with a ricotta mixture and chocolate chips (which I can't seem to find a picture?)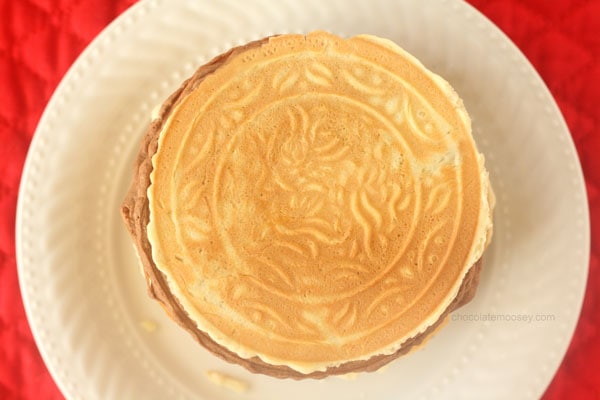 The pizzelles do keep their fragile crunch a few days after making them. I took a whole bunch into work and educated the guys on a new type of cookie. They were impressed and ate them quickly. The cookies are quite addicting!
Update 12/19/14 – The Salton pizzelle maker that I have is no longer manufactured, so I can't link to it. However, you can buy one of the following from Amazon (affiliate links):

Pizzelles (Italian Wafer Cookies)
Learn how to make Pizzelles, which are thin Italian wafer cookies that have been a Christmas tradition in my family for years.
Ingredients
1 3/4 cups all-purpose flour
1 cup granulated sugar
1/2 tsp. baking powder
1/4 cup cocoa powder (only if making chocolate pizzelles)
3 eggs
1 Tbsp. vanilla extract
1/2 cup butter, melted
Instructions
Preheat pizzelle iron. In a medium bowl, whisk together the flour, sugar, baking powder, and cocoa (if using). set aside.
In a large bowl, whisk together the eggs and vanilla. Beat in melted butter. Whisk in flour mixture.
Make pizzelles according to your manufacturer's instructions. For mine, put about 1 1/2 teaspoons of batter into the center of each circle and cook for 30-45 seconds. Remove from the iron and lay flat to cool (or roll into desired shape).
More Christmas Cookie Recipes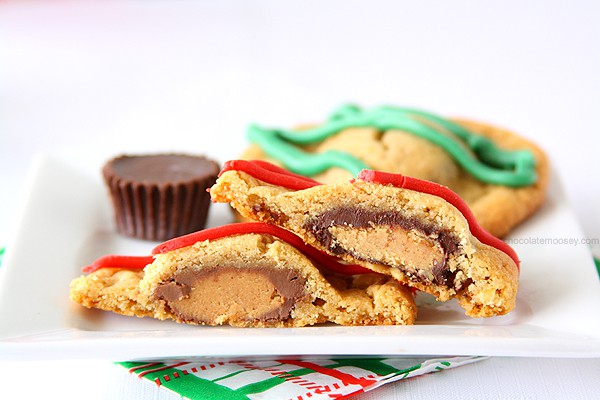 Double Peanut Butter Surprise Cookies
This post may contain affiliate links. As an Amazon Associate and member of other affiliate programs, I earn from qualifying purchase.