DIY Faux Wooden Photography Boards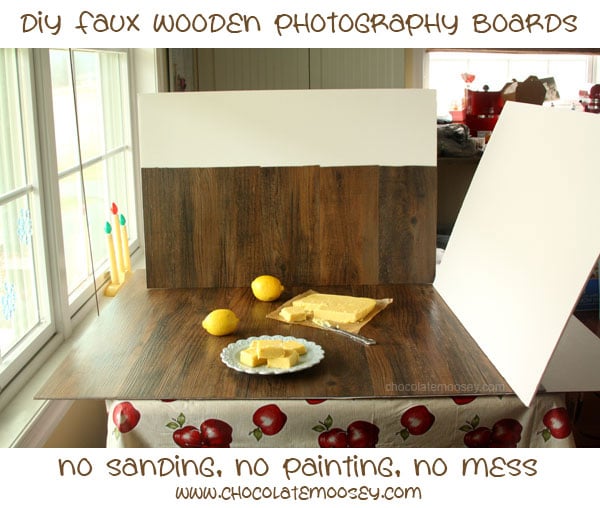 If you are into food photography, chances are you want to get your hands on some wooden boards for your base. Me too, but who wants to deal with gluing, sanding, and painting? You can easily assemble Faux Wooden Boards using vinyl boards and posterboard in 10 minutes without splinters and the mess.
This post happened by accident after spending an hour at Lowe's. I was looking for tongue and groove boards that I could easily glue together. When I found some at Lowe's, they were too wide. Frustrated, I looked at wood along the back wall and ended up in the flooring section. Tongue and groove boards in the right size! Unfortunately, I had to buy a big pack and not individual pieces ($50!). Defeated, I thought I had to wait another day until I could go to Home Depot (which is in another town).
As I was leaving Lowe's, I saw them. Vinyl boards that look like wood sold as individual pieces! (If all you see is the boxed set, ask for someone to open the box). Instead of gluing or nailing, you peel the paper off of the back and stick to your surface. The boards are flimsy on their own, so I figured I could buy foam board for support. Unfortunately, I didn't buy enough pieces the first time, so I had to run back to the store. It wouldn't be a big deal, except it's roughly a 40 minute trip one way. Oy.
The pieces range from $1-$3. The light brown pieces (called "Sunlit Maple 399158") were $0.98 each while the dark brown (slightly wider and called "Antique Woodland Oak 399147") were $2.36 each. I ended up using 8 light brown and 6 dark brown pieces. I bought a trifold board for support, which cost me $2.50 each at Dollar General. This means that my two boards cost roughly $10 and $17.
If you know what you want and have everything ready to go, putting together one board would take you roughly 10 minutes. I think I spent 45-60 minutes photographing and assembling two boards and a backdrop, but keep in mind I took time to set up each scene as I went.
[rss-cut]

How To Make Faux Wooden Photography Boards
1. Remove the cat.
2. Make sure you have enough pieces so you don't have to run back to the store.
3. Lay out your pieces without peeling so you know exactly what you want. My dark brown pieces were longer than the board, so I cut them. I also managed to fit the light brown pieces all to the left of the one flap so I have a built-in "reflector." I wasn't quite as lucky with the wider dark brown pieces.
4. Take one piece and peel off the backing. Carefully line it up straight on the poster board and set in place. Press down to secure (my fingers were sticky, so I used my knuckles). Repeat with the remaining pieces. Take your time lining them up because they can be a bit flimsy. I managed to assemble everything by myself, but it wouldn't hurt to have some extra hands.
5. Once everything is in place, it is a good idea to apply pressure with books or something heavy to make sure they stick really well.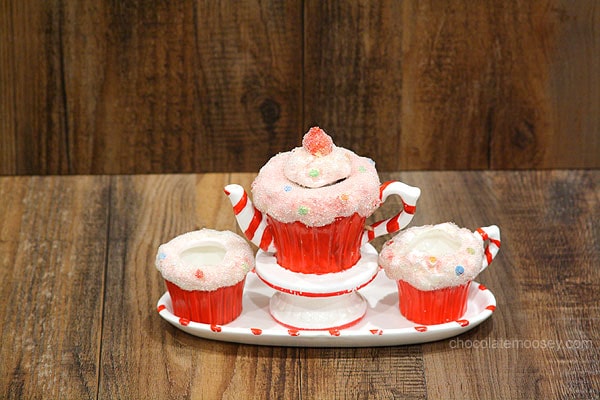 Since I had pretty decent-sized boards left from the dark wood, I made a backdrop. Think I'm going to buy some more light brown ones for a backdrop too.
The worst part about this project is the glue after peeling the paper. I had to wash my hands several times to get the residue off, but I can deal with that considering how little work it takes to make these. I couldn't find any that looked like white wood, so I did end up finding a small pack of tongue and groove boards that can be painted on both sides. I'm thinking white and teal.
—
Liked this tutorial? Here are some tutorials from other food bloggers that use actual wood:
This post may contain affiliate links. As an Amazon Associate and member of other affiliate programs, I earn from qualifying purchase.