Small Batch Bloody Mary
Time for brunch! This Small Batch Bloody Mary recipe made from scratch with tomato juice isn't like any other you've had, thanks to one secret ingredient.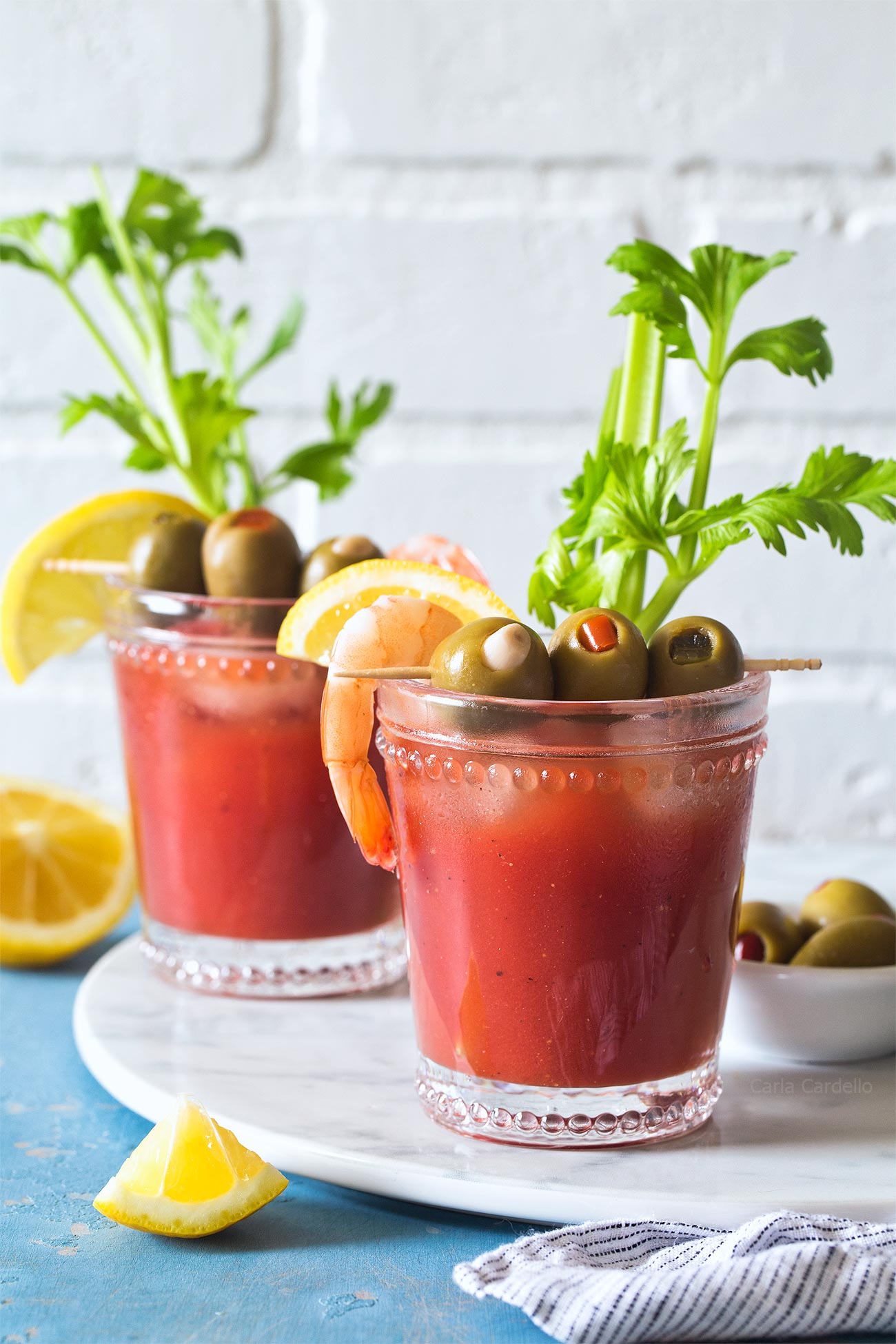 Is it weird to love drinking tomato juice? Often when I'm flying, I'll order tomato juice while everyone else is ordering pop. Tomato juice always seems to hit the spot when you're 35,000 feet in the air (and often makes my stomach feel better because I can't handle turbulence).
Actually, there is science behind why tomato juice tastes better in the air. The cabin pressure messes with your taste buds, making tomato juice taste sweeter and fruiter than back on the ground.
Anyway.
Growing up, my mom used to drink V8 juice a lot. Therefore, I drank it a lot.
Now as an adult, I drink my tomato juice in the form of a Bloody Mary.
I often have one while traveling, mostly to treat myself but also because I crave something fresh after eating donuts and ice cream all trip (ha).
But I certainly don't have to wait until my next trip to drink one. In fact, bloody marys are so ridiculously easy to make at home, I wonder why I don't make them more often.
All you do is whisk and serve. Ok and maybe chop some celery for garnish.
Because it's usually only me, I made Small Batch Bloody Marys. Most drink recipes make a large batch for a crowd. I often end up dumping what I don't drink, which makes me sad because I hate wasting food.
However, if you're making this recipe for Mother's Day brunch, you can easily double or triple the recipe, depending on how many people you're serving.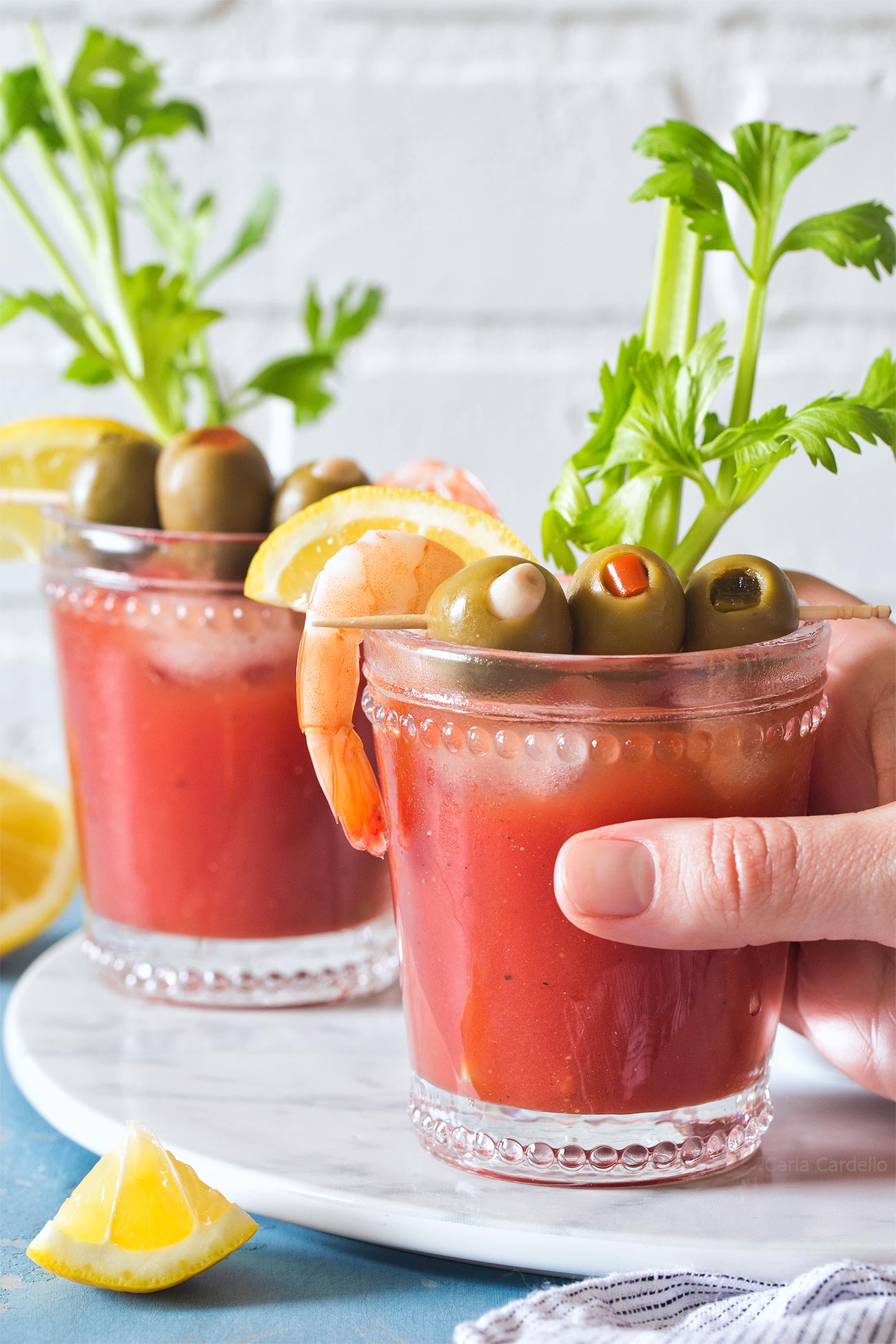 Can we talk about how to spell bloody mary? Is it Bloody Mary (capitalized) or bloody mary? And is the plural form bloody marys or maries?
What makes a good bloody mary? First, start with high-quality tomato juice. If you can juice fresh garden tomatoes, even better! However, it's not quite tomato season in PA, so buying juice was a better option.
Every bloody mary needs heat, whether it's horseradish, hot sauce, or both. Warning – this recipe is strong in horseradish. Of course if you like it milder, cut back on how much you use.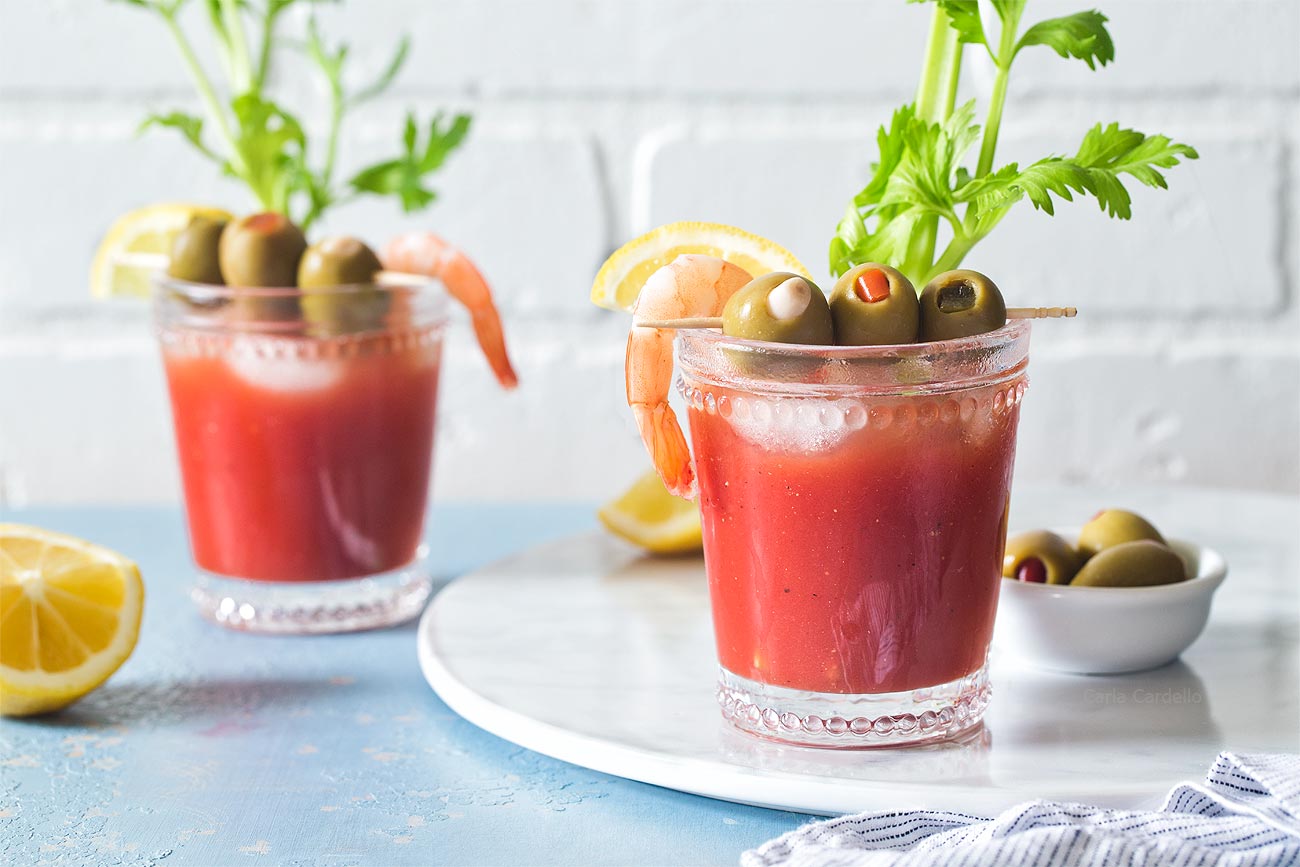 The best part about bloody marys is how the garnish pretty much doubles as a meal. Some places go super crazy with burgers, soft shell crab, and even fried chicken on top. I kept mine simple with cocktail shrimp, celery, and stuffed olives.
If you really do want to turn bloody mary into dinner, check out my Bloody Mary Tomato Soup! It's no longer only for brunch.
Although olives are often used as a garnish, I wanted to incorporate more olive flavor. That's why the secret ingredient in my bloody mary recipe is olive juice.
Most if not all bloody mary recipes don't use olive juice, which is a shame because it adds another layer of flavor to the drink.
Much like using salt and acid while cooking, the briny olive juice helps enhance and balance the other flavors.
Ever eat something that tasted one note? Try adding salt and/or acid next time. Suddenly the food tastes better.
I used stuffed olives for both the garnish and the brine. I used garlic stuffed, pimento stuffed, and jalapeno stuffed. They also make blue cheese stuffed and feta cheese stuffed, which would also make excellent garnishes.
More Small Batch Drink Recipes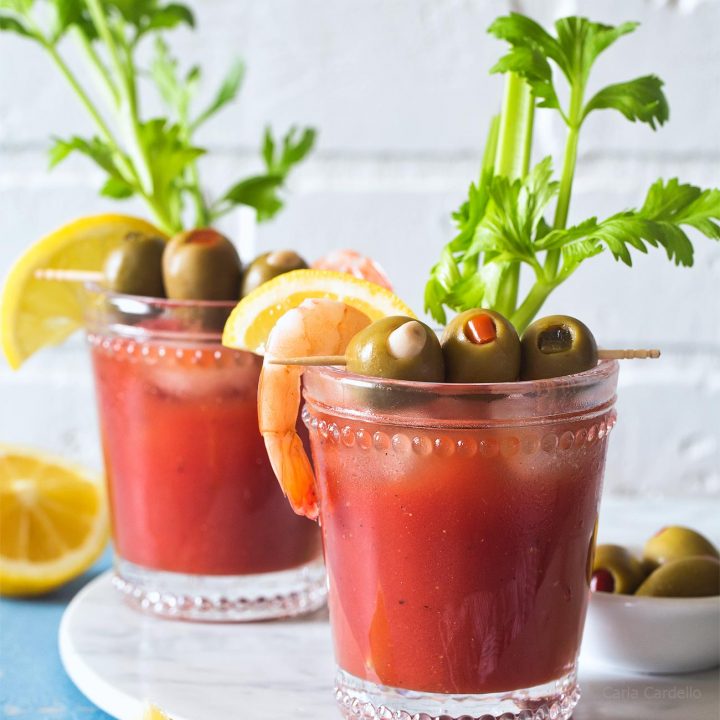 Small Batch Bloody Mary
Yield: 2 drinks
Prep Time: 15 minutes
Total Time: 15 minutes
Time for brunch! This Small Batch Bloody Mary recipe made from scratch with tomato juice isn't like any other you've had, thanks to one secret ingredient.
Ingredients
2 cups tomato juice
1/2 cup olive juice
1/4 cup vodka (optional)
2 teaspoons Worcestershire sauce
2 teaspoons hot sauce
2 tablespoons grated horseradish
2 tablespoons lemon juice
1/2 teaspoon ground black pepper
Ice cubes
Garlic Stuffed, Pimento Stuffed, and Jalapeno Stuffed Olives for garnish
Celery stalk, cocktail shrimp, and lemon wedges, for garnish
Instructions
Whisk together the tomato juice, olive juice, vodka if using, Worcestershire sauce, hot sauce, horseradish, lemon juice, and black pepper.
Add ice to 2 glasses. Divide tomato mixture between the glasses. Garnish with olives, celery, shrimp, and lemon.
This post may contain affiliate links. As an Amazon Associate and member of other affiliate programs, I earn from qualifying purchase.