Strawberry Cream Cheese Tart
Strawberry Cream Cheese Tart with a homemade pie crust is an easy summer tart that will impress. It's like eating a strawberry pie and cheesecake in one bite.
It's finally here – strawberry season! I discovered there is a local berry farm about 45 minutes from my parents where we can go and pick our own strawberries. Sure, you can walk into the market and buy a basket already picked, but what's the fun in that?
Once you pick up your empty box, you wait in line for the tractor. The tractor then takes you one of the designated fields bursting with strawberries, ready to be turned into pies, cakes, and jams.
Once you hop off the tractor, you walk over to the field and start hunting for berries.
Some are too ripe and practically turn to mush in your hand. Others still have a little green and not ready. The ones you want are bright red with little to no resistance when you pick it off the bush.
Once your box is full, you wait for the tractor to take you back, picking any last minute berries you spy and trying to squeeze them into your already-overflowing stash.
On the ride back, you start thinking about what to make first. Strawberry Layer Cake is quite a popular hit.
But it's pretty hot outside, so Strawberry Cheesecake Ice Cream would hit the spot.
But then you could make a small batch of strawberry jam or strawberry curd and eat it on everything.
However, you're really craving pie. And cheesecake. But you don't want to make a pie AND cheesecake. You only want to make one.
How about putting a no bake cheesecake filling inside a pie crust? That would settle both cravings.
And just like that, I'm off the tractor and ready to make a Strawberry Cream Cheese Tart with a homemade pie crust.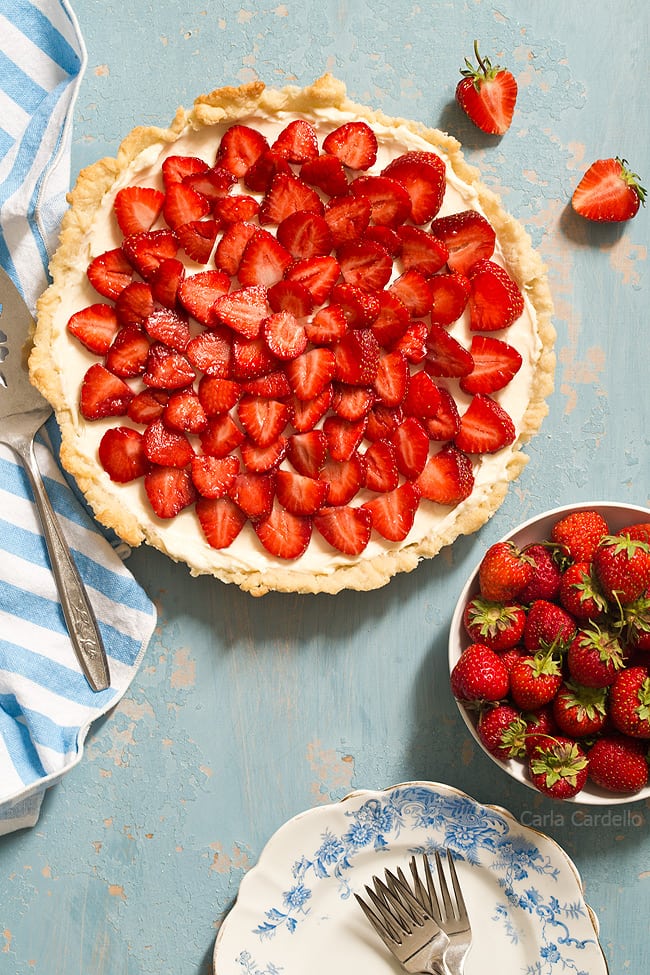 This strawberry tart with cream cheese reminds me of the classic strawberries and cream.
You have strawberries. You have cream cheese and heavy cream.
Bind them together with a pie crust, and now you have heaven.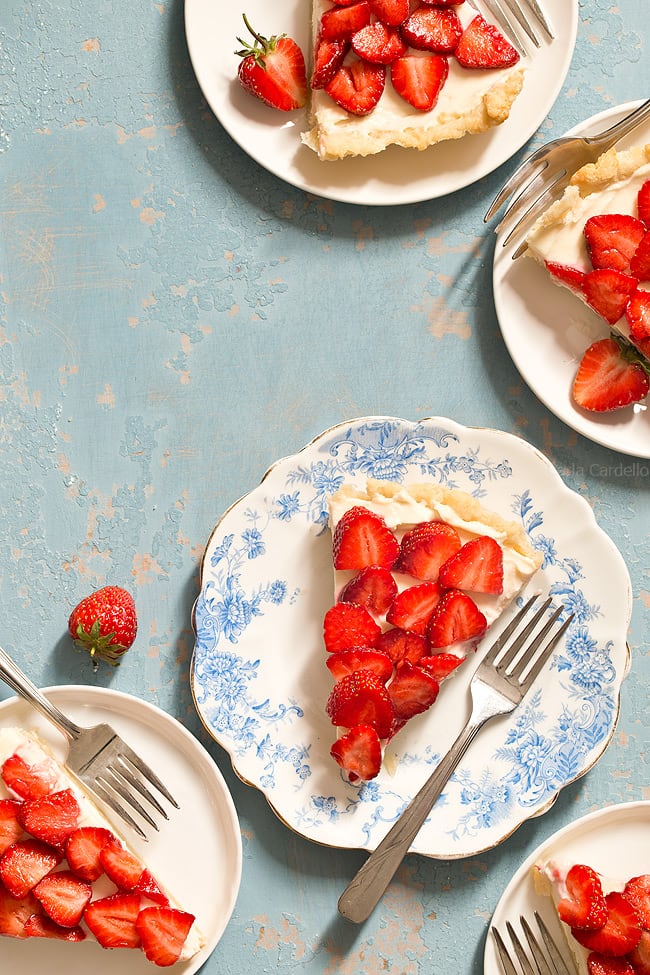 The pie crust is fully blind baked, meaning you bake it without any filling until golden brown and done.
That's because it's filled with a no bake cheesecake filling, so you're not baking it a second time.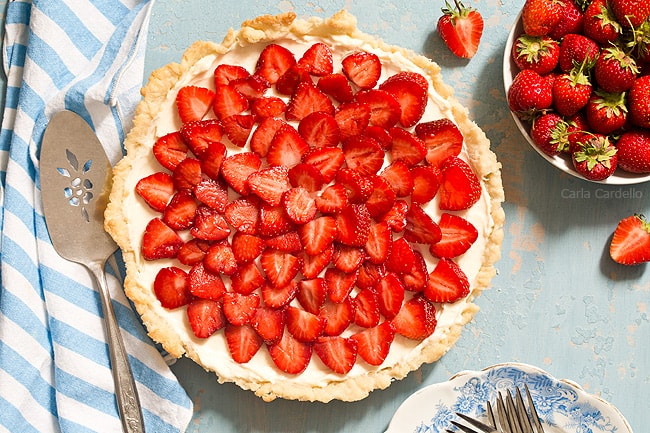 The decoration on top is pretty simple. Arrange sliced strawberries in a circular pattern.
I thought about a chocolate drizzle on top, but I really wanted the freshly picked strawberries to shine. Honestly, it's so good it doesn't need any fancy garnishes.
Items You May Need (affiliate links):
Want a traditional pie instead? Check out Strawberry Pie from Sweet Tea and Sprinkles.
Strawberries and Cream Tart
Yield: 6-8 servings
Prep Time: 1 hour 30 minutes
Cook Time: 20 minutes
Total Time: 1 hour 50 minutes
Strawberry Cream Cheese Tart with a homemade pie crust is an easy summer tart that will impress. It's like eating a strawberry pie and cheesecake in one bite.
Ingredients
Pie Crust
1 1/2 cups all-purpose flour
2 tablespoons granulated sugar
1/2 teaspoon salt
1/2 cup (4 ounces) unsalted butter, cold and cut into 8 tablespoons
3 tablespoons vegetable shortening, cold and cut into 3 tablespoons
1/4 cup cold water
Cream Cheese Filling
1/2 cup cold heavy cream
8 ounces cream cheese, softened
1 cup powdered sugar, sifted
1 teaspoon vanilla extract
2 cups sliced strawberries
Instructions
For the pie crust: In the bowl of a food processor, add the flour, sugar, and salt. Add the cold butter and shortening and pulse until butter and shortening are cut into the flour, looking like large pebbles. Add the water and pulse until a dough forms. Gather the dough and pat into an evenly round disk. Wrap in plastic wrap and refrigerate at least 1 hour or until cold.
Preheat oven to 375F. Place a 9-inch tart pan with a removable bottom onto a baking sheet.
On a lightly floured surface, roll out the pie dough into a circle slightly bigger than the pan. Line the bottom and sides with the crust, patching it together if necessary. Prick the dough with a fork.
Line the pie crust with foil on top then fill with pie weights or dried beans. Bake for 10-12 minutes or until the edges are barely golden brown. Remove the foil and weights then bake another 5-10 minutes or until the bottom is golden brown and no longer looks uncooked. It should be fully baked as you won't be baking it again. Cool completely before filling.
For the cream cheese filling: In a large mixing bowl (with whisk attachment if using stand mixer), beat the heavy cream until it thickens and stiff peaks form, roughly 3-4 minutes (when you pull the beaters up, peaks will form and not fall over). Transfer to another bowl and keep cold in the refrigerator.
In the same mixing bowl (no need to clean bowl - switch to paddle if using stand mixer), beat together the cream cheese and sugar until smooth and creamy, about 2-3 minutes. Beat in vanilla. Scrape down the bowl.
Fold the whipped cream into the cream cheese mixture until fully incorporated.
Spread the filling into the cooled pie crust. Arrange sliced strawberries in a circular pattern on top. Refrigerate at least 4 hours or overnight before serving.


This post may contain affiliate links. As an Amazon Associate and member of other affiliate programs, I earn from qualifying purchase.