Peanut Butter-Stuffed Chocolate Cookies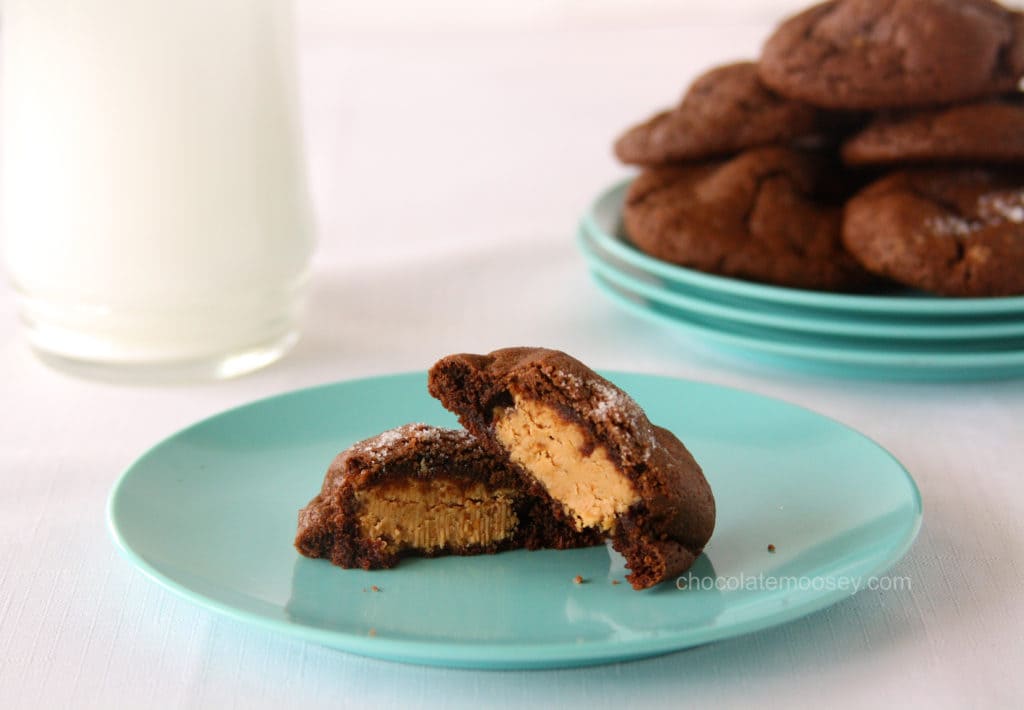 Now that it is September, football season is under way. You know what that means? Tailgating time!
I've never actually tailgated before, but I have stuffed my face in front of the tv watching the Steelers play. That's close enough, right?
Of course you can't have a party without dessert. When you're tailgating, you're eating and mingling at the same time. You need something portable, something you can eat with one hand.
Something like a cookie.
Of course I couldn't do just a plain cookie. I did Peanut Butter-Stuffed Chocolate Cookies. That's right – I stuffed cookies.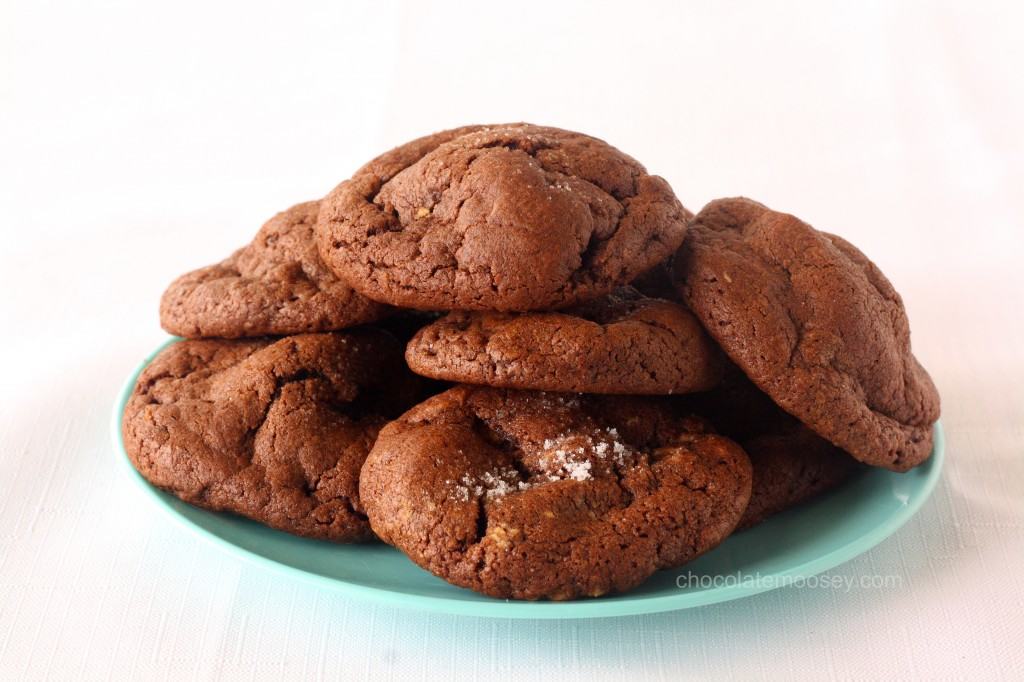 Growing up, I collected a lot of recipes.
First, I started with my mom's magazines. Then as I got older, I started printing from websites.
Stuff that I want to make but never got around to it, especially with the 300+ cookbooks that I have (I haven't counted in a long time. I'm assuming I'm still around there).
These Peanut Butter-Stuffed Chocolate Cookies have been in my binder forever. Every time I flip through, I stare at the picture of that peanut butter filling shoved into a chocolate cookie.
Finally, I had enough. I wanted cookies. I wanted that chocolate goodness. I wanted that peanut butter surprise. I wanted a plate full of heaven.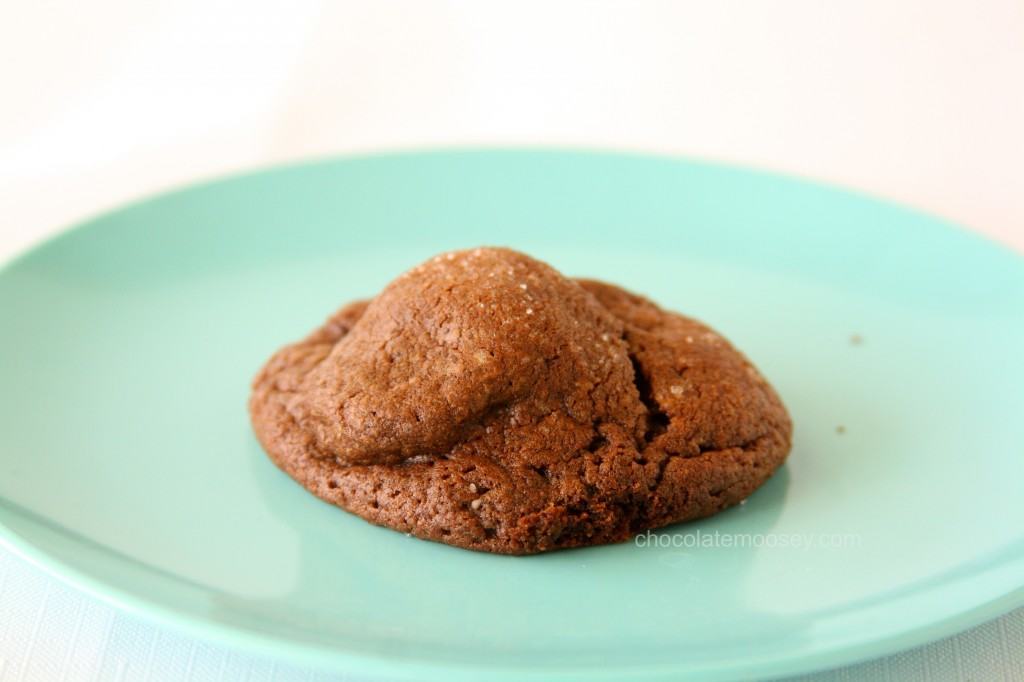 It's no surprise that chocolate and peanut butter make the perfect couple. I made
easy chocolate peanut butter fudge
. I made
peanut butter cup ice cream
. I made
chocolate peanut butter cake
.
Now it's time for cookies.
I've made stuffed cookies before but failed. The filling oozed out everywhere, so I was a bit hesitant.
Will these cookies turn out as planned? Will I cover the filling completely? Or will there be peanut butter (and a mess) everywhere?
As you can see, they were stuffed beautifully. The peanut butter filling is stiff enough that even if it wasn't covered completely, it probably wouldn't make too much of hot mess.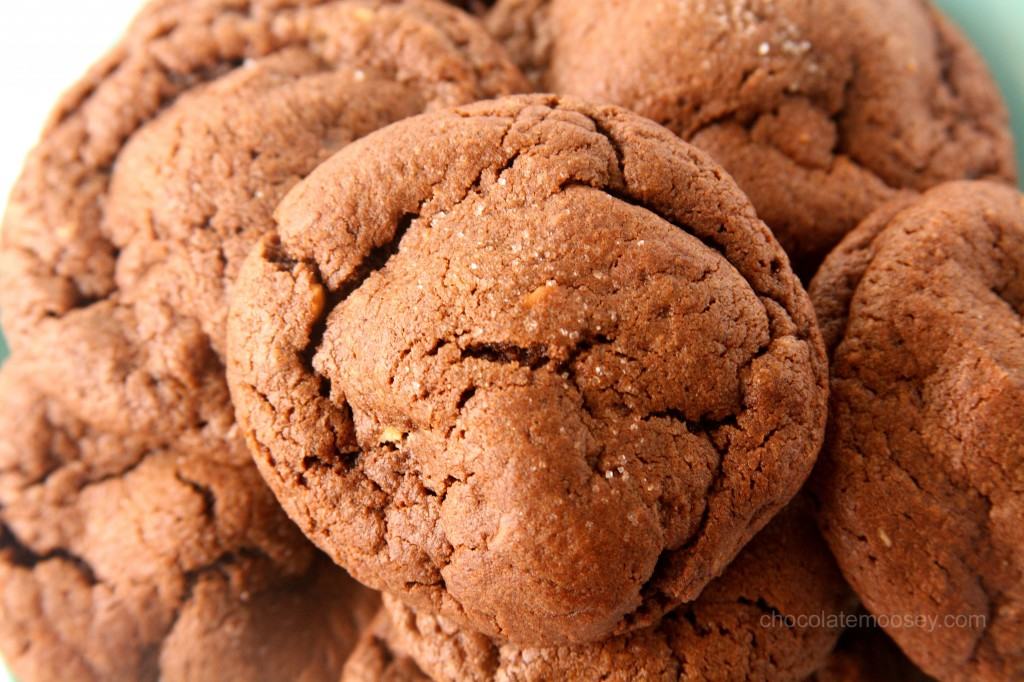 These Peanut Butter-Stuffed Chocolate Cookies are sturdy enough to mail, so add these to your holiday mailing list.
I sent my friend a dozen of these as a very belated birthday gift. Pretty sure she didn't mind since I sent cookies.
Just make sure you pack the box well with padding (bubble wrap or plastic air bags) and wrap the cookies in plastic wrap.
Also, mail them on a Monday or Tuesday so they aren't sitting in the post office over the weekend. Depending on the location, it usually takes about 3 days to arrive.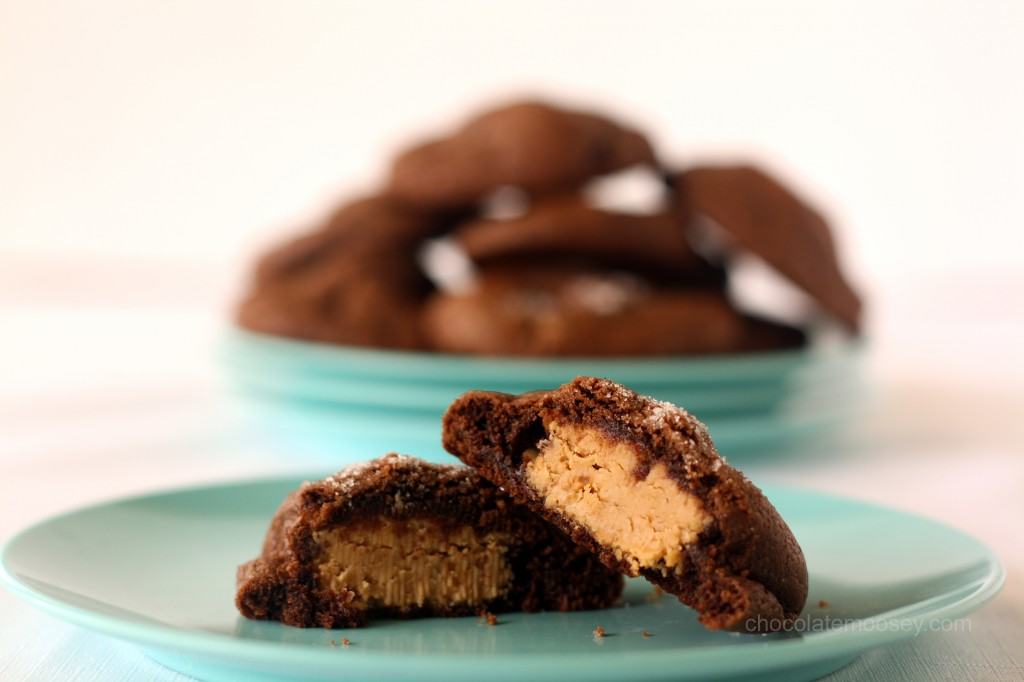 Looking for more peanut butter cookies? Check out my Small Batch Peanut Butter Cookies and Peanut Butter Cookie Cups.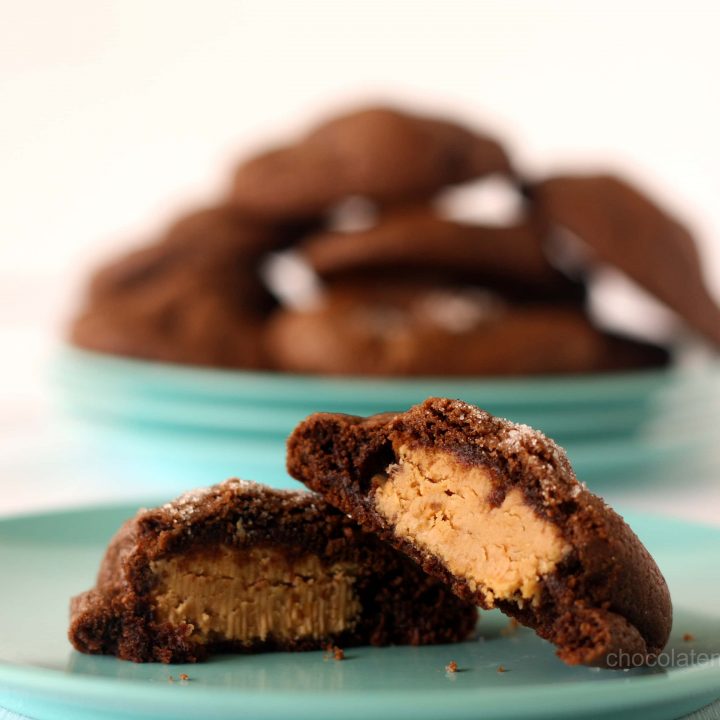 Peanut Butter-Stuffed Chocolate Cookies
Chocolate Cookies stuffed with peanut butter
Ingredients
Chocolate Cookies
1 1/2 cups flour, sifted
1/2 cup unsweetened cocoa powder, sifted
1/2 tsp ground cinnamon
1/2 tsp baking soda
1/2 cup unsalted butter, softened
1/2 cup sugar
1/2 cup brown sugar
1/4 cup peanut butter
1 egg
1 Tbsp milk
1 tsp vanilla
Peanut Butter Filling
3/4 cup powdered sugar
1/2 cup peanut butter
Topping
Instructions
For the cookies: In a medium bowl, whisk together the flour, cocoa, cinnamon and baking soda. Set aside.
In a large bowl, cream together the butter, sugar, brown sugar, and peanut butter. Add egg, milk, and vanilla, beating well. Beat in half of the flour mixture. The batter will be really thick. Finish adding the rest of the flour by hand with a spoon. Form the dough into 32 balls, roughly 1 inch. Set aside.
For the peanut butter filling: In a medium bowl, beat together the powdered sugar and peanut butter for 2-3 minutes. The filling will look like little beads. If it doesn't become a smooth mixture automatically, turn off the mixer and knead by hand until it all comes together. Form the filling into 32 balls.
Preheat the oven to 350F°. Slightly flatten one chocolate dough ball and place a peanut butter filling ball in the middle. Shape the chocolate dough completely around the filling and roll into a ball, sealing in the filling. Repeat with remaining dough. Place the cookies 2 inches apart onto an ungreased baking pan. Lightly flatten cookies and sprinkle a little bit of sugar on top.
Bake for 8-10 minutes until set and are slightly cracked on top. Cool on pan for a few minutes then transfer to a wire rack to cool completely.
Source: Adapted from
Bake or Break
This post may contain affiliate links. As an Amazon Associate and member of other affiliate programs, I earn from qualifying purchase.