Double Lemon Glazed Doughnuts
Fried lemon doughnuts dunked in fresh lemon glaze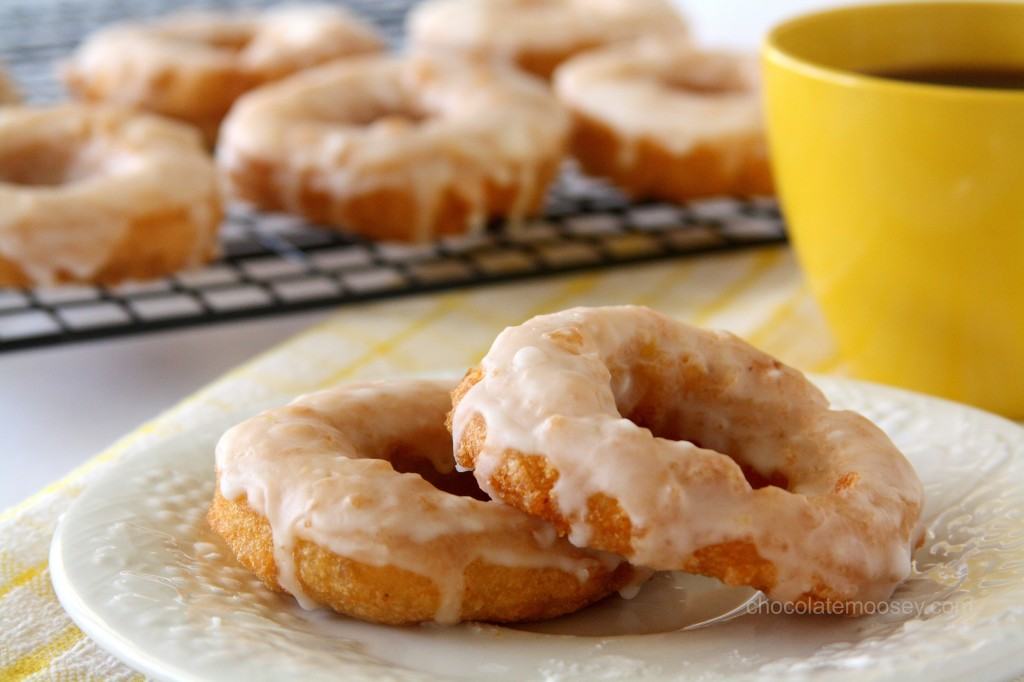 Today I have the honor of hosting cookbook author Dede Wilson's
next stop on her blog tour
for her new book
A Baker's Field Guide To Doughnuts
, which is set to release on September 18, 2012. I've never made doughnuts before, so I thought this would be the perfect book to test the waters. A Baker's Field Guide means just that – I should be able to pick up this book, read it, and make the recipes listed without prior knowledge. I had a list of doughnuts to choose from for this tour. The first one I wanted was a cream-filled doughnut, but I figured I better start with a basic recipe rather than attempt to stuff doughnuts. It's no surprise that I chose the Double Lemon Glazed Doughnuts. If there is one flavor I love more than chocolate, it's lemon. I'll be honest – I rarely eat doughnuts. After frying these babies, I had two. A wise friend told me nothing beats eating doughnuts fresh from the fryer. She is absolutely right.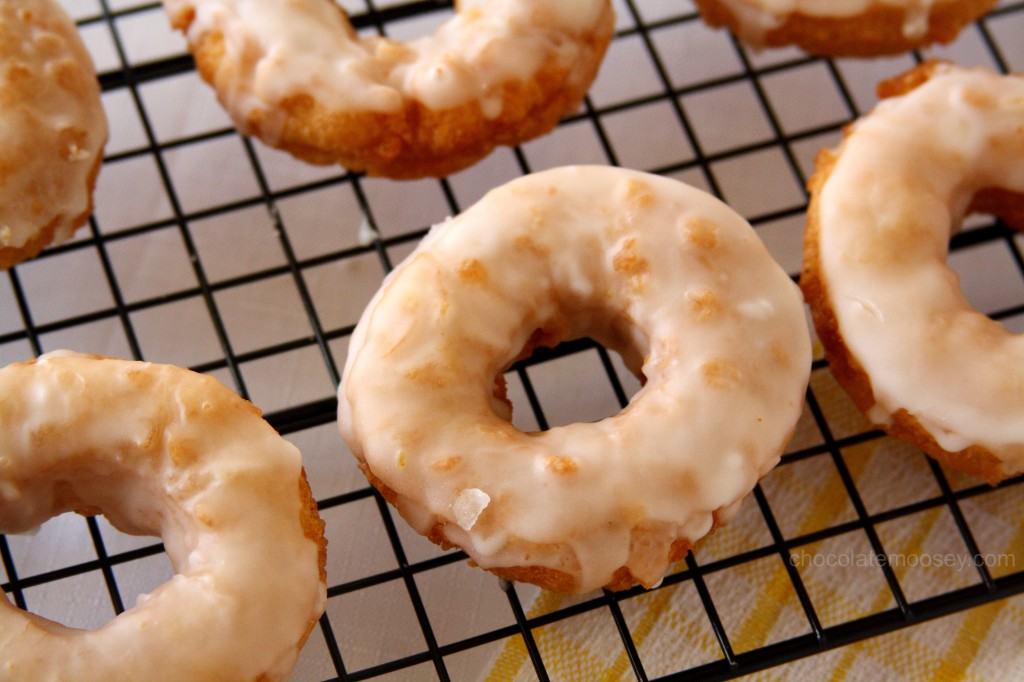 Confession – I hate frying things. It's not that it's unhealthy or that you're working with hot oil. I just hate wasting all of that oil not to mention clean up. That's why you'll rarely see me deep fry anything. However, after flipping through all of the creative recipes in this book, I may be frying more often. Sure, Dede has your basic recipes such as Chocolate Cake-Style Doughnuts, Old-Fashioned Buttermilk Doughnuts, and Basic Yeast-Raised Doughnuts, but she blew me away with the creative side, such as Pineapple-Filled Pina Colada Doughnuts (literally a pineapple ring in the middle!), Cappuccino Doughnuts with Espresso Cream Filling, and Cereal Killer aka Fiber None Doughnuts (doughnuts with cereal on top). Dede does offer recipes for baked doughnuts; however, you must use a doughnut pan because the batter is too runny.
The hardest part was cutting out the dough. I found myself adding a ton of flour. Otherwise, the dough would be too sticky and the rings would break when removing from the cutter. Dede said she used a 3.5 inch cutter, but I only had a 2.5 inch. Therefore, I got more doughnuts than what was called for. That means I can eat two to make up for the size, right? Right.
The lemon glaze is probably the best part of eating these doughnuts. I found it easier just to dip the tops of doughnuts rather than using a spoon or brush. If you want the white glaze to be more prominent, let the first coating dry then dip again.
The Double Lemon Glazed Doughnuts called for both all-purpose and cake flour. I don't have cake flour, but thanks to
Joy the Baker
, I made my own. For every cup of flour, you replace two tablespoons with cornstarch. Since the recipe called for 3/4 cup, I did 3/4 cup all purpose flour minus 1 1/2 tablespoons then added 1 1/2 tablespoons cornstarch. Then you sift the flour and cornstarch together 5 times to get the mixture really fine. The addition of cake flour and buttermilk give the doughnuts a delicate texture.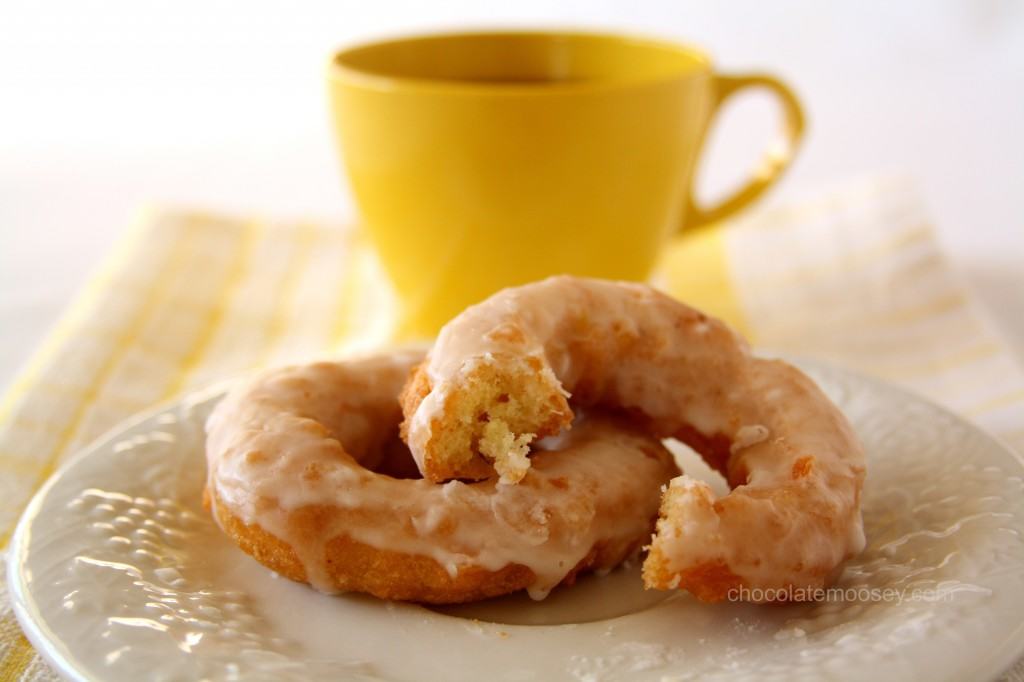 Double Lemon Glazed Doughnuts
Fried lemon doughnuts dunked in fresh lemon glaze
Ingredients
1 1/2 cups all-purpose flour
3/4 cup cake flour
1 tsp baking powder
1/2 tsp baking soda
1 tsp salt
1/2 cup sugar
1 egg
1/2 cup buttermilk
3 Tbsp butter, melted
1 tsp vanilla
1/2 tsp freshly ground nutmeg
2 tsp lemon zest
Vegetable oil for frying
Glaze
2 cups powdered sugar
4 Tbsp lemon juice
Instructions
In a medium bowl, whisk together both flours, baking powder, baking soda, and salt. Set aside.
In a large bowl using an electric mixer, beat together the sugar and egg until pale and creamy, about 2-3 minutes.
Beat in the buttermilk, melted butter, vanilla, nutmeg, and lemon zest until combined.
Slowly beat in half of the flour mixture. Turn off the mixer. Finish stirring in the rest of the flour by hand with a wooden spoon just until the dough comes together.
Cover and refrigerate for at least 2 hours or up to overnight.
Remove the dough from the refrigerator. Heat the oil in a deep fryer to 350F. Line a plate or baking sheet with a triple layer of paper towels. Set aside.
On a floured surface, roll out the dough to 1/2-inch thickness. Cut out doughnuts using a 2.5-inch doughnut cutter. After cutting out as many as you can, gather up the scraps, create a new dough ball, then roll out. Repeat until all of the dough is gone.
Fry the doughnuts only a few at a time (do not overcrowd the fryer) until lightly brown on one side, about 1 minute. Flip and cook for another minute. Remove from the hot oil and drain on paper towels. Repeat until all of the doughnuts are done. Let cool completely.
For the glaze: Whisk together the powdered sugar and lemon juice. After the doughnuts are completely cooled, dunk the tops of each one into the glaze. Alternatively, you can spoon or brush the glaze onto each one. Repeat until all of the doughnuts are glazed.
Notes
© Chocolate Moosey. All images and content are copyright protected. Please do not use my images without prior permission. If you want to republish a recipe, please rewrite it in your own words or link back to the post for the recipe.
Congrats to Stephanie O. for winning the cookbook!
Disclaimer: Harvard Common Press gave me one copy of A Beginner's Field Guide To Doughnuts for review and one copy to give away. I was not further compensated for this post nor was I required to write a positive review. All opinions and photographs except for the cookbook cover are mine.
This post may contain affiliate links. As an Amazon Associate and member of other affiliate programs, I earn from qualifying purchase.