Chocolate Covered Cherry Brownie Cups
Mini decadent brownie cups topped with homemade chocolate covered cherries means indulging on the classic pairing of cherries and chocolate in a new way.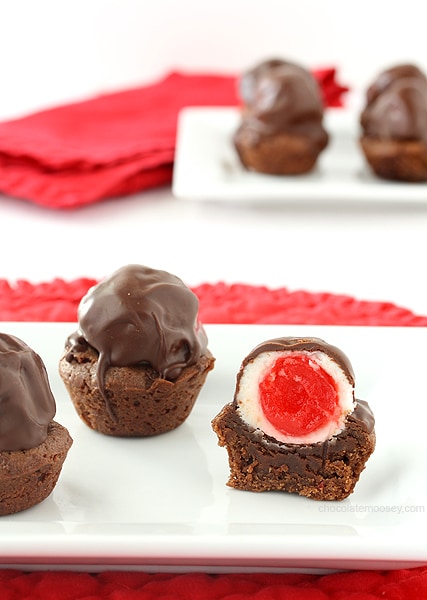 Sometimes restraint is hard. One of my guilty pleasures is eating chocolate covered cherries, and I could eat a whole box if you'd let me. Every year for Christmas, there's always that red box of heaven sitting under the tree, waiting to be devoured. As I was brainstorming ideas for holiday recipes, I thought about chocolate covered cherries. Then I thought about putting them on top of mini brownie bites. Would that make sense? Could I even make chocolate covered cherries from scratch or would I need to buy a box? Answer: you can make them from scratch. Or you can buy a box to eat while you make them from scratch. After all, you need to taste them to make sure they are just right.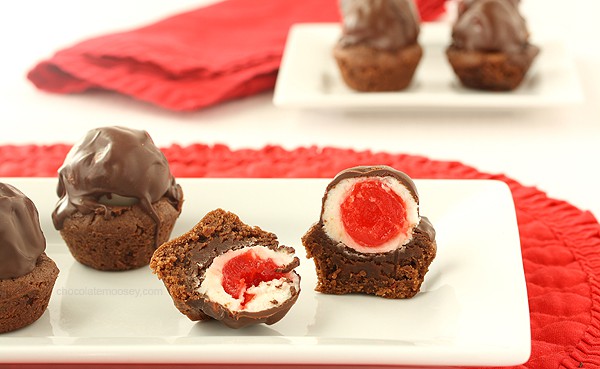 Making chocolate covered cherries is easier than I thought. I assumed you needed a fancy mold – create a chocolate shell, fill chocolate shell, seal chocolate shell. In fact, I think I have a candy mold somewhere. Then I found a super easy recipe on Taste Of Home. You make this white dough to wrap around a cherry then dip in chocolate like you would with truffles. There may not be an oozing creamy liquid center, but I promise if you close your eyes, they taste exactly like the real deal.
As I started wrapping cherries, I realized they would be too big to top mini brownies. I cut the cherries in half and made smaller balls. Because they needed to stick to the brownies and not roll off, I placed the cherry on each brownie and poured the chocolate over top, allowing the chocolate to "glue" the cherry in place. No need to dip and make a mess. If you do go the easy route and use already-made cherries, use a bit of melted chocolate to "glue" them on top.
You don't need to wait for Christmas to serve these brownie cups either. I vote to make and eat them all year round, but there's also Valentine's Day, birthdays, anniversaries, Mother's Day, and Father's Day. They also make a great I'm Sorry I Ate The Last Cupcake peace offering or I Love You Enough To Share These token of appreciation.
Equipment you may need (Amazon affiliate links):

Chocolate Covered Cherry Brownie Cups
Mini decadent brownie cups topped with homemade chocolate covered cherries means indulging on the classic pairing of cherries and chocolate in a new way.
Ingredients
Cherries
1 cup powdered sugar
2 tablespoons unsalted butter
2 teaspoons milk
1/4 teaspoon almond extract
8 maraschino cherries, cut in half
Brownie Cups
4 tablespoons unsalted butter, cut into 4 pieces
2 ounces bittersweet chocolate, chopped
1/3 cup brown sugar
1/2 teaspoon vanilla extract
1 egg
6 tablespoons all purpose flour
Pinch of salt
Instructions
For the cherries:
In a large mixing bowl, beat together the powdered sugar, butter, milk, and extract until combined. Knead until smooth and pliable.
Take a piece of the dough and shape into a ball slightly bigger than a cherry. Flatten into a circle and wrap around one cherry half. Lightly roll in hands to seal. Repeat with remaining dough and cherry halves. Refrigerate for at least one hour.
For the brownie cups:
Preheat the oven to 350F. Grease a mini muffin pan.
In a large saucepan, melt the butter, chocolate, and brown sugar until smooth. Remove from the heat and beat in the vanilla and egg. Gradually beat in the flour and salt.
Divide the batter among 16 cups in the pan. Bake 14-16 minutes or until a toothpick comes out clean. Cool completely.
To assemble:
Melt the semisweet chocolate in the microwave until smooth.
Place one dough-wrapped cherry on top of one brownie cup. Pour some of the chocolate over top to cover and "glue" the cherry in place. Repeat with the remaining cherries and brownies. Let the chocolate harden before serving.
Source: Adapted from
Taste of Home
and
Baking: From My Home to Yours
—-
If you liked these Chocolate Covered Cherry Brownie Cups, you may also like these recipes:
From me: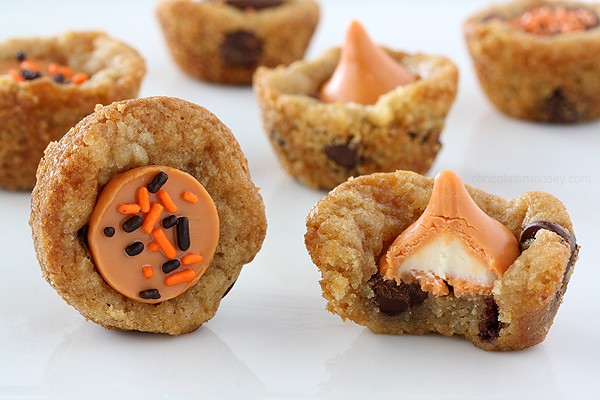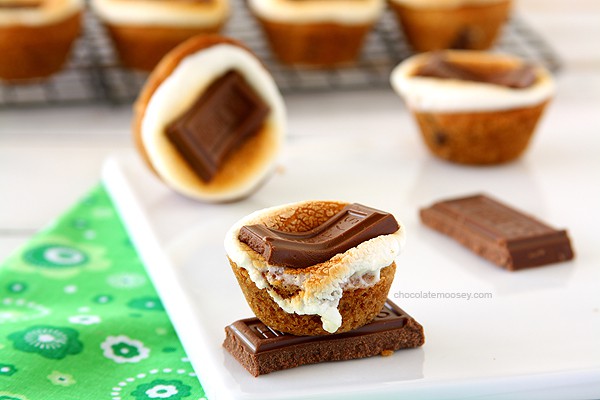 From other bloggers:
This post may contain affiliate links. As an Amazon Associate and member of other affiliate programs, I earn from qualifying purchase.