One Pot Spinach Mushroom Dumpling Soup
When there's a chill in the air, that means it's time for One Pot Spinach Mushroom Dumpling Soup – a hearty and filling dinner ready from prep to table in under 60 minutes. Made with spinach, mushrooms, carrots, and pelmeni dumplings.
Hard to believe the first day of fall is this week, yet it still feels like summer outside.
Sure, it's chillier in the mornings and I may need to change into pants for bedtime, but the afternoons are still in the 80s, sometimes even 90s.
However, that doesn't stop me from enjoying what I love about fall – apples, pumpkins, and soup.
Soup is one of the easiest dinners I can make in under an hour, especially when I don't know what I'm making. "Ok I have this, this, and this. Let's make soup!"
Another benefit to making soup is most of them are one pot meals.
Occasionally I may need the blender like I do for my Kohlrabi Soup, but most of the time I leave it as-is.
Take this One Pot Spinach Mushroom Dumpling Soup, for example. It's a hearty soup with spinach, mushrooms, carrots, and dumplings known as pelmeni.
Not only is it filling, it's the perfect cure when there's a chill in the air (assuming it'll start to feel like fall again).
This dumpling soup also reminds me of Italian wedding soup but without the meatballs.
I don't make wedding soup often because I need to make and chill the meatballs before making the soup.
With the dumplings, you only need to cook them for 5 minutes, so I can have the essence of wedding soup without taking all day to make it.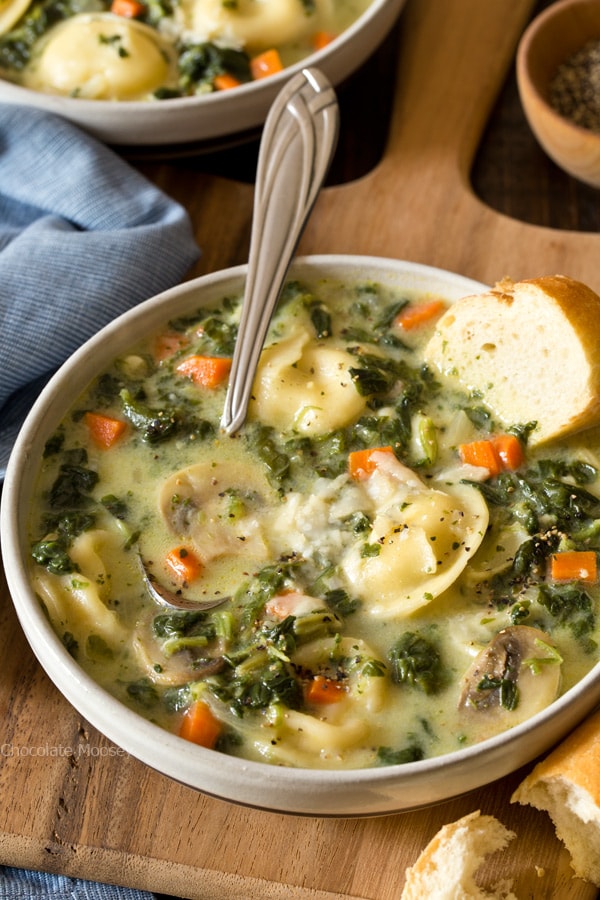 Having frozen dumplings and pasta in the freezer is a little trick I use to get dinner on the table faster.
Most of the time they only take 5-10 minutes to cook.
Bonus points if you can cook them right in the recipe itself, like with my one pot lasagna soup. You don't need to boil them separately; just boil them right in the soup.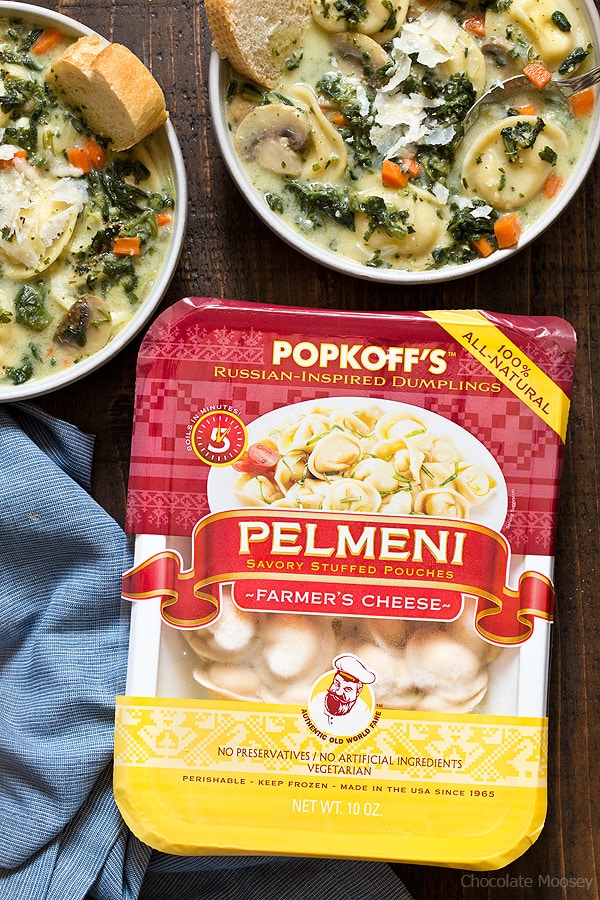 For the dumplings I used
Popkoff's Pelmeni
, which are Russian stuffed pouches with a variety of farm-to-table fillings, including farmer's cheese, chicken, beef, pork, and veal.
If you're new to trying pelmeni, they remind me of tortellini, which is where I got the idea to use them in spinach mushroom soup.
You can also toss pelmeni with pasta sauce (like butternut squash alfredo or creamy tomato and mushroom sauce) and serve as another dinner or as an easy side dish served with a protein.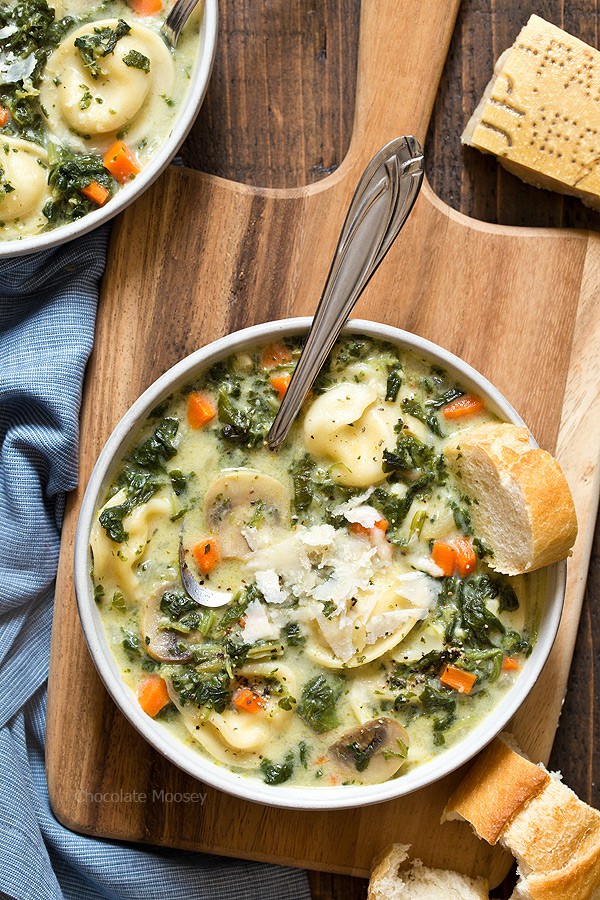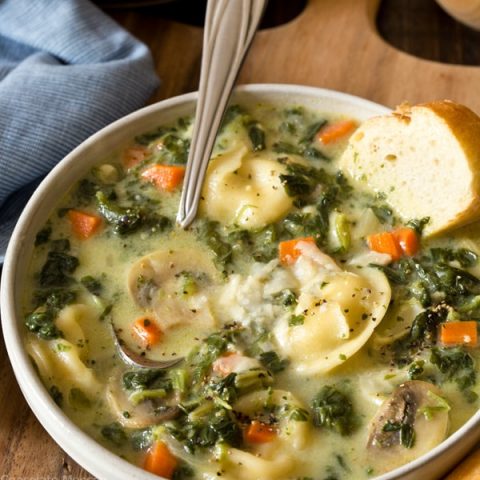 One Pot Spinach Mushroom Dumpling Soup
Yield: 4 servings
Prep Time: 15 minutes
Cook Time: 30 minutes
Total Time: 45 minutes
Ingredients
1 tablespoon olive oil
1/2 cup chopped onion
4-5 white button mushrooms, sliced
2 large carrots, peeled and chopped
1 garlic clove, minced
1/4 cup all-purpose flour
4 cups chicken or vegetable broth
1 package Popkoff's Pelmeni, any flavor
8 ounces frozen chopped spinach
1/2 cup grated Parmesan cheese
1/2 cup whole milk
Salt and pepper, to taste
Instructions
In a Dutch oven or large deep pot, heat the oil. Once hot, add the onion, mushrooms, and carrots. Cook until soft, about 5 minutes. Add the garlic and cook 30 seconds.
Stir in the flour until everything is coated and a roux (paste) is formed. Slowly whisk in the broth then bring to a boil.
Once boiling, add the pelmini. Cook until they start floating, about 5-8 minutes.
Stir in the spinach, cheese, and milk. Cook until the spinach is hot and cheese has melted, about 2-3 minutes. Taste and season with salt and pepper as necessary.
Disclosure: This post is sponsored by Popkoff's. Thank you for supporting me and the companies I work with as sponsored posts help pay for the costs of running this website, including website hosting and groceries for recipe development.
This post may contain affiliate links. As an Amazon Associate and member of other affiliate programs, I earn from qualifying purchase.