Garlic Hummus Chicken Salad Sandwiches
Garlic Hummus Chicken Salad Sandwiches with a creamy garlic hummus spread – pack them for lunch or have them ready for dinner when you know you won't have time to cook.
Does anyone ever get tired of chicken salad sandwiches?
Not me. Any time I order food at a sandwich shop, there's a good chance it'll be chicken salad. And since I've eaten enough sandwiches I know not all chicken salads are created equal.
First of all, I don't want fruit in mine. No thank you to the grapes, apples, cranberries, whatever else sneaks into the mix. I can't even express the amount of betrayal I feel when there are grapes in my chicken salad.
Second, the dressing cannot be bland. It needs to be more than just chicken and mayo. Add onion, relish, whatever. Just make sure there's flavor and please no fruit.
Third, don't go overboard with the dressing. Yes I enjoy mayo, but I don't want to feel like I'm eating a spoonful straight from the jar either. The key is being well balanced.
Usually I make my chicken salad breadstick sandwiches, but the other day I had an idea.
I was really craving chicken salad for dinner, but I ran out of mayo. Rather than running to the store for one item, I saw hummus in my fridge and decided yes that'll work.
And that's how these Garlic Hummus Chicken Salad Sandwiches were born. Creamy and flavorful with relish and onion.
Make it ahead of time, let the flavors marry, then pack it for lunch or have it ready for dinner when you know you won't have time to cook.
Although chicken salad sandwiches are typically served cold, I do enjoy them toasted as well, much like making a grilled cheese.
My parents used to make me hot sandwiches all the time in their sandwich maker (affiliate link).
Of course you don't need a fancy appliance, but it did seal them nicely.
I also enjoy making lettuce wraps. Boston lettuce is my go-to because of the big, flexible leaves.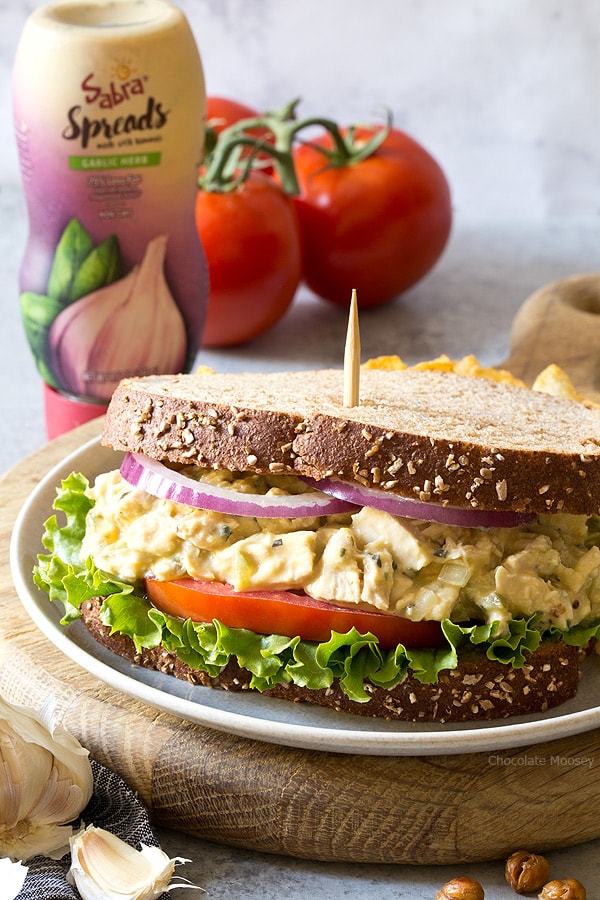 As I had mentioned, I substituted the mayonnaise with
Sabra Spreads
, which are refrigerated sandwich spreads made with hummus (mashed chickpeas) and other wholesome, fresh ingredients.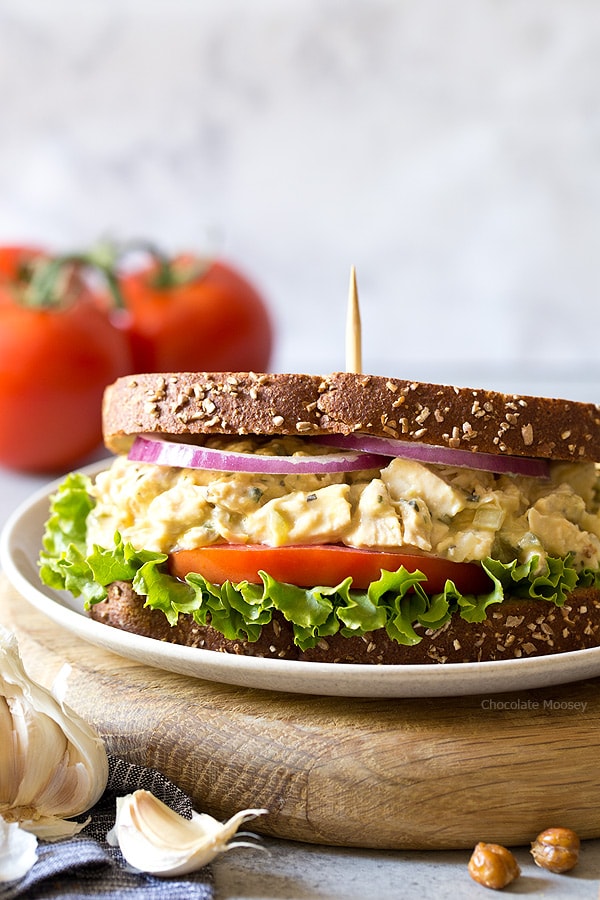 Serve your chicken salad sandwiches with Caesar Pasta Salad and Italian Potato Salad.
Garlic Hummus Chicken Salad Sandwiches
Yield: 4 servings
Prep Time: 1 hour 15 minutes
Total Time: 1 hour 15 minutes
Ingredients
2 cups cooked chicken breast, chopped* (see Note)
1/2 cup sweet pickle relish
1/2 cup chopped onion
1 cup Garlic Herb Sabra Hummus Spreads
2 tablespoons milk
1 tablespoon fresh lemon juice
Bread, lettuce, tomato, and red onion, for serving
Instructions
In a large bowl (preferably with a lid), mix together the chicken, relish, onion, hummus spread, milk, and lemon juice until creamy. If you want it creamier, you can add more milk. Refrigerate for at least 1 hour before eating. Serve on bread with lettuce, tomato, and red onion.
Notes
How To Cook Chicken Breast: *I used 1 in-bone chicken breast, roughly 1/2 pound (8 ounces). You can cook the chicken how you like. My favorite method is putting the chicken in a large pot covered completely with water, bringing to a boil, then turning it down to simmer and cook covered another 30 minutes or until no longer pink inside.
Disclosure: This post is sponsored by Sabra. Thank you for supporting me and the companies I work with as sponsored posts help pay for the costs of running Chocolate Moosey, including website hosting and groceries for recipe development.
This post may contain affiliate links. As an Amazon Associate and member of other affiliate programs, I earn from qualifying purchase.