One-Pot Fudgy Raspberry Cocoa Brownies
One Pot Fudgy Raspberry Cocoa Brownies baked in an 8×8 pan with raspberry cocoa or powdered freeze dried raspberries.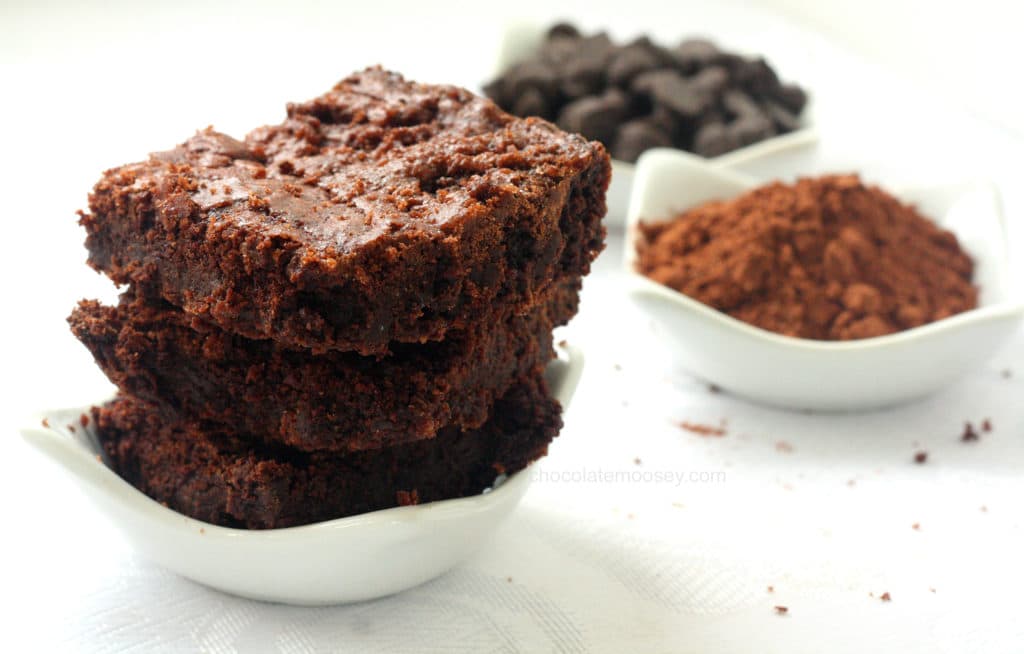 Are you a cake brownie or a fudgy brownie person? For me, the fudgier, the better.
Being the baker that I am, I really wanted to make to fudgy brownies.
However, it seems that I've been on a "I don't want to follow the recipe exactly" kick.
Actually, it's more of a "I don't want to follow the ingredient list" kick.
You can't go messing with the actual directions of a baking recipe too much. So these aren't just fudgy brownies. They are One-Pot Raspberry Cocoa Fudgy Brownies.
My secret weapons? Raspberry cocoa powder and raspberry chocolate chips.
For these brownies, you make the batter in one pot on the stove, pour into a baking pan, and bake.
These One-Pot Raspberry Cocoa Fudgy Brownies exceeded my expectations. To be honest, I was thinking they would be fudgy brownies with a hint of raspberry.
Boy, was I wrong! These were RASPBERRY brownies.
Like, in your face raspberry brownies. You can actually smell the raspberry!
I'm pretty sure the secret ingredient in the raspberry cocoa powder is crack. I ate four myself, didn't want to share, reluctantly did share, and one of my coworkers ate three of them in one day.
He keeps bugging me to make them again.
I can't tell you how much feedback I've gotten about the raspberry cocoa powder and the raspberry chocolate chips when I talked about them.
In fact, I was hesitant in sharing this recipe since they are specialty ingredients.
The raspberry cocoa came from a local Pittsburgh farm called Triple B Farms.
The raspberry chocolate chips came from a local store here in south central PA called Windy Knoll Farm Market and Creamery.
You may be able to order raspberry cocoa from Triple B Farms if you call and ask since they say they ship non-perishable items. I don't remember if they had the chocolate chips, so you can ask about those too.

Sarah's Homemade Raspberry Chocolate Chips (photograph used with permission)
Feeling ambitious?
Sarah of What Smells So Good?
knows how to make your own.
Although Sarah doesn't have the raspberry chocolate chip recipe on her blog, you can see how she made malted milk chocolate chips and bittersweet espresso chips.
Same concept, different ingredients.
She was kind enough to send me the recipe to share: To make raspberry chocolate chips, melt together 2 oz of good quality milk chocolate, 2 oz semisweet chocolate and 1 tsp shortening. Stir in 3-4 drops of concentrated raspberry candy flavouring and 1 tbsp of raspberry cocoa (or a tablespoon of Dutch processed regular cocoa) until smooth. Pipe into chips on a parchment lined sheet and let set. Store in the fridge or freezer.

Sarah's Homemade Raspberry Cocoa Powder (photograph used with permission)
For the cocoa powder, Sarah says depending on how "strong" of a berry flavour you want, use between 2/3 and 3/4 cup frozen raspberries, thawed, to 1/2 cup of Dutch processed, unsweetened cocoa.
Once your berries are thawed (don't drain), press them through a sieve to remove the seeds and add the puree to the cocoa.
Use a spatula to mix the berries and cocoa powder to a dry paste (if you use the larger amount of berries it will be like thick toothpaste).
Now you have two options: Option 1 (suggested with the lower amount of berries): Spread the cocoa mixture out onto a parchment lined baking sheet and let dry 24 hours at room temperature. Sift before using.
Option 2 (works best in humid climates and with larger amounts of berries): Preheat the oven to 250°F. Spread the paste as thin as you can on a parchment lined sheet and bake for 40-45 minutes, until dry to the touch. Turn off the oven and let sit inside for at least 1 hour. Sift before using.
Sarah recommends frozen berries (you can freeze your own if you want) because when you thaw them, you get the juices out and they're so soft that you don't have to puree them.
Just a note about the cocoa – Dutch processed cocoa is milder in flavour and allows the berry flavour to come through better. Regular cocoa will work in a pinch.
Isn't Sarah a genius? I think every reader here should go say hi to Sarah and tell her she's brilliant. Imagine what you could do with other fruit.
I don't make brownies very often, but these Raspberry Cocoa Fudgy Brownies are on my to-make-again-soon list.
In fact, some people may be getting these as Christmas presents. I bet you can mail them if it's not too hot out.
Even if you don't have raspberry cocoa or raspberry chocolate chips, Katie's fudgy brownies are still super fudgy and delicious.
I still highly recommend this recipe to use with regular cocoa powder and chocolate chips.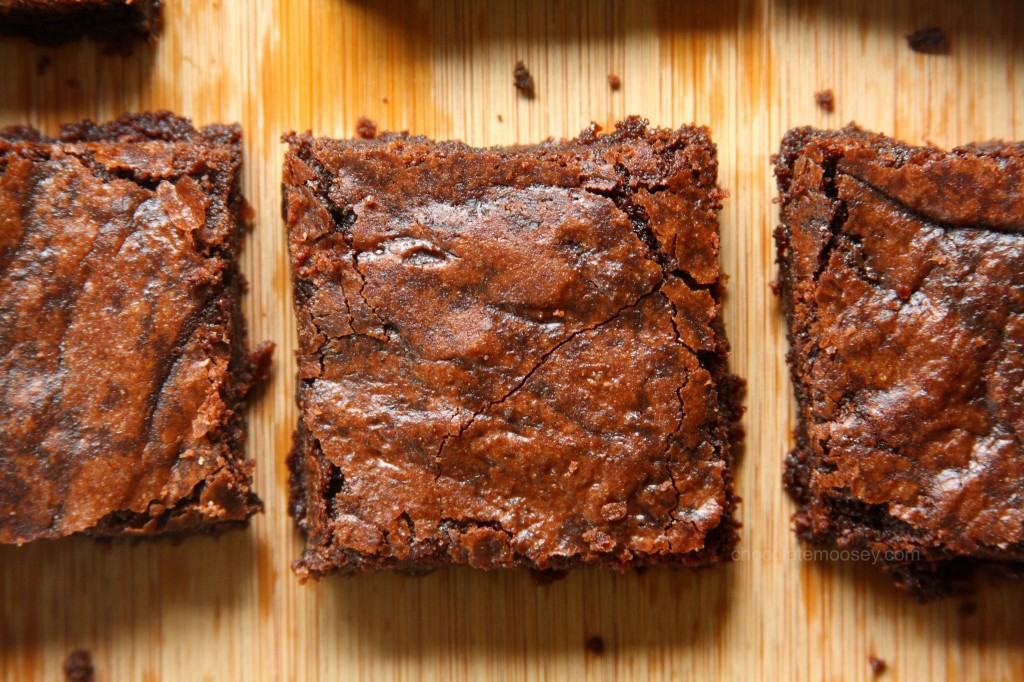 One-Pot Fudgy Raspberry Cocoa Brownies
Yield: 12-16 brownies
Prep Time: 20 minutes
Cook Time: 18 minutes
Total Time: 38 minutes
One Pot Fudgy Raspberry Cocoa Brownies baked in an 8x8 pan with raspberry cocoa or powdered freeze dried raspberries.
Ingredients
1/2 cup (4 ounces or 8 tablespoons) unsalted butter
1 cup granulated sugar
1/4 cup unsweetened raspberry cocoa powder*
1/4 teaspoon salt
1 egg, room temperature
1 teaspoon vanilla extract
1/2 cup all-purpose flour
1/2 cup raspberry or semisweet chocolate chips
Instructions
Preheat the oven to 350°F. Lightly grease an 8x8 pan with cooking spray.
In a large saucepan, melt the butter. Remove from the heat and whisk in the sugar, cocoa powder, and salt. The batter will be thick and granular - keep going.
Beat in the egg and vanilla.
Stir in the flour then stir in the chocolate chips.
Transfer the batter to the pan. Bake 18-20 minutes or until the edges begin to pull away from the sides of the pan and a toothpick inserted into the center comes out mostly clean (there will be some chocolate but not wet batter). Cool completely before serving.
Notes
*Don't have raspberry cocoa? Use 1/4 cup unsweetened cocoa powder + 1/4 cup ground freeze-dried raspberries (use a food processor to grind them).
Source: Adapted from
Katie Workman
This post may contain affiliate links. As an Amazon Associate and member of other affiliate programs, I earn from qualifying purchase.