Want to save money on Chinese take out but hate frying at home? These crispy General Tso's Chicken Baked Wontons combines everyone's favorite general tso's chicken dish with the concept of crab rangoons into crispy baked wontons that will disappear quickly.
Happy New Year!
Wait, what?
you're asking yourself as it's February 8, not January 1. I'm referring to the Lunar New Year, aka Chinese New Year. Today marks the start of the Chinese lunar year 4714, the Year of the Monkey. Why is an Italian American woman writing about Chinese New Year? Because I love Chinese food (well, Chinese American food) and learning about different cultures. Growing up, there was a Chinese American student in my Girl Scout troop. Her parents owned a local Chinese restaurant, so when it was her turn to bring in the weekly snack, it was usually from their restaurant. As you can imagine, everybody loved it when it was her turn for snack day. When I was in Ireland, my Dublin friend and I went to the local Chinese New Year festival and watched the parade with all of the festive costumes and pigged out on egg rolls (I'm sure we ate more, but that's all I can remember from 9 years ago).
Funny that growing up, my parents rarely took me out for Chinese, but now that I'm an adult, it's all I ever want. Every Friday, the craving strikes for Chinese take out. Probably because at my previous job, I treated myself almost every Friday by buying lunch instead of packing, usually from the local Chinese place. Every week it would be the same order – general tso's chicken with white rice. Once in awhile I ordered something else but was always left disappointed and wished I had gotten general tso's (again). When I moved back to Pittsburgh, the craving never died. The problem is finding another good Chinese place as no two places taste the same. The one I like is a bit too far round trip from my apartment, but if I'm shopping in the area, then I'll grab some to take home; if I go straight home, it'll still be warm and still slightly crispy. There are two Chinese places closer to home, but the one place doesn't use enough sauce while the other place doesn't taste like the general tso's chicken I know and love. What do you do when you crave something but can't find anybody that makes it how you want it? Make your own at home! Except I avoid deep frying whenever possible. I love fried food but prefer buying it because I don't want to deal with using at least half a bottle of oil and the smell of oil and fried chicken lingering in the air for days. I also love ordering crab rangoons, which are deep fried wontons stuffed with a cream cheese and crab mixture but again those are fried. Somewhere along the way, I got the brilliant idea to marry those two ideas together and make these General Tso's Chicken Baked Wontons. Crispy baked wontons stuffed with cream cheese, chicken, and (of course) homemade general tso's sauce.
My homemade general tso's sauce is a little bit different than you would get at Chinese restaurants because I love putting
sweet chili sauce
in mine. Another (not so) secret ingredient you need? Soy sauce. I'm pretty sure most if not all Chinese dishes use soy sauce as it gives recipes an added boost of flavor. The brand I used in my wontons is
Kikkoman
, which is aged for several months to develop its characteristic rich yet mellow flavor, much like how fine wine is aged over time. Did you know that soy sauce needs time to age in flavor? I certainly didn't.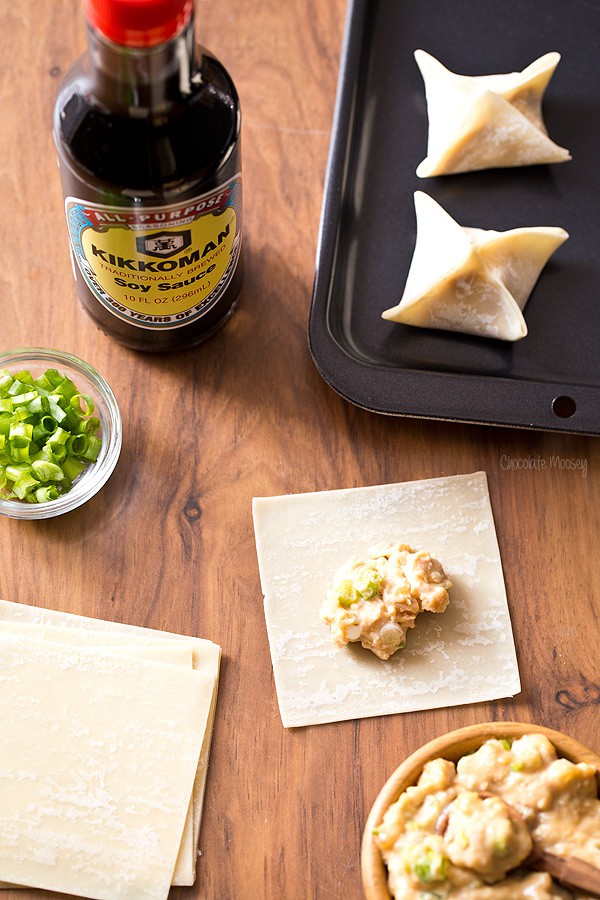 Stuffing the wontons is easier than it looks! Place about 1 tablespoon of filling into the center one 1 wonton wrapper (which you can find in the produce section near the mushrooms). Lightly brush the edges with water then bring each corner up to the center to meet so all 4 corners are touching in the middle. An X shape should automatically form. You can also fold the wontons into triangles if that's easier for you.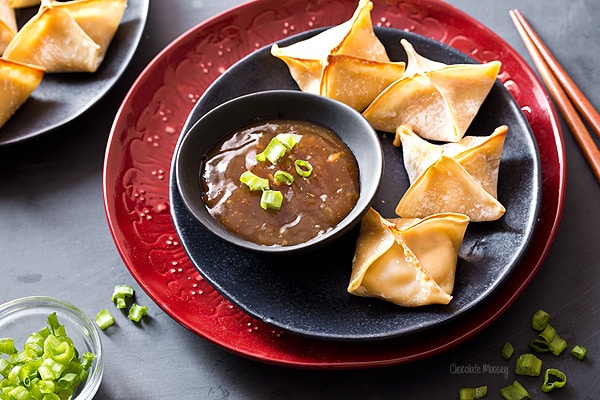 General Tso's Chicken Baked Wontons
Ingredients
General Tso's Sauce
1/2 cup chicken broth
6 tablespoons sweet chili sauce
3 tablespoons soy sauce
3 tablespoons vinegar
3 tablespoons granulated sugar
2 tablespoons cornstarch
Wontons
1 tablespoon olive oil
1 large boneless skinless chicken breast, cut into 1/2-inch pieces
1 clove garlic, minced
2 green onions, chopped
4 ounces cream cheese, softened and cut into 8 peces
24 wonton wrappers
Instructions
Preheat oven to 400F. Lightly grease a baking sheet with cooking spray.
For the sauce:
In a large skillet over medium heat, heat the oil. Add the chicken and cook for 3 minutes then flip and cook for another 3 minutes or until the chicken is fully cooked. Add the garlic and cook 30 seconds. Add the remaining general tso's sauce, green onion, and cream cheese, a few pieces at a time, and stir until melted and smooth.
Working with 1 wonton wrapper at a time, add 1 tablespoon filling to the center. Lightly brush the edges with water then lift each corner and have all four meet in the middle, forming an X. Press the edges to seal and place on the baking sheet. Repeat with the remaining wontons and filling.
Lightly spray each wonton with cooking spray then bake for 10-12 minutes or until golden brown and crispy. Serve with reserved 1/2 cup sauce for dipping.
More Recipes Using Soy Sauce

General Tso's Sweet Chili Shrimp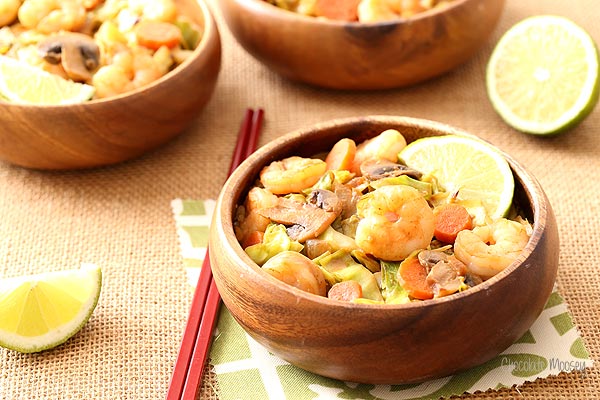 Thai Sweet Chili Shrimp with Cabbage "Noodles"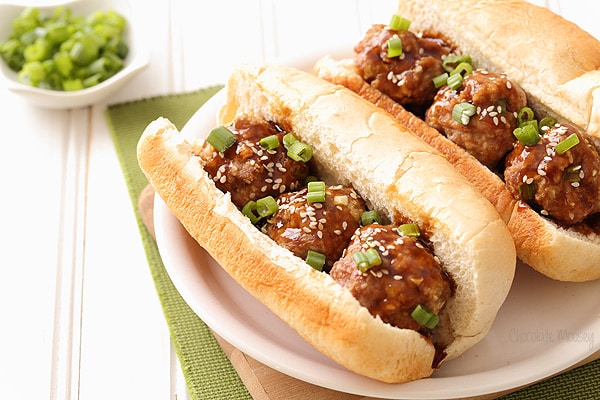 Pork Teriyaki Meatball Subs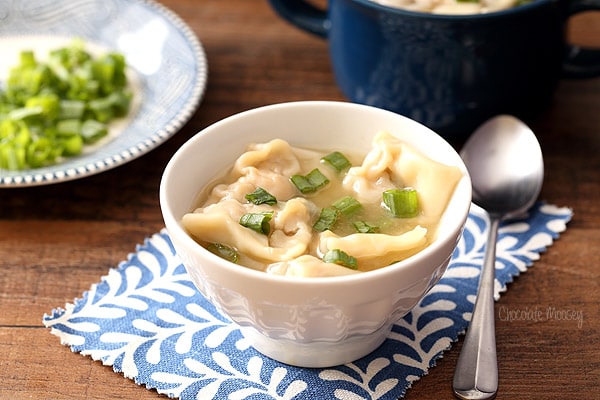 Pork Wonton Soup

General Tso's Sweet Chili Chicken Strips