Klondike Ice Cream Cupcakes
It's too hot to bake, so let's make mini ice cream cakes instead. These ice cream cupcakes with a homemade magic shell poured on top for that chocolate crunch are inspired by the famous Klondike Bar. Make these cupcakes to share for a summer celebration or as a fun treat to cool you down.
Earlier this month, I posted
The Pittsburger
and talked about how when you think of Pittsburgh, you think of Primanti Brothers and their famous sandwiches with coleslaw and French fries. However, they aren't the only food business that makes Pittsburgh special. If you talk to anyone who grew up in the city, they'll tell you how they remember Isaly's, a chain of family-owned dairies and restaurants that served up a lot of memories in addition to their ice cream and deli meats. There was an Isaly's in my hometown where I would get an ice cream cone on occasion, but unfortunately, it closed up shop years ago. Isaly's is known for three things – chipped ham, skyscraper cones, and Klondike bars. Yes, my beloved city invented the Klondike Bar, probably one of the best ice cream treats ever invented. If you've never heard of it, it's an ice cream bar, traditionally vanilla, dipped in a thin coating of chocolate, making a big crunch when you take a bite. In other words – chocolate covered ice cream bars.
When I was growing up, Klondikes were a special treat. We always had a gallon of ice cream in the freezer (usually chocolate marshmallow or fudge ripple), but once in awhile my parents bought novelty treats – ice cream sandwiches, drumstick cones, and of course Klondikes. Sadly a six pack in a four person household lasted maybe two days, three days if you were lucky. Since Klondikes were a big part of my childhood, I wanted to have a little fun with the concept of ice cream in a crunchy chocolate shell. However, I didn't want to deal with cutting ice cream into squares then covering them in chocolate. Instead, I went an easier route with these Klondike Ice Cream Cupcakes and poured the homemade chocolate shell over top, avoiding numb fingers and a melted ice cream mess. So much easier than making regular Klondike Bars plus who doesn't love eating mini ice cream cakes?
Because it isn't summer without traveling, I'm teaming up with ALDI for their
Virtual Summer Road Trip
with Pittsburgh as one of their stops in a two-part series (part one can be found here with
The Pittsburger
). ALDI and I go way back, maybe even before I started college (I can't remember when the store opened up by my parents, but whatever year that was, that was when we started shopping there). I even shopped at ALDI while I was studying abroad in Ireland because they make groceries more affordable (plus it was nice to see a familiar store while living in another country). Even though I have long graduated college, I still shop there on a regular basis. Their goal is to keep grocery prices as low as possible with their
business practices
as well as selling ALDI brand groceries made with the same quality as national brands but with a lower price tag.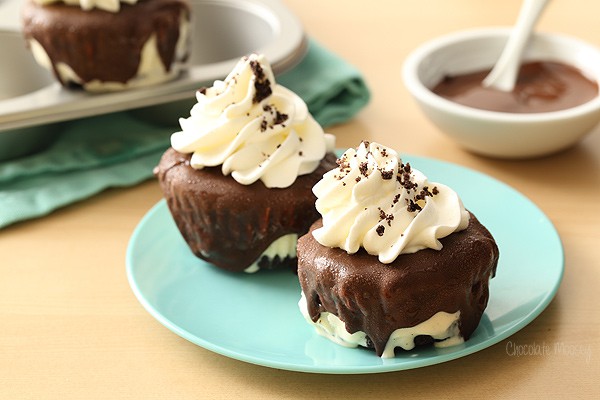 I wanted to make these ice cream cupcakes (aka mini ice cream cakes) instead of one big ice cream cake because they are much easier to share than trying to cut an ice cream cake (especially with the hard chocolate coating. It'd crack everywhere). Plus if you're hosting a celebration like someone's birthday, you can easily grab them from the freezer. Because they are ice cream based, you can most definitely make them several days ahead of time. Just wait on piping the whipped cream until you're ready to serve.
For the chocolate coating, you melt together chocolate chips and either coconut or vegetable oil. I personally used vegetable oil since I always have it in my pantry, but feel free to use what you have. I opted to pour the magic shell over top because it was much easier than trying to dip an entire ice cream cupcake. Not only was it less messy, your fingers weren't numb from holding the cupcakes (I tried one then gave up). The key to getting that crunch is making the chocolate layer thin. The thinner, the crunchier.
For more information about ALDI, please visit their website and say hello on Facebook, Twitter, and Pinterest.

Klondike Ice Cream Cupcakes
These ice cream cupcakes with a homemade magic shell poured on top for that chocolate crunch are inspired by the famous Klondike Bar.
Ingredients
1 cup Benton's Chocolate Sandwich Cookie crumbs plus more for garnish
2 tablespoons Countryside Creamery unsalted butter, melted
One (1.5 quart) Belmont French Vanilla Ice Cream, slightly softened enough to scoop but not melted
1 1/2 cups Baker's Corner semisweet chocolate chips
3 tablespoons Carlini Vegetable Oil
1/2 cup Friendly Farms heavy whipping cream, cold
1 tablespoon Baker's Corner powdered sugar
1/4 teaspoon Stonemill Essentials vanilla extract
Instructions
Line a cupcake pan with 12 paper liners. In a medium bowl, mix together the cookie crumbs and melted butter. Press roughly 1 tablespoon crumbs into the bottom of each liner. Freeze 15 minutes.
Fill each liner with ice cream, making sure the whole liner is filled and flat on top (you may not use all of the ice cream). Freeze for 1 hour. Remove the liners from the cupcakes then place back in the freezer on a cookie sheet lined with wax or parchment paper.
In a large heatproof bowl over a pan of simmering water, melt the chocolate chips. Remove from the heat and stir in the oil. Take the cupcakes out of the freezer. Pour roughly 1 tablespoon chocolate mixture on top of each cupcake, covering as much as you can. Place back in the freezer for 30 minutes or until firm. Once firm, transfer cupcakes to an airtight container.
Right before serving, in a large mixing bowl, beat the heavy cream until it thickens. Gradually add in the sugar and vanilla. Continue beating until stiff peaks form (when you pull the beaters up, peaks will form and not fall over). Pipe on top of each cupcake and garnish with cookie crumbs. Serve immediately.
Disclosure: This post is sponsored by ALDI. Thank you for supporting me and the companies I work with as sponsored posts help pay for the costs of running Chocolate Moosey, including website hosting and groceries for recipe development.
This post may contain affiliate links. As an Amazon Associate and member of other affiliate programs, I earn from qualifying purchase.