Philly Cheesesteak Quesadillas
These Philly Cheesesteak Quesadillas packed full of deli roast beef, peppers, mushrooms, and onions are a quick and easy way to get your cheesesteak fix in 30 minutes.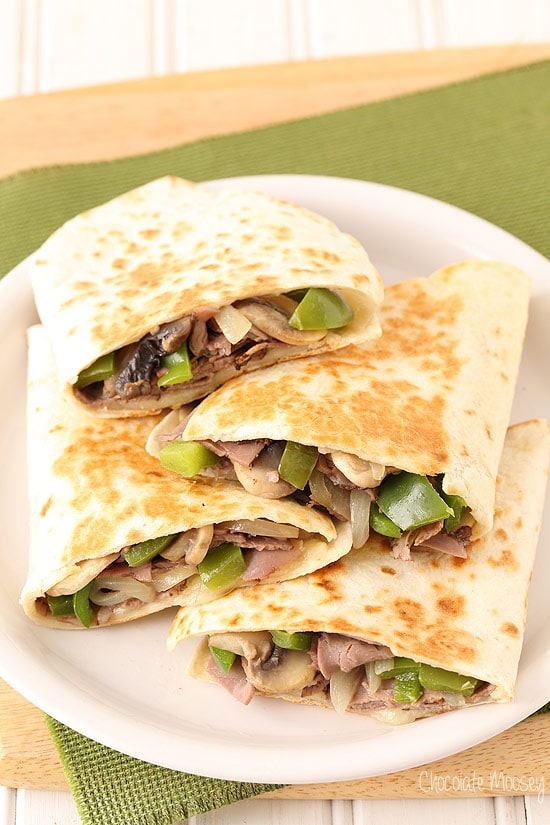 I have a love/hate relationship with the city of Philadelphia. For starters, I hate them because I'm from Pittsburgh. It's a known fact that if you are from Pittsburgh, you hate both Philadelphia and Cleveland, especially when it comes to sports. I also hate Philadelphia because it's impossible to park anywhere. One time I drove around the city trying to find a place to park so I can meet a friend for dinner. I was a half hour late because I was still driving around (I might have had better luck if I actually knew where I was going). However, I do think Philadelphia is a wonderful city to explore. I've been here for vacation, for several blogging conferences, for a job interview, and for simply visiting a friend. It is also home to Philly cheesesteaks – thinly sliced beef, melted cheese, peppers, mushrooms, onions, all packed into a crusty hoagie bun. Some diehard cheesesteak fans will argue that the peppers, mushrooms, and onions are not traditional, but that's not going to stop me from ordering them on my cheesesteaks.
Since I can't exactly travel to Philadelphia on a daily basis for cheesesteaks, looks like I'll have to make them at home. One meal I make a lot when I'm blanking on what to make for dinner are quesadillas. I almost always have tortillas in my freezer, so the next dilemma is what to make for the filling. Usually I just throw something together with whatever produce I have in the fridge, but this time I had roast beef. As I thought about what kind of beef quesadillas I could make, these Philly Cheesesteak Quesadillas came to mind. Thanks to the deli roast beef, you can have these quesadillas on the table in under 30 minutes.
Do you know the proper way to order a cheesesteak? First you say how many you want. Then you mention what kind of cheese you want (technically, the cheese of choice is cheese whiz (!), but you can easily substitute American or provolone). Finally, you decide if you want with or without onions. For these quesadillas, you would say "one provolone with". If you don't want onions, it would be "one provolone without."
I actually did the Philly cheesesteak challenge years ago with my dad and brother where you buy a cheesesteak from Geno's Steaks then immediately go across the street to buy one from Pat's King of Steaks and compare. We were coming back from vacation in New Jersey and stopped in Philadelphia really quick to see the Liberty Bell and grab some food. By really quick, I mean literally a few hours because we still had another 5 hours to drive back home to Pittsburgh. Since this was our first time in the city, we decided we might as well try the two cheesesteak stands that are across the street from each other to save time and to compare who was better. Although we enjoyed both, we thought Geno's was slightly better. Dad and I did make it back to Philadelphia later for a longer trip, but of course it was the same weekend as Hurricane Irene. We couldn't even finish our trip into New Jersey to the beach because the hurricane shut down the state border. It did give us a hefty discount on Philadelphia Zoo tickets though.
Philly Cheesesteak Quesadillas
Yield: 4 servings
Prep Time: 20 minutes
Cook Time: 30 minutes
Total Time: 50 minutes
These Philly Cheesesteak Quesadillas packed full of deli roast beef, peppers, mushrooms, and onions are a quick and easy way to get your cheesesteak fix in 30 minutes.
Ingredients
2 1/2 teaspoons vegetable oil, divided
Half of 1 small onion, sliced
Half of 1 green pepper, sliced into strips
2 large white mushrooms, sliced
4 (8-inch) tortillas
1/4 pound (4 ounces) deli roast beef, cut into 1-inch strips
4 slices provolone cheese
Instructions
Heat 2 teaspoons oil in a large skillet over medium heat. Add the onions, peppers, and mushrooms and cook until softened, roughly 8-10 minutes.
In another large skillet over medium heat, add the remaining 1/2 teaspoon oil. Once hot, add 1 tortilla. Top half of the tortilla with 1 slice of cheese, some roast beef, and some of the onion mixture. Fold the quesadilla in half, making a half-moon shape.
When the cheese has completely melted and the tortilla underside has golden-brown spots, flip the quesadilla then cook the remaining side until golden-brown. Remove to a cutting board and cut in half.
Repeat with the remaining ingredients. Serve immediately.
More Quesadilla Recipes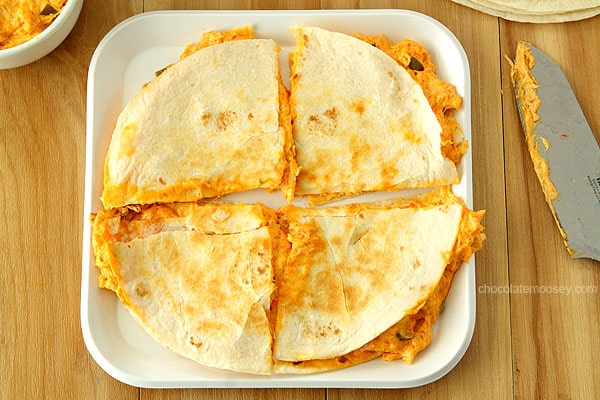 Buffalo Chicken Dip Quesadillas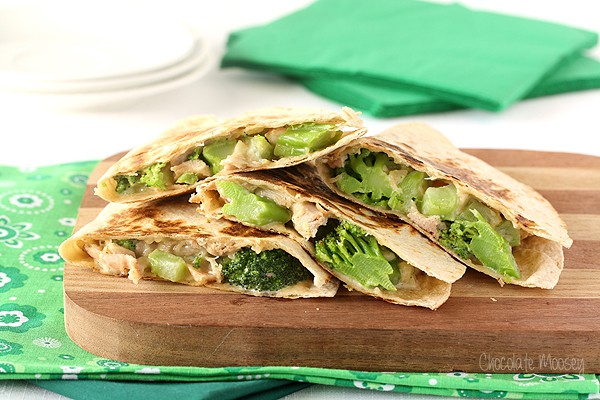 Chicken and Broccoli Alfredo Quesadillas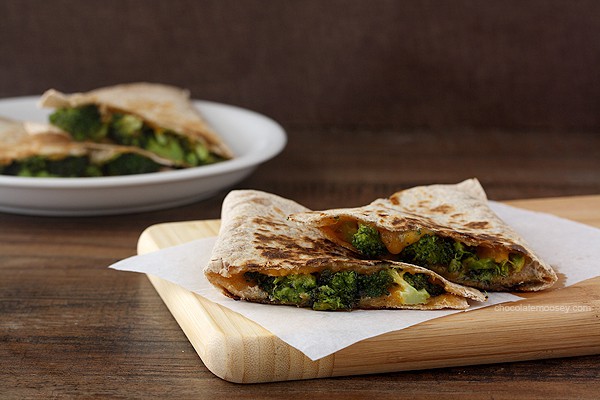 Roasted Broccoli and Cheese Quesadillas
Disclosure: This recipe was originally developed for Yum Food & Fun For Kids, Summer 2015 issue.
This post may contain affiliate links. As an Amazon Associate and member of other affiliate programs, I earn from qualifying purchase.