Irish Cream Cheesecake Brownies
These Irish Cream Cheesecake Brownies combine fudge brownies and cream cheese into one boozy dessert for adults to enjoy.

Happy March everyone! This month puts me in the mood for mint, shepherd's pie, and corned beef. It also makes me homesick for Ireland. I studied abroad in Ireland for a semester, so March is a rough time because I want to go back. I saw a sign at the store that said "I left my heart in Ireland." Truth. So if I can't go to Ireland, I'll just bring Ireland to my kitchen, starting with these Irish Cream Cheesecake Brownies. A fudgy brownie layer topped with an Irish cream cheese layer.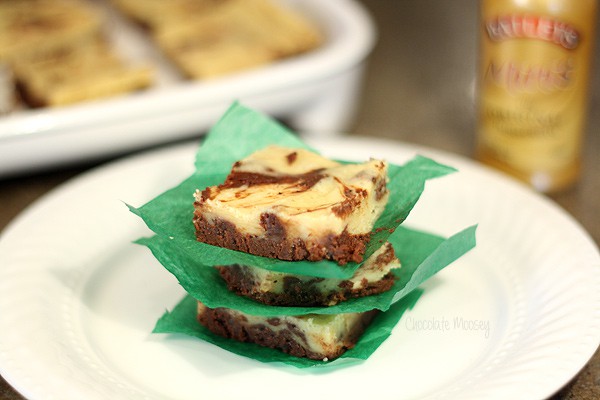 These Irish Cream Brownies are made with Bailey's liqueur (yes, booze. I had a coworker ask what Irish cream was). I rarely go to the liquor store (P.S. PA alcohol laws are terrible), so I had a feeling I'd have to buy a big bottle just for a few tablespoons. At first I noticed two sizes – large and small. Then I looked over and noticed something better. A fridge pack of four tiny bottles. How perfect is this? There wasn't much of a price difference either. Now instead of having a giant bottle in my fridge for the next two years, I can open a little bottle, use what I need, and refrigerate until the next recipe while keeping the unopened bottles in the pantry.
More Brownie Recipes
Irish Cream Cheesecake Brownies
Yield: 16 squares
Prep Time: 30 minutes
Cook Time: 35 minutes
Total Time: 1 hour 5 minutes
These Irish Cream Cheesecake Brownies combine fudge brownies and cream cheese into one boozy dessert for adults to enjoy.
Ingredients
5 tablespoons unsalted butter, cut into 5 pieces
4 ounces bittersweet chocolate, chopped
2 ounces unsweetened chocolate, chopped
3/4 cup granulated sugar
2 eggs, room temperature
1 teaspoon vanilla extract
1/2 teaspoon instant espresso powder (optional)
1/3 cup all-purpose flour
1/4 teaspoon salt
Cheesecake Layer
8 ounces cream cheese, softened
1/4 cup granulated sugar
1 egg, room temperature
1/4 cup Irish cream liqueur
1 teaspoon vanilla extract
2 tablespoons all-purpose flour
Instructions
Preheat oven to 325F. Line a 9×9 pan with parchment paper or foil lightly greased with cooking spray.
In a heatproof bowl over a saucepan of simmering water (do not let the bowl touch the water), melt together the butter and both chocolates until smooth.
Remove the bowl from the heat and whisk in the sugar (it will be grainy). Whisk in the eggs, one at a time, then whisk in the vanilla and espresso powder, if using.
Stir in the flour and salt until incorporated. Reserve 1 cup of brownie batter.
Spread the rest into the bottom of the pan. Set aside while you make the cheesecake layer.
For the cheesecake layer
In a large mixing bowl, beat together the cream cheese and sugar until creamy and smooth, roughly 2-3 minutes. Beat in the egg, Irish cream, and vanilla until smooth then beat in the flour. Pour over the brownie layer.
Drop reserved brownie batter by the spoonful on top and swirl with a knife for a marble effect. Bake for 30-35 minutes or until a toothpick inserted in the center comes out clean. Cool completely before cutting. Store in an airtight container in the refrigerator for up to 1 week.
Source: Adapted from
Baking: From My Home to Yours
This post may contain affiliate links. As an Amazon Associate and member of other affiliate programs, I earn from qualifying purchase.