Homemade Spanish Rice
Homemade Spanish Rice from scratch is an easy Mexican side dish made with long-grain rice, tomato sauce, onions, garlic, and paprika. Serve it with your enchiladas, tacos, or fajitas.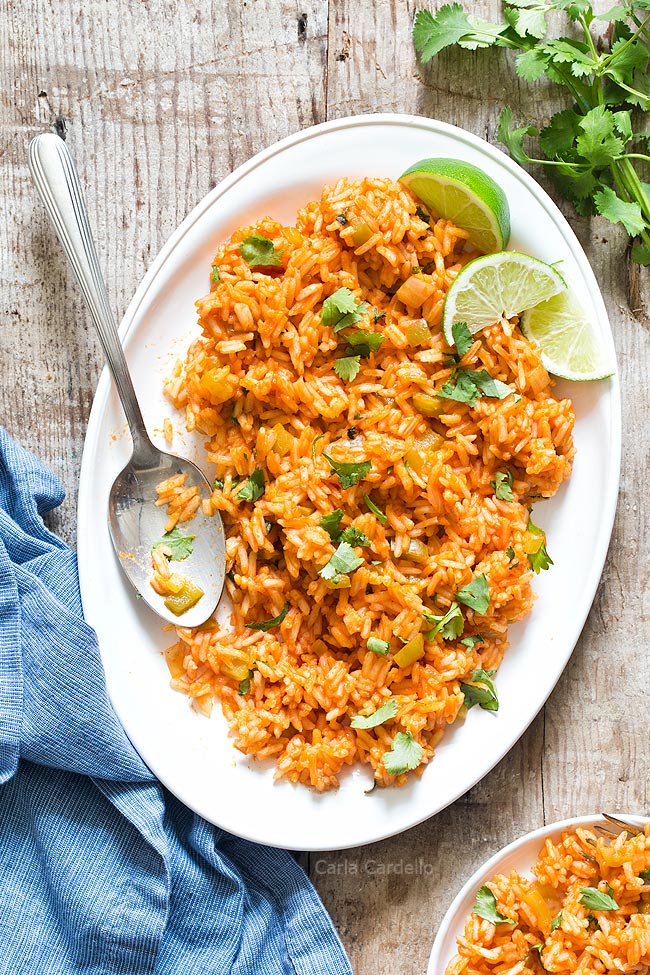 If there's one area of cooking I slack in, it's
side dishes
.
It's not that I hate eating side dishes; usually I focus so much on making the main dish that I'm too tired/lazy to make another dish.
Of course I can get away with that when I'm only feeding myself, but usually once a month my parents and brother come over for dinner, and I have to make sure there's enough food to feed everyone.
Mexican food is the easiest to feed everyone (minus the whining about how spicy it is) as I often make flank steak fajitas or chicken fajita salad with my fajita seasoning.
When I go the Mexican route for dinner, I almost always make easy Homemade Spanish Rice.
Growing up, my parents would make a Spanish rice packet a lot as an easy side dish for tacos.
During my first year or two of cooking for myself in college, I also used those packets and often added peas and other vegetables to bulk them up for my main dish.
Although the packets played a big part in my childhood, I have since then learned how to make homemade Spanish rice from scratch.
This Spanish rice recipe is inspired by those Spanish rice packets.
It's not meant to be an exact copycat, but I looked at the ingredient list and made sure my rice recipe was similar.
This one pot tomato rice is very easy to make from scratch. Fry your vegetables, add your rice and liquid, then simmer until done.
You can work on your air fryer chicken fajitas while the rice is cooking.
Or you can make Spanish rice the day before to help save time in the kitchen.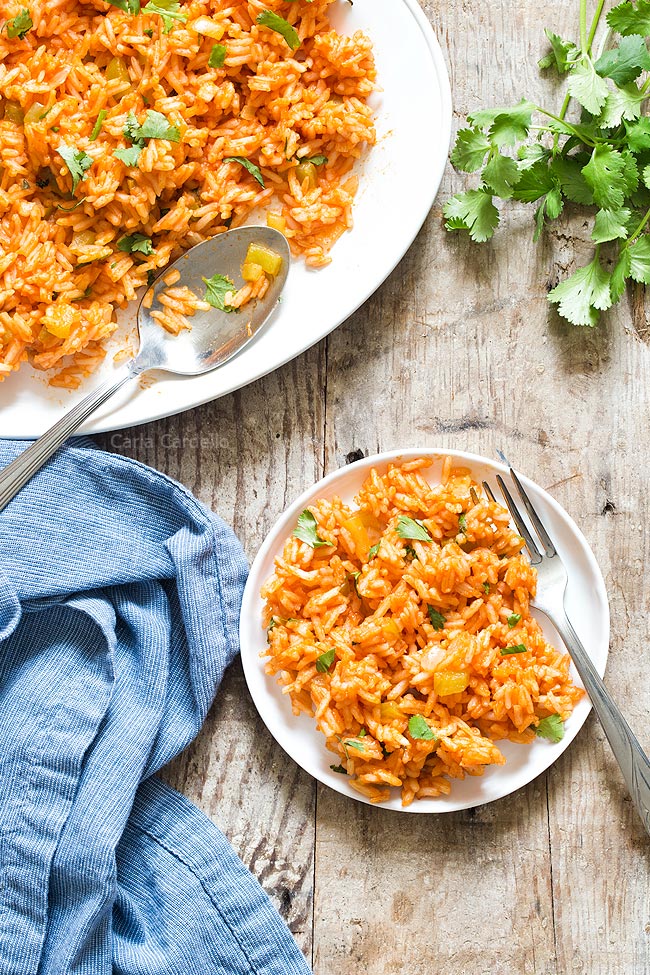 What is Spanish rice?
Spanish rice is a Mexican side dish made from white rice, tomatoes, garlic, and onion.
Ironically, it's a dish made in North America and not actually from Spain. The name comes from the Spanish introducing rice to Mexico.
Traditionally it also has saffron, but I didn't use any in mine. Saffron is an expensive spice most people don't have in their kitchen.
However, that doesn't stop my Spanish rice from being a flavorful easy side dish to go with your Mexican dinner, especially when it's time for Cinco de Mayo.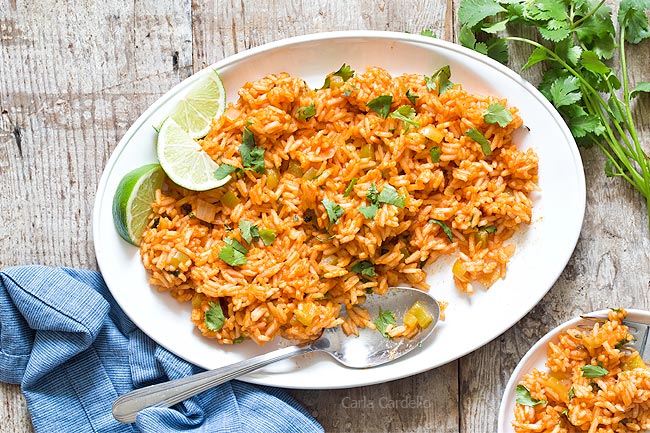 Ingredients For Homemade Spanish Rice
Luckily to make Spanish rice from scratch, all of the ingredients are in your pantry right now! Those ingredients are:
Cooking Oil: This is for frying the vegetables and rice. Flavor isn't prominent, so I recommend vegetable, canola, or olive oil.
Onion: Yellow or white onion work best.
Bell Pepper: The Spanish rice packets had diced red and green bell pepper in them. I only used green bell pepper so I didn't have to buy two peppers, but you can use either or both.
Garlic: Always need a little bit of garlic.
Rice: Traditionally Spanish rice is made with long grain white rice, which is also the most affordable rice. You can substitute brown rice, but the cook time will be longer.
Tomato Sauce: Gives the rice its red color and also adds tomato flavor
Broth or Stock: Chicken broth gives it the best flavor, but for a vegetarian or vegan option you can also use vegetable broth.
Paprika: Adds some depth of flavor plus helps with its red color.
Salt: Salt bring out the flavors of each ingredient. I prefer kosher salt, but you can also use table salt. Make sure you taste and adjust as the amount of kosher vs. table salt is different.
Cilantro: Cilantro is the most popular herb in Mexican cuisine.
Lime Juice: Acidity is what makes the rice go from flat to great.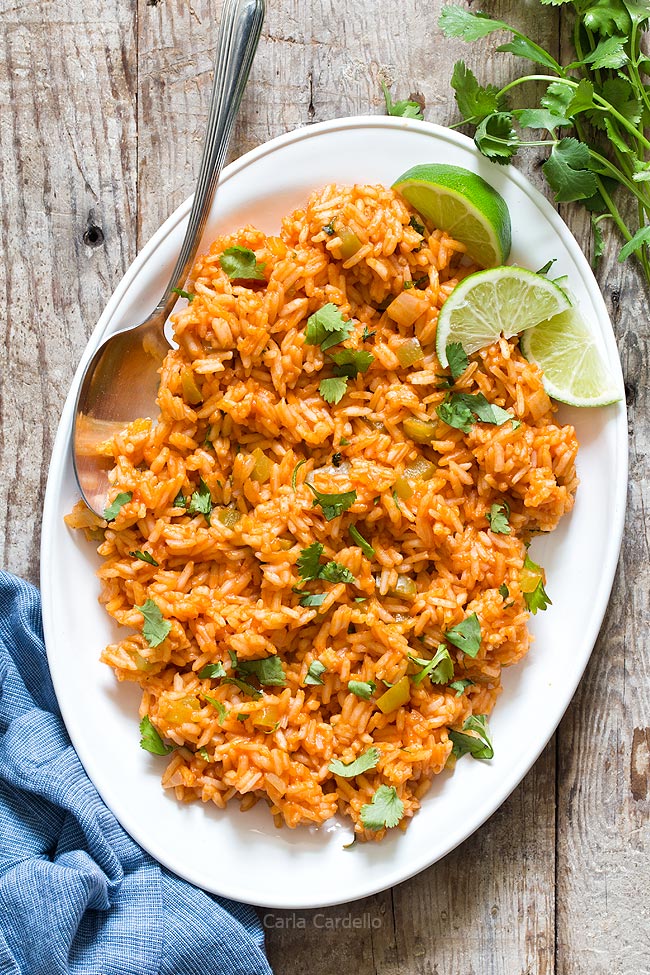 How To Make Homemade Spanish Rice
To make homemade Spanish rice, first you need a large 12 inch skillet (affiliate link). Make sure it has a lid as you'll need to cover the rice while cooking.
Heat up your oil then cook your onion and bell pepper until softened. Add your garlic and rice.
Frying your rice before boiling helps keep it from sticking together and getting mushy.
Once fried, whisk in your tomato sauce and chicken broth. The ratio of liquid to rice is 2 parts liquid, 1 part rice.
In other words, the amount of liquid you use should be twice the amount of rice you use. For tomato rice, it's 2 cups tomato sauce and broth for 1 cup rice.
Once it's boiling, turn the heat down to simmer and cover with a lid. Cook until the liquid is gone and rice is soft, about 10-15 minutes.
When done, remove it from the heat but keep the lid on. Let it rest for 10 minutes. This allows the moisture to redistribute. Otherwise, the top layer would be dry while the bottom would be fluffy.
After resting, fluff the rice with a fork so the grains don't stick together.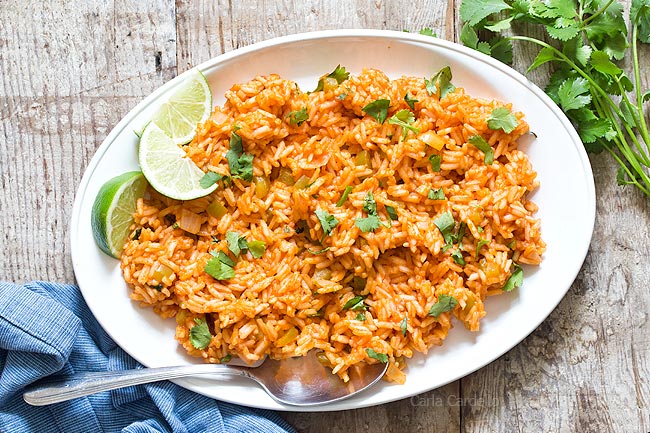 How many servings is Spanish rice from scratch?
According to the rice package, one serving size is 1/4 cup uncooked rice. My homemade Spanish rice recipe uses 1 cup uncooked rice, equaling 4 servings.
That's ideal when cooking a Mexican dinner for two because that's 2 helpings per person. Of course you may even be able to stretch it to 6 servings if you're making a big meal.
Leftover Spanish rice also makes a delicious lunch the next day.
Can you make homemade Spanish rice ahead of time?
Yes, you can make Spanish rice from scratch up to 1 day ahead of time!
One of the downfalls about food blogging is when I shoot a recipe, I'm usually too tired to eat it afterwards. When I photographed my Spanish rice, I put it in the fridge and ate it the next day.
All you have to do is reheat it in the microwave or on the stovetop.
This will help save you time on dinner day, especially if your main dish takes up all of your prep time or you have trouble timing your dishes to be ready at the same time.
Can you freeze homemade Spanish rice?
Sometimes you need to get ahead on your meal prepping for the week, so good thing you can freeze Spanish rice ahead of time!
Cool your rice completely then transfer to a freezer-safe bag. You can either put it all in one bag or portion your servings into several bags.
Flatten your rice as much as possible then freeze for up to 2 months. After that, the quality will suffer.
To thaw frozen rice, break it into small pieces then place in a microwave-safe bowl. Cover it with a microwave-safe bowl or microwave-approved plastic wrap then cook for about 2 minutes.
Carefully remove the lid (there'll be lots of steam!) then fluff with a fork. If it's not hot enough, cook for another minute or until done.
What do you eat with Spanish Rice?

Start your Mexican dinner off right with Homemade Queso or Fresh Garden Salsa.

Because it doesn't take long to make homemade Spanish rice, you can cook it while your crockpot beef enchiladas or beef taquitos are baking or while you are prepping taco pizza rolls for taco night.

End your meal with Frozen Mango Margaritas or Margarita Popsicles.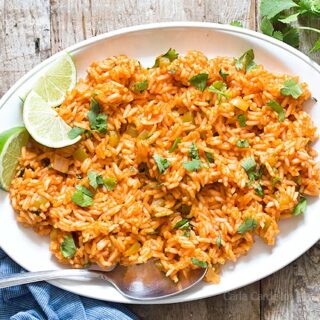 Homemade Spanish Rice
Yield: 4 servings
Prep Time: 15 minutes
Cook Time: 22 minutes
Total Time: 37 minutes
Homemade Spanish Rice from scratch is an easy Mexican side dish to serve with your enchiladas, tacos, or fajitas.
Ingredients
1 tablespoon vegetable or olive oil
1/2 cup diced green bell pepper (roughly half of 1 pepper)
1/4 cup diced yellow or white onion
1 garlic clove, minced
1 cup uncooked white long grain rice
1 + 1/4 cup vegetable or chicken broth/stock, room temperature
3/4 cup canned tomato sauce (roughly one 8 ounce can)
1/2 teaspoon smoked paprika
1/2 teaspoon salt, preferably kosher
1 tablespoon fresh chopped cilantro
1 tablespoon fresh lime juice
Instructions
In a large 12 inch skillet, heat the oil. Once hot, add the bell pepper, onion, and a big pinch of salt. Cook until softened, about 5 minutes.
Add the garlic and rice then cook for another 1-2 minutes or until the rice is translucent and starts to brown.
Slowly stir in the broth and tomato sauce. Add the paprika and salt then bring to a boil.
Once boiling, turn the heat down to simmer and cover with a lid. Cook undisturbed 10-15 minutes or until the liquid is absorbed and rice is tender. Taste and adjust for salt, if needed.
Remove from the heat and let it rest covered for 10 minutes.
Remove the lid and fluff the rice with a fork. Stir in the cilantro and lime juice.
Recommended Products
As an Amazon Associate and member of other affiliate programs, I earn from qualifying purchases.
Originally published April 28, 2015
This post may contain affiliate links. As an Amazon Associate and member of other affiliate programs, I earn from qualifying purchase.