Homemade Sloppy Joe Sandwiches are an easy yet comforting sandwich made with ground beef and a sweet tomato sauce.
Growing up, my parents often relied on canned and boxed ingredients to help make dinner – Lipton noodles, jarred sauces, even canned Chinese food.
One meal we had often were Manwiches, aka sloppy joes. Manwich is sauce in a can to make sloppy joes because it was a man's sandwich (hence the name).
I ate them without hesitation, but as I grew up, I started to realize how much I didn't like them. Overly sweet and overly processed. I was lucky I could even eat one sandwich anymore.
Fast forward to cooking on my own, I am constantly looking for easy dinner ideas that don't involve pasta.
Pasta consumption is something I need to watch since I could easily eat it 5 times or more per week.
Sandwiches make a fast and effortless dinner. I decided to tackle Homemade Sloppy Joe Sandwiches (and even included a healthy secret ingredient).
If you break down a typical sloppy joe sandwich, it's nothing more than ground beef and tomato sauce.
If you can make tacos, you can make sloppy joes.
I used America's Test Kitchen's recipe as a starting point. After all, their recipes have yet to let me down.
The key is not to overcook your meat. You want the meat to still be slightly pink when you add the sauce ingredients because the meat will still cook afterwards.
So what's my healthy secret ingredient? Carrots! That's right – I added diced carrots to my sloppy joes.
The inspiration came from a recipe for taco salad that called for carrots cooked right in the beef. Hey every little bit of healthy helps, right?
You can also add chopped bell peppers, but I didn't have any in the fridge at the time.
These sloppy joes were so good, I'm actually quite excited to make these for my parents and brother next time they visit.
Who actually says "I'm making you sloppy joes when you visit?" But they were honestly that good.
A little bit of sweetness, a little bit of spice. So much better than the Manwiches Mom used to make (sorry, Mom).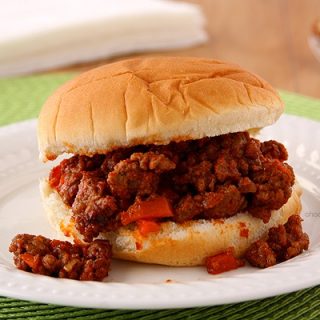 Homemade Sloppy Joe Sandwiches
Homemade Sloppy Joe Sandwiches are an easy yet comforting sandwich made with ground beef and a sweet tomato sauce.
Ingredients
1 tablespoon vegetable oil
1 large carrot, diced
1/4 cup diced yellow or white onion
Salt, to taste, preferably kosher
1/2 pound (8 ounces) ground beef
1 garlic clove, minced
1/4 teaspoon chili powder
8 ounces canned tomato puree (roughly 3/4 cup)
1/4 cup ketchup
1/2 teaspoon brown sugar
4 hamburger buns
Instructions
In a large skillet over medium-high heat, heat the oil until hot and shimmering. Add the carrot, onion, and a big pinch of salt. Cook until softened, about 5-8 minutes.
Add the beef, garlic, chili powder, and another big pinch of salt. Cook until just pink (do not completely cook through), about 3 minutes. Drain the grease.
Add tomato puree, ketchup, brown sugar, and pinch of salt. Bring to a boil then turn the heat down to a simmer. Cook until thickened, 8-10 minutes. Taste and adjust for salt.
Remove from the heat and cool for 10 minutes. Serve on hamburger buns.
Recommended Products
As an Amazon Associate and member of other affiliate programs, I earn from qualifying purchases.
Source: Slightly adapted from The Best Of America's Test Kitchen
—-
If you liked these Homemade Sloppy Joe Sandwiches, you may also like these recipes:
From me: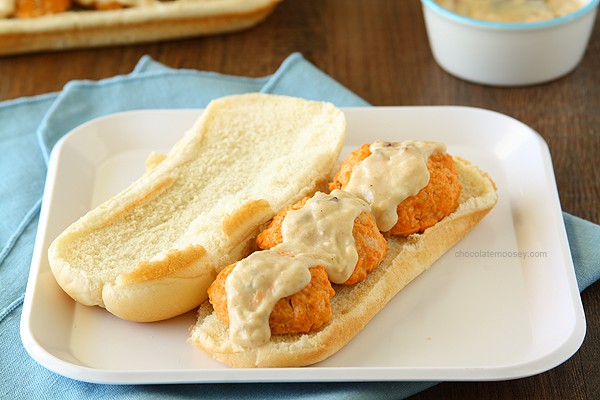 From others: