Homemade Lemon Marshmallow Fluff
When it comes to dessert, it's no surprise that I love chocolate (not that my name gave it away or anything). Lemon and marshmallow are pretty high on the list too, so what happens when you pair up these two flavors like in this Lemon Marshmallow Fluff? Move over, chocolate. Hello, beautiful. Seriously, I just wanted to take a spoon and eat it like ice cream. You can eat it with spoon, use it as "sauce" on ice cream, make a fluffernutter sandwich, stuff cupcakes, eat some more with a spoon. The best part is it uses up some of those egg whites you probably have stashed in the freezer like I do.
To be honest, I had no intention of making lemon fluff. Sure, at one point I asked, "what can I do with my egg whites?", but that was probably a month ago. As I was planning my Mother's Day cupcakes, I needed a filling. Didn't want custard or a mousse. No jam in the house. Marshmallow fluff sounded good. When I went to the pantry, no fluff. Hmm now what? I have a marshmallow book, so I checked the fluff recipe. As long as I could decrystallize the marshmallow syrup I made probably a year ago, this could work.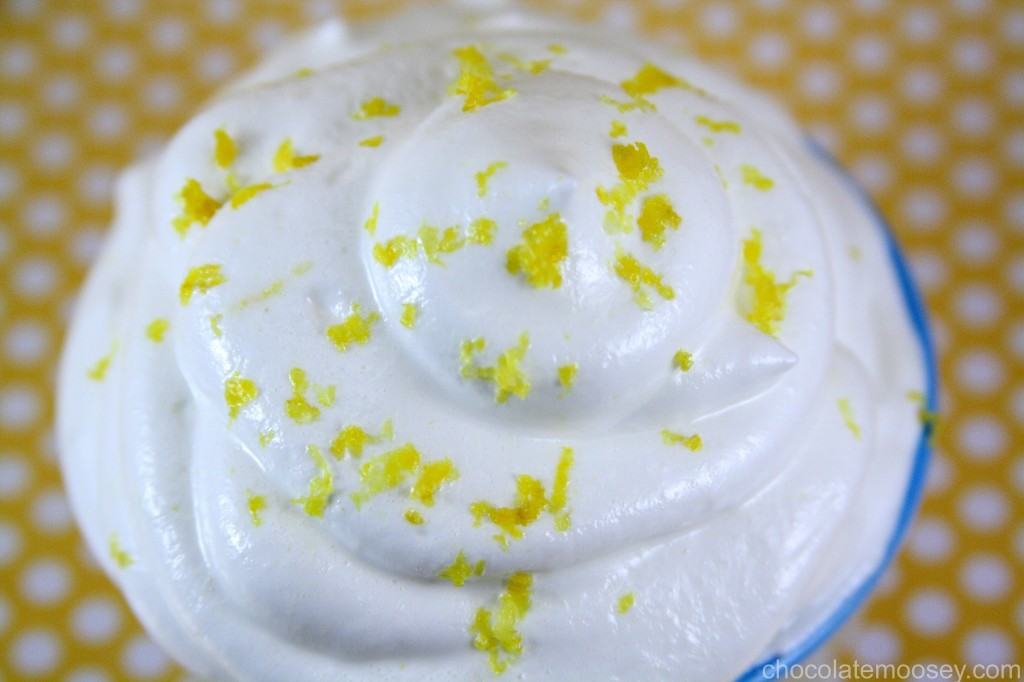 This recipe is the perfect example as to why I need a stand mixer because you have to beat the egg whites for almost 10 minutes, but the hand mixer did just fine. That poor soul has taken a lot of beating. I can say this recipe is a little dangerous because you boil the syrup at 250F. Because the syrup is sticky, if you get some on you, it's hotter than boiling water and won't shake off. I did it once with caramel. Just be safe, okay?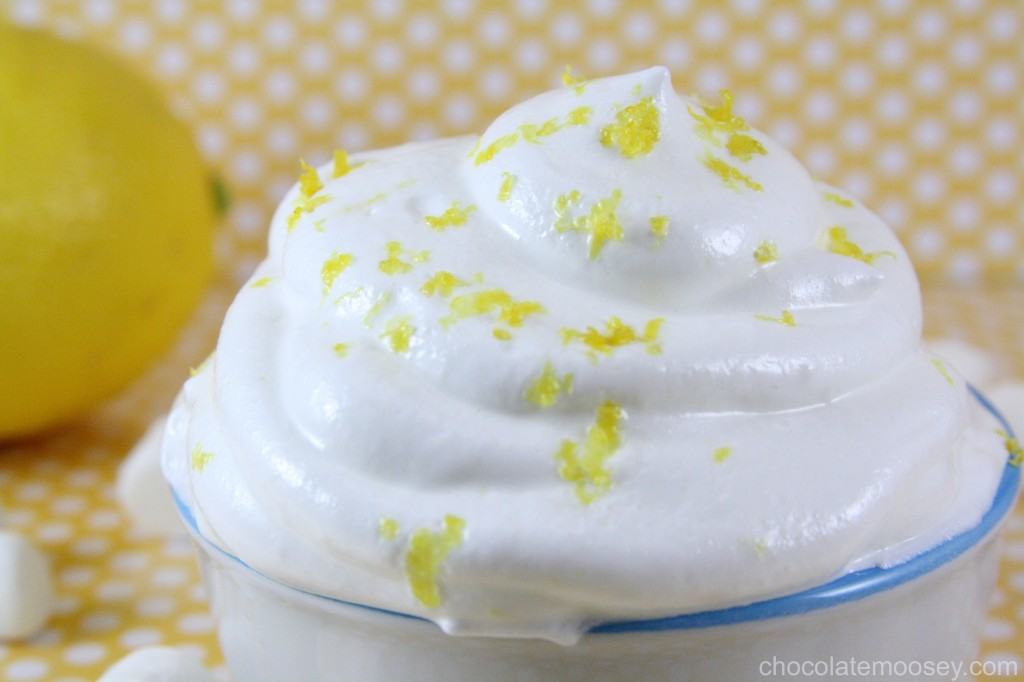 Believe it or not, I had the toughest time plating (bowling?) my fluff. First I tried spooning and styling with a fork. Nope. Then I went through two pastry bags with two different tips. Nope. Frustrated, I finished emptying the pastry bag and was getting ready to attack it with my fork again when I paused. It…it looked like that? Perfect fluff that looked like a bowl of ice cream? Who am I? How did I do that?? Not wanting to question the fluff gods, I gently added lemon zest and off for pictures it went. It held up pretty well too because I was expecting it to melt everywhere.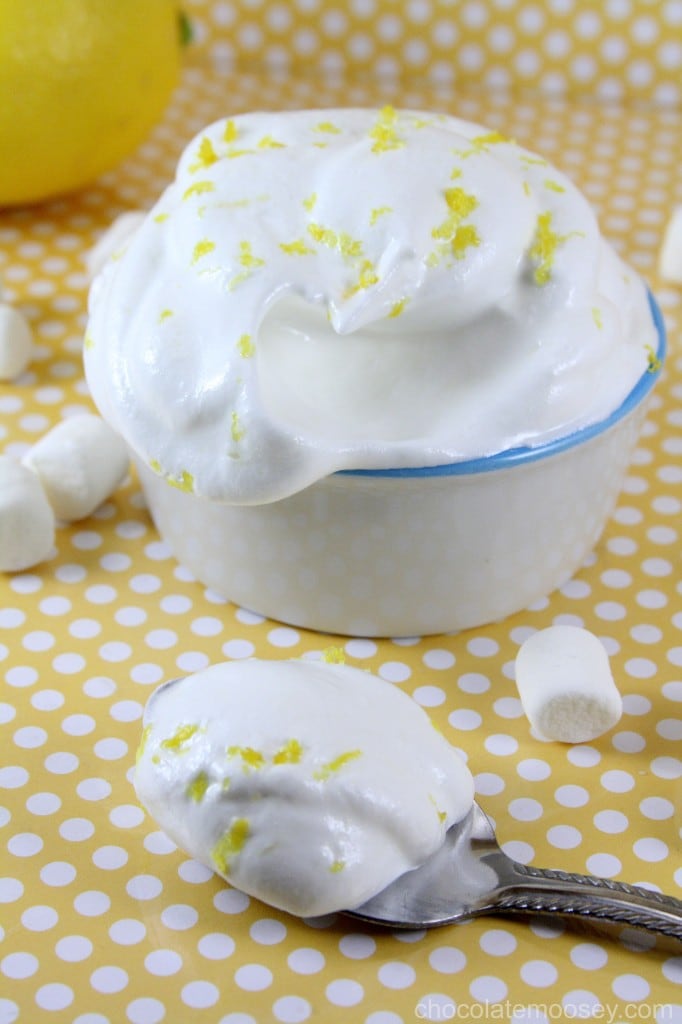 Now that I know making fluff was easier than I thought, I have all kinds of flavor ideas in mind. I do have about one more dozen of egg whites left in the freezer plus more to come from making ice cream.
What kind of fluff would you like to see me make?
Lemon Marshmallow Fluff
Ingredients
Marshmallow Syrup:
1 cup water
2 2/3 cups sugar
1/2 tsp cream of tartar
Pinch of salt
Fluff:
1 1/2 oz water
1/3 cup marshmallow syrup (recipe included)
1/3 cup sugar
2 egg whites, room temperature
Pinch of salt
2 Tbsp lemon juice
1/2 tsp lemon zest
Instructions
Make the syrup: Place the water, sugar, cream of tartar, and salt in a heavy quart pan, stirring gently until the sugar is moistened. Bring to a boil then cover the pan for 2 minutes.
Uncover the pan, insert a candy thermometer, and increase the heat to high. Do not stir the sugar at this point. Continue cooking until 240F degrees.
Remove from the heat and let cool for 15 minutes. Reserve 1/3 cup syrup for the fluff. Store the rest in a clean jar at room temperature for up to two months. If it crystallizes, place the jar in a pan of hot water and heat until it pours easily. Do not stir the syrup.
Make the fluff: Place the 1 1/2 oz water, syrup, and 1/3 cup sugar in a heavy pan and bring to a boil. over and boil for 2 minutes then remove the lid. Insert a candy thermometer and boil until 250F degrees. Do not stir at this point.
While the mixture is boiling, beat the egg whites and salt until thick, fluffly, and white.
When the temperature is 250F, turn off the heat and let the base cool for 3 minutes. Slowly add the syrup into the egg whites. Beat on high for 7 minutes. Reduce the speed and beat in lemon juice for 1 minute. Fold in the zest. Transfer the fluff to a covered container and store in the fridge for up to 2 weeks.
Source:
Marshmallows: Homemade Gourmet Treats by Eileen Talanian
This post may contain affiliate links. As an Amazon Associate and member of other affiliate programs, I earn from qualifying purchase.