Jelly Bean Cupcakes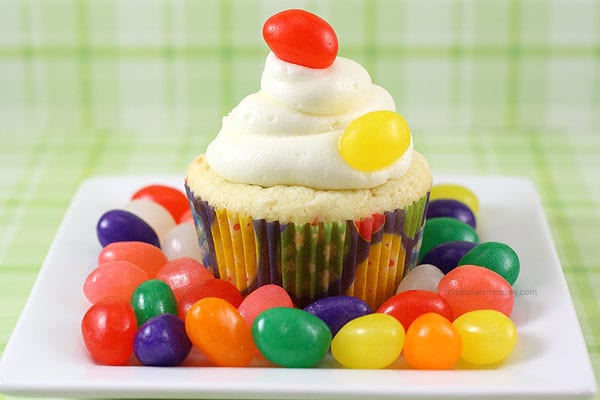 Ever find a recipe you've been dying to make, and although you keep telling yourself over and over you will make this recipe, you never do? I have this jelly bean bundt cake recipe in one of my books. Every year for the past 5+ years, I say I'm going to make this cake for Easter. And every year I never do. This year, I purposely bought a bag of jelly beans to make this cake. And damn it, I made this cake! Except I didn't feel like eating a whole bundt cake, so I cut the recipe down into cupcakes.
Admit it – you have some jelly beans left. And you know you are dying to try these.
The book calls it a buttery bundt cake, and that's what these cupcakes are. They are a little bit heavier than your average cupcake but still a good tasting cake nonetheless. The jelly beans do melt a bit but don't completely disappear, so there is some texture with the chewy pieces. Think regular jelly bean but softer to chew.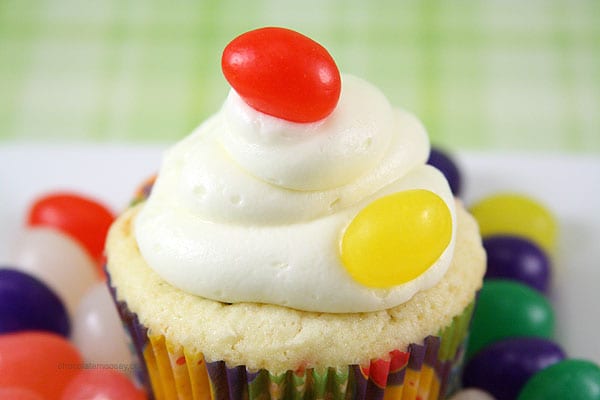 I paired them with a cream cheese frosting because there is some cream cheese in the cake. I was trying out a new frosting tip, so my cupcake isn't as frosted as well past ones. Do you have any favorite frosting tutorials? I'm getting tired of doing my usual star tip swirl method.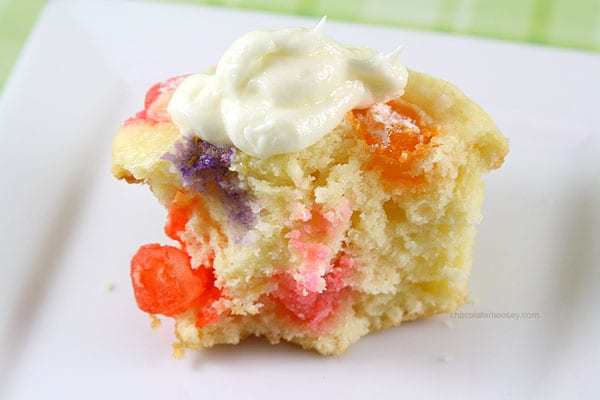 What have you been doing with your leftover candy? Are you eating it straight from the box/wrapper or are you playing around like I did with these cupcakes and
yesterday's ice cream
? I have a box of Peeps. Maybe I'll make smores…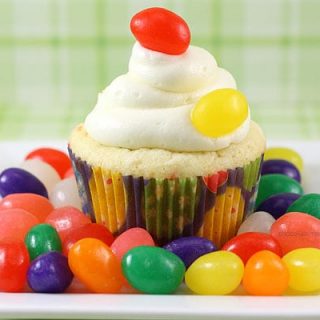 Jelly Bean Cupcakes
Buttery cupcakes with jelly beans for Easter
Ingredients
1/4 cup jelly beans (and a few for garnish)
2/3 cup + 1 tsp flour
1/2 cup sugar
1/3 cup butter, softened
3 oz cream cheese, softened
1/2 tsp vanilla
1 egg
1/2 tsp baking powder
Pinch of salt
Cream Cheese Frosting:
2 oz cream cheese, softened
1/4 cup butter, softened
Pinch of salt
1 cup powdered sugar
Instructions
Preheat the oven to 325F. Line a cupcake pan with six liners. Set aside.
Cut the jelly beans in half then toss in 1 tsp flour in a small bowl. This will help keep them from sinking to the bottom of the cake.
In a large bowl, beat together the sugar, butter, cream cheese, and vanilla until well blended. Beat in the egg. Add the remaining 2/3 cup flour, baking powder, and salt.
To fill one cupcake liner, scoop in some of the batter, top with a few jelly beans, then cover with another scoop of batter. Repeat with the remaining liners. If you have any jelly beans left, gently press them into the tops of each cupcake.
Bake for 24-26 minutes or until a toothpick inserted into the center comes out clean. Cool for 10 minute then remove from the pan and finish cooling on a cooling rack.
For the frosting
In a medium bowl, beat together the cream cheese, butter, and salt until creamy. Gradually beat in sugar. Beat on high for another few minutes or until light and fluffy. Pipe onto cooled cupcakes. Garnish with jelly beans.
Source: Adapted from the book Pillsbury
Cakes Unlimited
, 1984
This post may contain affiliate links. As an Amazon Associate and member of other affiliate programs, I earn from qualifying purchase.