Small Batch Homemade Applesauce
Easy small batch homemade applesauce made with fresh apples, a slice of lemon, and hint of cinnamon will leave you wondering why you buy it from the store.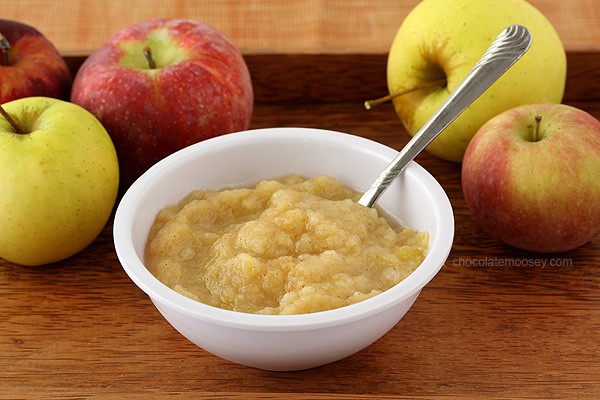 I had no intention of posting this Homemade Applesauce recipe, but it's so ridiculously easy, I couldn't not blog it. I'm pretty sure I've made it at least five times now, mainly because I needed a (healthy) snack for my lunch at work. Out of carrots? Made applesauce. Ate all the cauliflower last night? Made applesauce. Nothing to dip in the hummus? Made applesauce. You'd think by now I would make a giant batch, but I just make a small batch of one or two apple's worth at a time. With a little bit of prep and a little bit of cooking, you, too, can have fresh homemade applesauce for healthy snacking.

One of the benefits of making homemade applesauce is control. You don't have to worry about preservatives or the amount of sugar. Sweetness depends on your apples, so it's hard to say how much sugar to add. Using tart, Granny Smith apples may require more sugar than say Honeycrisp apples, for example. I love the naturalness of the apples, so I only use about 1-2 teaspoons of sugar. However, Dad said it needed more when I gave him a bowl.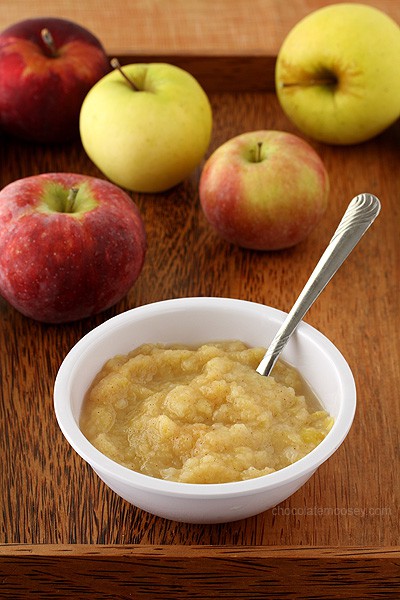 I smash my apples using my
adjustable potato ricer
. I didn't realize how versatile this tool is. Not only do I use it to make applesauce, I also use it to squeeze out excess liquid out of shredded apples, shredded squash, and cooked spinach. I leave the peels on my apples because they get left behind in the ricer, but if you need to smash the apples by hand, then you'll need to peel them first.
As far as which apples to use, I say it's preference. Sometimes I'll use two or three kinds of apples. So far I've used Golden Delicious, Gala, Jonagold, and McIntosh, some mixed; some not. If you do mix red and green apples, your applesauce will be a bit on the pink side. Do you like your applesauce warm or cold? Although I love eating it both ways, I prefer it right after cooking while it's still warm. Probably because it reminds me of hot apple cider that warms you up on a chilly afternoon outside.
Equipment I used for this recipe (Amazon Affiliate links):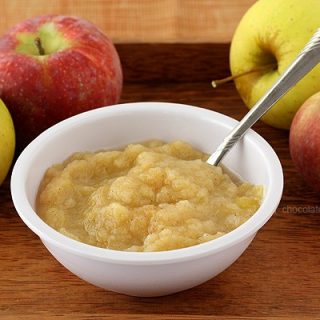 Small Batch Homemade Applesauce
Yield: 2 servings
Prep Time: 10 minutes
Cook Time: 20 minutes
Total Time: 30 minutes
Easy small batch homemade applesauce made with fresh apples, a slice of lemon, and hint of cinnamon will leave you wondering why you buy it from the store.
Ingredients
2 cups chopped apples (peeling optional*)
1/4 cup water
1 lemon slice (seeds removed)
Sugar, to taste
Cinnamon, to taste
Instructions
In a large saucepan, combine the apples, water, and lemon slice. Bring to a boil then cook for 10-15 minutes or until the apples are soft.
Remove from the heat and press through a food mill, potato ricer, or smash by hand (discard the lemon slice and any apple peel that may have snuck through).
Taste then add some sugar (I use 1-2 teaspoons) and some cinnamon (I use a few shakes). Adjust as necessary. Serve warm or cold.
Notes
*I use a potato ricer to smash my apples, so I leave the peels on and discard after pressing the apples through. If you are smashing by hand, peel the apples first.
Source: Adapted from
Long Grove Apple Haus Apple Cook Book
(Amazon affiliate link)
—-
If you liked this Homemade Applesauce recipe, you may also like these:
From me: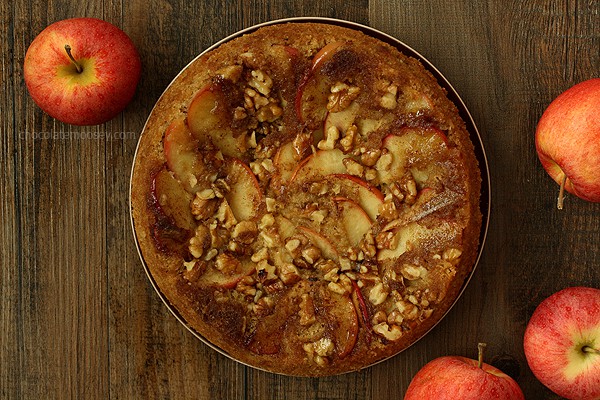 From other bloggers:
This post may contain affiliate links. As an Amazon Associate and member of other affiliate programs, I earn from qualifying purchase.