Halloween Cheesecake Truffles
Decadent bites of cheesecake dipped in chocolate then topped with sprinkles makes a special treat to bring to a celebration.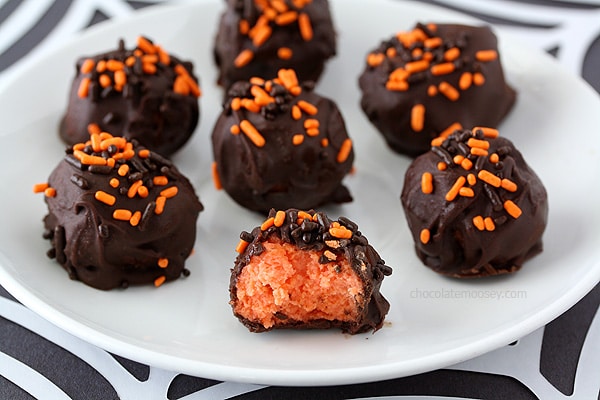 Today's post is a very special one that I'm excited for because my friend
Becca of It's Yummi
is getting married this week! The lovely
Kelley of Miss Information
and
Julie of White Lights On Wednesday
arranged a virtual wedding shower and invited me to join. Because Becca is getting married on Halloween, why not indulge on Halloween Cheesecake Truffles? I wanted to bring something festive to the party, and of course it needs sprinkles because it's a party after all.
I can't remember exactly how I met Becca. We have a lot of Facebook friends in common, and somewhere along the line, she sent me a friend request. Soon afterwards, she was giving me encouragement and lots of great laughs with her humor. What I love about Becca is she's a fighter; that woman has so much strength. I won't get into detail since it's not my story to tell, but Becca doesn't give up. A few weeks ago, she got some not-so-great news. Sure, it was a bad night (we all have those, don't we?), but shortly afterwards she brushed herself off and devised her next plan of action. Becca – I know you are reading this, and I wanted to say I am so grateful for your friendship because you have helped me through some bad nights and laugh away the a-holes I encounter.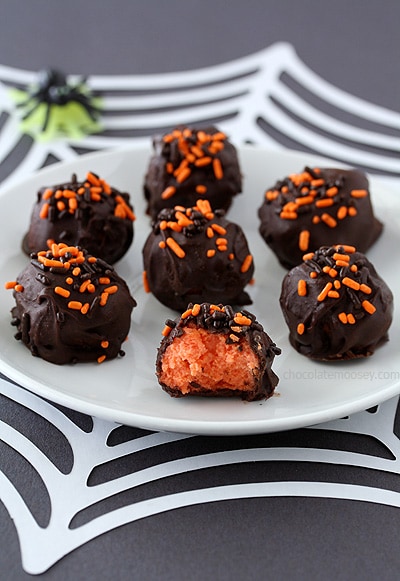 Funny story about these truffles. They were supposed to be a part of a Halloween cheesecake cake (hence the BRIGHT orange color), but that plan didn't work. I've learned when a layer doesn't work, make truffles. Truffles are a great way to use up failed yet still edible baked goods – cakes, cookies, cheesecake. If you can make balls with it, dip them in chocolate and call them truffles. Problem solved. Plus truffles are bite-sized and much easier to serve at (virtual) wedding parties.
So I raise a toast of these truffles to you, Becca, that your wedding day is full of treats not tricks and that you can look back and realize because of your strength, you were led to what I'm guessing is one of the best days of your life. I wish you and Brian the best as you continue your journey in life as a happily married couple.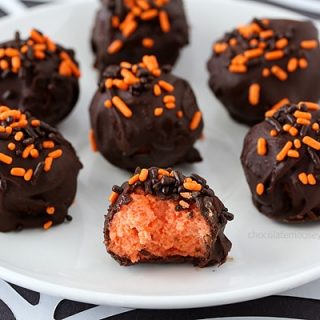 Halloween Cheesecake Truffles
Yield: 5 dozen
Prep Time: 1 hour
Cook Time: 35 minutes
Cool Time: 3 hours
Total Time: 4 hours 35 minutes
Decadent bites of cheesecake dipped in chocolate then topped with sprinkles makes a special treat to bring to a celebration.
Ingredients
16 ounces full-fat cream cheese, softened
2/3 cup granulated sugar
2 eggs, room temperature
1 teaspoon vanilla extract
Red and yellow food coloring (optional)
4 cups semisweet chocolate chips
Sprinkles
Instructions
Preheat oven to 350F. Grease an 8.5-inch springform pan.
In a large mixing bowl, beat together the cream cheese and sugar until creamy.
Beat in the eggs, one at a time, and vanilla until smooth. Beat another few minutes to ensure the mixture is fluffy and no lumps remain. If desired, add enough red and yellow food coloring to make the batter orange.
Pour into the pan and bake 35 minutes or until the center is firm but still jiggles a little when you gently shake the pan. Remove and let cool completely. Refrigerate for at least 2 hours before making truffles.
After chilling, scoop the cheesecake into 1-inch balls. Place on cookie trays or plates and freeze for at least 1 hour.
Line a cookie tray with parchment paper. Place 1/2 cup chocolate chips in a heat-proof bowl and microwave until melted.
Using a fork and a spoon, dip a cheesecake ball into the chocolate until completely coated. Let the excess chocolate drip off then place on the parchment paper. Repeat until the chocolate is gone.
Repeat with the remaining chocolate, melting in 1/2-cup increments. Add sprinkles on each truffle before the chocolate dries. Store in an airtight container for up to 1 week.
Source: Cheesecake recipe adapted from Taste Of Home
—-
If you liked these Halloween Cheesecake Truffles, you may also like these recipes from me: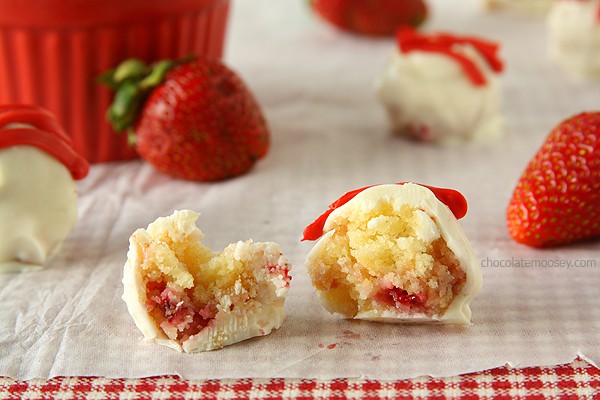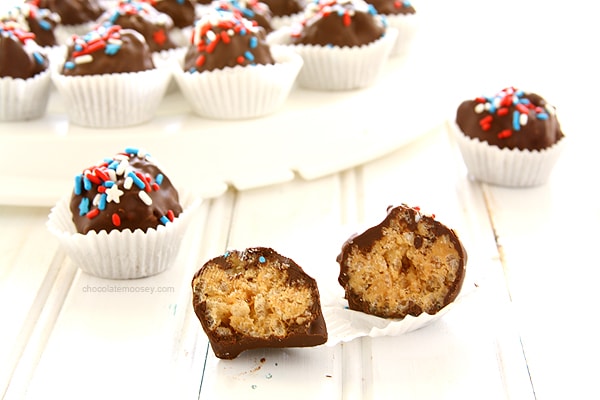 This post may contain affiliate links. As an Amazon Associate and member of other affiliate programs, I earn from qualifying purchase.