Cherry Cordial and Mint Truffle Kiss Hot Chocolate with Marshmallow Whipped Cream
Is anybody else confused about the weather? I think I wore my winter coat maybe three times and been dying to wear my new furry boots I got last year. On Monday, I didn't even wear a jacket and wore short sleeves a few times to work. As much as I complain about being cold, I'm hoping drinking some Cherry Cordial and Mint Truffle Hot Chocolate with Marshmallow Whipped Cream will guarantee a white Christmas and a snowy New Year. It couldn't be any easier either. All you do is melt your favorite Hershey's Kisses with a few basic ingredients, and you have winter in a mug.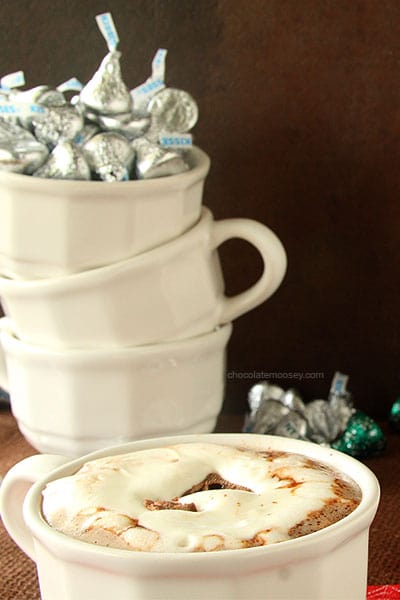 Look, it's sinking!
While making these drinks, I learned not all Hershey's Kisses are created equal. The Cherry Cordial Creme Kisses sink at a much faster rate than the Mint Truffle Kisses. I managed to capture a few pieces of the cherry on top, but when I replenished them for photos, they instantly sunk. Meanwhile, the mint ones are just chilling on top of the cream. What gives?
I chose Cherry Cordial and Mint Truffle Kisses because they are a specialty winter item (although I can't remember if cherry is available for Valentine's Day?). However, you can use any flavor kiss, ranging from regular and dark to caramel and almond. You can even stick with the winter theme and use the Candy Cane Kisses.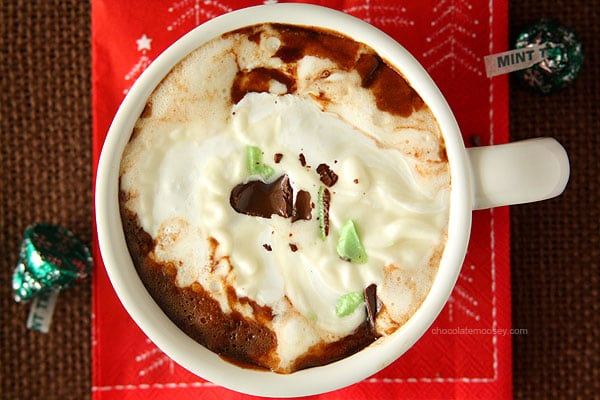 Of course no Hot Chocolate recipe is complete without marshmallows, and what better way than combining that with whipped cream? I folded marshmallow fluff into homemade whipped cream, but in a pinch you can fold in actual marshmallows. Or just use regular whipped cream and garnish with marshmallows. Seriously, it'll all end up in your belly the same way.
Between the Cherry Cordial and Mint Truffle Hot Chocolate recipes, I preferred the Mint Truffle Kisses because I love chocolate and mint. What flavor of Hershey's Kisses will you choose?
Cherry Cordial and Mint Truffle Kiss Hot Chocolate with Marshmallow Whipped Cream
Kiss Hot Chocolate made with cherry cordial and mint truffle kisses
Ingredients
1 cup milk
2 Tbsp powdered sugar
8 Cherry Cordial Creme or Mint Truffle Hershey's Kisses, unwrapped
1/4 tsp salt
Marshmallow Whipped Cream
1/4 cup heavy whipping cream
1 tsp powdered sugar
1/4 tsp vanilla extract
1/4 cup marshmallow fluff
3 Hershey's Kisses, unwrapped and chopped
Instructions
In a medium saucepan, heat up milk until hot but do not bring to a boil.
Whisk in the sugar, kisses, and salt and heat until the chocolate melts. Pour into 2 mugs.
For the whipped cream: In a medium bowl, beat whipping cream until it starts to thicken. Gradually add in powdered sugar and vanilla then continue beating until stiff peaks form (when you remove the beater(s) straight up, the peaks will stay in place without falling over). Fold in the marshmallow fluff. Spoon whipped cream on top of the drink. Garnish with chopped kisses.
This post may contain affiliate links. As an Amazon Associate and member of other affiliate programs, I earn from qualifying purchase.