No Bake Fudgy Peppermint Cathedral Cookies
I am a holiday candy hoarder, and I think companies cash in on that. They put out all kinds of limited edition flavors and when they are gone, they are gone, forcing people to buy two bags in case they run out of the first one (cough). When I see a new flavor, whether it's marshmallows, M&Ms, Hershey's Kisses, or Oreos (which I still have yet to see these gingerbread ones?!), they usually end up in my cart. Then they sit in my pantry forever, leaving me with out-of-stock candy so I can't post recipes since none of you can get the ingredients until next year (#foodbloggerproblems anyone?) So this year, I made an effort to do better and made No-Bake Fudgy Peppermint Cathedral Cookies, which uses both peppermint marshmallows and M&Ms for a holiday treat.
I had a bag of peppermint marshmallows and white chocolate peppermint M&Ms. I did Peppermint Rice Crispy Treats last year, so I wanted a new recipe. Then I hit a wall with the M&Ms. I didn't want to do cookies since I did that for Halloween. I was going to do fudge, but I had such a bad day in the kitchen that night, I just knew it would fail. I had a recipe for Cathedral Cookies in my recipe box, so I started thinking. Mini peppermint marshmallows. That could work! Then instead of nuts, I used M&Ms.
I was a mess that night (literally). Chocolate ALL over my hands trying to roll the dang thing up. I was so skeptical that these were even going to work. I shoved it in the freezer and went to bed. The log set up beautifully and cut so easily. And everything smelled like peppermint. Of course, being as fudgy as they are, you can't leave them out of the fridge too long or they are quite messy slicing.
The cathedral part of the name comes from the original use of colored marshmallows. After slicing, the colors represent a stained glass window found in cathedrals. This peppermint version is all dressed up for the holiday.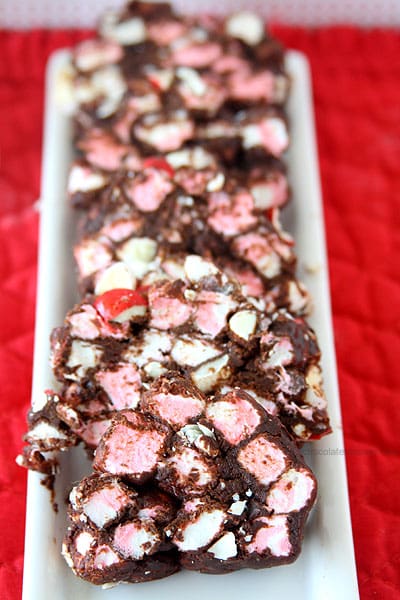 The best part about these No-Bake Fudgy Peppermint Cathedral Cookies is making them ahead of time and storing the log in the freezer until ready to serve. That is one less thing for you to do when planning those holiday parties.
[rss-cut]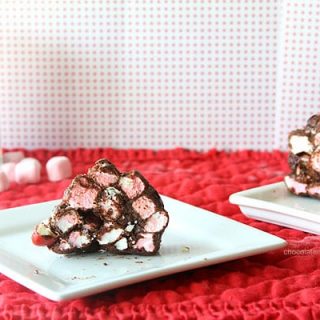 No-Bake Fudgy Peppermint Cathedral Cookies
No Bake Chocolate Peppermint Cookies
Ingredients
1 cup semisweet chocolate chips
2 Tbsp butter
1 egg
3 cups mini peppermint marshmallows
1 cup white chocolate peppermint M&Ms, chopped (divided into 1/2 cup + 1/2 cup)
Instructions
In a heavy medium saucepan, melt together the chocolate chips and butter over low heat.
Place the egg in a small bowl and add a little bit of the chocolate mixture.
Return the mixture to the saucepan and cook over low heat for about 2 minutes, whisking often.
Remove from the heat and pour into a heatproof bowl. Cool 15 minutes.
Stir in the the marshmallows and 1/2 cup M&Ms. Chill in the bowl for 30 minutes.
On a sheet of parchment paper, shape the chocolate mixture into a log, 1 1/2 inches in diameter.
Sprinkle and press the remaining 1/2 cup M&Ms into the top and sides until they stick. Wrap up tightly and twist ends of the paper to seal.
Freeze for 4 hours or overnight. Remove from the paper and cut into slices. Store in an airtight container in the refrigerator.
Source: Adapted from Taste of Home magazine
This post may contain affiliate links. As an Amazon Associate and member of other affiliate programs, I earn from qualifying purchase.