Chicken and Broccoli Alfredo Quesadillas
Get dinner on the table quickly with Chicken and Broccoli Alfredo Quesadillas, sure to be a family favorite.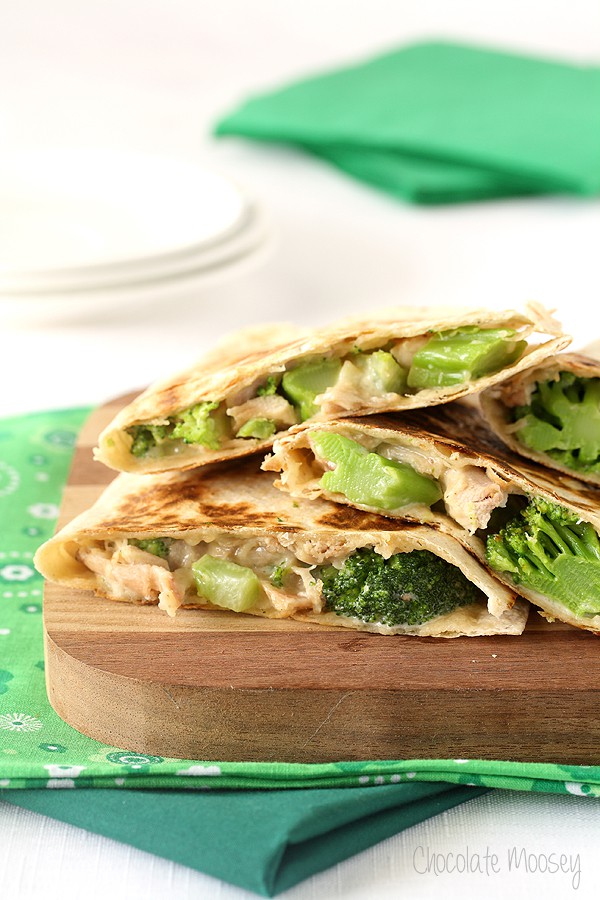 My dinner motto lately – when in doubt, make a quesadilla. It's one of the fastest and easiest meals you can make when you don't feel like cooking anything. I almost always have tortillas on hand, so I usually make something up with whatever vegetables and cheese are in the fridge. Then one day I got this brilliant idea to make what is now one of my favorites – Chicken and Broccoli Alfredo Quesadillas with a homemade garlic Alfredo sauce. No need for jarred sauce because making one from scratch only takes a few minutes.

Sometimes I'm not sure if quesadillas are supposed to be an appetizer or dinner. I always turn them into dinner, but then restaurants list them as appetizers. Regardless, I love stuffing them with unique fillings. So far I've made them with buffalo chicken dip and chicken fajita dip. I wanted to bring the flavors of fettuccine alfredo to a quesadilla because I get tired of making pasta all the time. Usually I make shrimp and broccoli fettuccine, but chicken is a second favorite when I don't have shrimp on hand.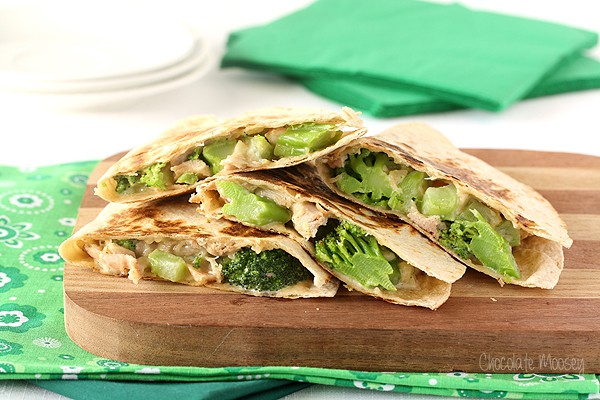 For the sauce, it's a classic Alfredo sauce with only butter, heavy cream, and Parmesan cheese, but I added garlic to bump up the flavor. I love it super garlicky, but normal human beings may not want to be as assertive. You really do need to use heavy cream, but if all you have is milk, you will either need to add some flour to make a roux or use extra butter to make up for the extra fat content.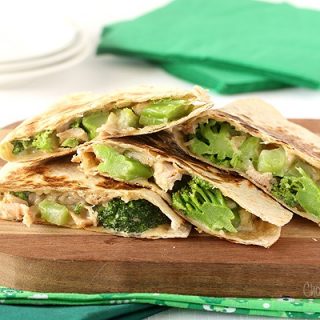 Chicken and Broccoli Alfredo Quesadillas
Yield: 4 servings
Prep Time: 20 minutes
Cook Time: 30 minutes
Total Time: 50 minutes
Get dinner on the table quickly with Chicken and Broccoli Alfredo Quesadillas, sure to be a family favorite.
Ingredients
1 teaspoon vegetable oil
1 large boneless skinless chicken breast, cut into 1 inch pieces and lightly salted
1/4 cup chopped onion
2 cups chopped fresh broccoli (or frozen broccoli, thawed)
2 tablespoons unsalted butter
1 clove garlic, minced
1/2 cup heavy whipping cream (do not substitute milk)
3/4 cup grated Parmesan cheese
4 tortillas ( homemade or store bought)
Instructions
In a large skillet over medium heat, heat the oil. Add the chicken and onion and cook for 3 minutes. Flip and add the broccoli. Cover with a lid and cook for 5-8 minutes or until the broccoli is soft and chicken is fully cooked. Transfer the chicken mixture to a bowl and keep warm.
In the same skillet (no need to clean), melt the butter, whisking up any brown bits left behind from the chicken. Add the garlic and cook for 30 seconds. Slowly whisk in the heavy cream. Cook for about 3-5 minutes or until the sauce thickens a little, whisking often. Whisk in the cheese. Remove from the heat. Stir in the chicken mixture.
Heat a second skillet large enough to hold a tortilla. Fill half of the tortilla with some of the chicken mixture. Fold the tortilla in half. Cook until brown then flip and cook until brown again. Repeat with the remaining food. Alternatively if your tortillas are small, fill one tortilla with filling then top with another tortilla, making a tortilla sandwich.
This post may contain affiliate links. As an Amazon Associate and member of other affiliate programs, I earn from qualifying purchase.