Peppermint Patty Cookie Dough Dip is an egg free, no bake dessert that combines the cool sensation of peppermint patties with chocolate cookie dough.

Eating raw cookie dough is a guilty pleasure of mine. I'm sure we've all done it at one point or another, ignoring what our parents said about not eating raw egg. We were living dangerously, weren't we? As much as I love eating freshly baked cookies from the oven, sometimes all I want is the dough itself. Since I had no intention of baking said dough, I made a no bake, egg free dip that you can dive right into. And although most people instantly think of chocolate chip cookie dough, I did a little chocolate twist and opted to make Peppermint Patty Cookie Dough Dip in honor of Hershey's® product
YORK MINIS
. I love Hershey's products (see
here
,
here
, and
here
), so it's no surprise that I am teaming up with them to bring you one cool dessert to enjoy all year round.
Peppermint patties were a big deal in my house growing up because they were my mom's favorite candy. In fact, when we visited Hershey Park, I think I had my picture taken with the York Peppermint Patty character (P.S. when you drive by Chocolate World, it really does smell chocolate in the air!). Just as the name suggests, YORK MINIS are bite-sized peppermint patties, even smaller than the fun sized. Because of their size, I wanted to use them similar to chocolate chips in a recipe. Cookie dough dip was the first recipe to pop into my mind.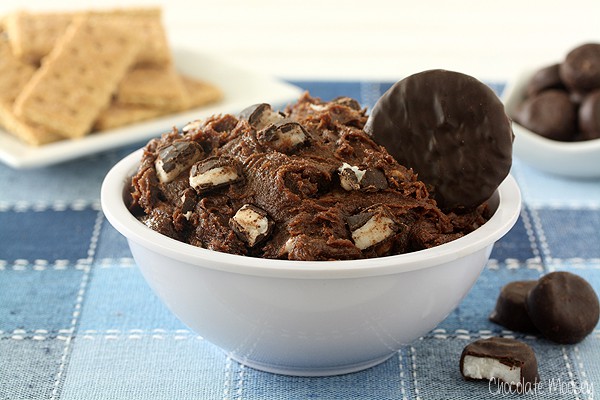 One thing for sure is I wanted this to be a cookie dough dip, not a cream cheese dip with cookie dough flavor. Although the cream cheese dips are good, it's just not the same as eating cookie dough. That also means this peppermint patty dip is a little on the rich side. Or maybe that was me eating too much dip at once. Oops. I'd say serve them with chocolate graham crackers, but I couldn't find *any* at the stores nearby. Did they stop making them? Regular graham crackers work too, but I think chocolate would pair better. Also, if you eat this straight from the fridge, the dip will be firm. My coworkers and I just spooned the dip on graham crackers and ate it that way (What? We were impatient).
Peppermint Patty Cookie Dough Dip
Peppermint Patty Cookie Dough Dip is an egg free, no bake dessert that combines the cool sensation of peppermint patties with chocolate cookie dough.
Ingredients
3/4 cup all purpose flour
1/4 cup unsweetened cocoa powder, sifted
1/4 teaspoon salt
1/2 cup (1 stick or 4 ounces) butter, room temperature
1/4 cup brown sugar, packed
1/4 cup granulated sugar
1/2 teaspoon vanilla extract
1/4 teaspoon peppermint extract
3 tablespoons milk
1 cup chopped mini peppermint patties, such as YORK MINIS
Graham crackers, for serving
Instructions
In a medium bowl, whisk together the flour, cocoa powder, and salt.
In a large mixing bowl, beat together the butter and both sugars are creamy and light, about 2-3 minutes. Scrape down the bowl if needed.
Add the vanilla and peppermint extracts. Gradually beat in the flour mixture then beat in the milk until moistened and smooth. Add the peppermint patties. Serve with graham crackers.
Want more recipes? Try these sweet treats:

Peppermint Patty Ice Cream
This is a sponsored post written by me on behalf of Hershey's®. As always, thank you for reading and supporting brands I work with, which allows me to bring you more recipes. All opinions, text, and photographs are my own.