Carrot Cake Cinnamon Rolls
Fresh, baked Carrot Cake Cinnamon Rolls topped with Cream Cheese Frosting are the perfect companion for your morning coffee.

As a creative baker, I love to take two separate concepts and combine them into one –
German Chocolate Cake Cookie Sandwiches
,
Smores Hot Cocoa
,
Chocolate Covered Strawberry Brownies
. Here's another twist on a classic pastry recipe – Carrot Cake Cinnamon Rolls. Sweet cinnamon rolls stuffed with carrots, raisins, and walnuts then topped with a cream cheese icing. And since these babies are stuffed with a filling reminiscent of carrot cake, they are perfect for today's Sunday Supper theme of stuffed recipes. Let's stuff our faces, shall we?
I made these cinnamon rolls last year for Easter weekend when my parents and brother visited. Cinnamon rolls are such a weakness of mine, and I knew I could devour the whole dozen no questions asked. I made a note in my planner to share this recipe, and here I am a year later. This time around, I used a regular all purpose flour dough instead of the whole wheat dough it originally called for then added walnuts to the filling. I was toying with adding pineapple to the mix, but I was afraid it would be too wet and didn't have dried pineapple on hand.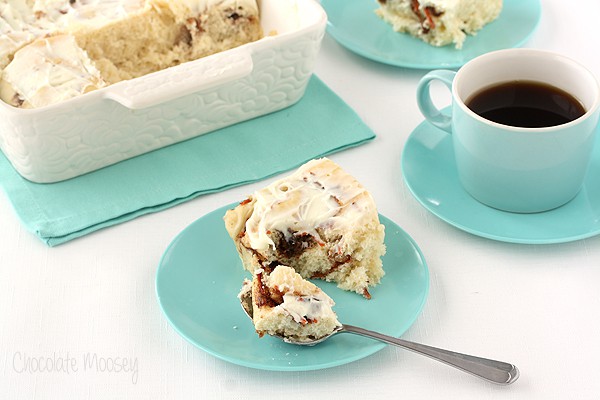 Even though I associate carrot cake with Easter, carrot cake can be eaten all year round. I don't think carrots ever go out of season, do they? They make a great brunch treat (especially for Easter morning). Make them the night before and let them sit in the refrigerator overnight during the second resting period. In the morning, pop them in the oven then frost before serving.
Looking for more? Check out my Small Carrot Cake recipe and Carrot Cake Cupcakes with pineapple.
Carrot Cake Cinnamon Rolls
Fresh, baked Carrot Cake Cinnamon Rolls topped with Cream Cheese Frosting are the perfect companion for your morning coffee.
Ingredients
3 1/2 cups + 1-2 tablespoons all purpose flour
1/3 cup granulated sugar
1 teaspoon salt
2 1/2 teaspoon yeast (one 1/4 ounce package)
1 cup milk (heated to 120F)
4 tablespoons (1/2 stick or 2 ounces) butter, melted
2 eggs, room temperature
Filling
2 cups shredded carrots
1/4 cup brown sugar
1 tablespoon ground cinnamon
1/3 cup raisins
1/3 cup chopped walnuts
2 tablespoons water
1 tablespoon butter, softened
Frosting
4 ounces cream cheese, softened
1/2 cup powdered sugar
1 tablespoon milk
1/2 teaspoon vanilla extract
Instructions
In a large mixing bowl (paddle attachment if using a stand mixer), combine the flour, sugar, salt, and yeast.
Add the milk and melted butter. Mix on low speed until the dough forms a soft mass.
Beat in the eggs, one at a time. Continue beating on low until the dough starts to pull away from the sides of the bowl, 5-6 minutes.
If using a stand mixer, change the attachment to the dough hook. Sprinkle the dough with 1 tablespoon of flour. Beat on low speed until the dough is smooth (not sticky) and springs back when you press it with your finger. If needed, add the extra tablespoon of flour. If not using a stand mixer, place the dough on a lightly floured surface and knead by hand for 4-6 minutes.*
Place the dough in a lightly greased bowl, cover with a tea towel, and let rise in a warm place (about 85F) for 45-60 minutes or until it has almost doubled.**
For the filling
In a medium saucepan, combine the carrots, brown sugar, cinnamon, raisins, walnuts, and water. Bring to a boil, stirring, then remove from the heat. Let cool 15 minutes.
To assemble
Spread 1 tablespoon butter in a 13x9 pan.
On a floured surface or pastry mat, roll the dough into a 12x16 rectangle. Spread remaining 1 tablespoon butter onto dough, being careful not to rip it. Spread the carrot filling on top. Staring with a short end, roll up the dough and form a tight 12-inch cylinder. Cut into 12 slices. Place each slice, spiral side up, into the buttered pan. Cover a tea towel and let rise in a warm place until almost doubled, 45-60 minutes.**
Preheat the oven to 350F. Bake for 18-20 minutes or until the rolls have risen and are brown. Cool.
For the frosting
In a large mixing bowl, beat together the cream cheese and powdered sugar until smooth. Beat in the milk and vanilla. Spread on top of rolls.
Notes
If you're having trouble finding a warm spot, place the bowl on a heating pad. I used the highest setting on mine.

*
Source: Adapted from
I Love Cinnamon Rolls!
More Carrot Cake Recipes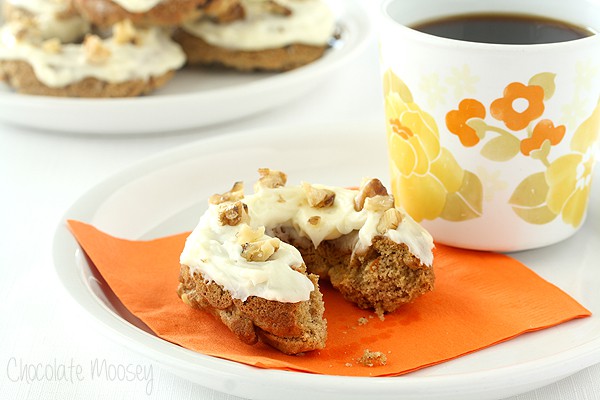 Carrot Cake Baked Doughnuts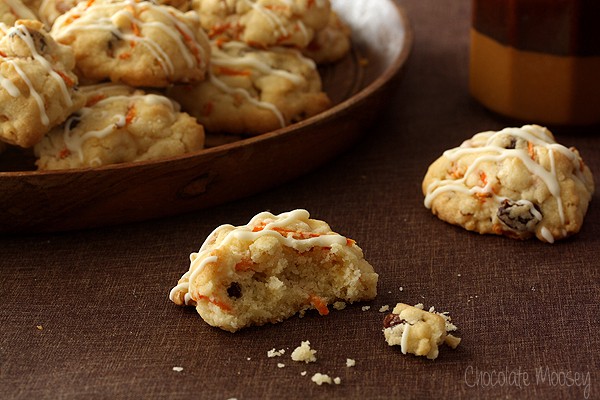 Carrot Cake Drop Cookies

Carrot Cake Cheesecake
This post may contain affiliate links. As an Amazon Associate and member of other affiliate programs, I earn from qualifying purchase.