Peach Sorbet
This 4 ingredient Peach Sorbet is refreshing for a hot summer day when peaches are still in season.
As a recipe developer and blogger, I'm all about staying ahead of trends.
I remember last January I developed an Easter recipe for a client while the wind chill was below zero. Not exactly Easter weather.
This past July I made baked potatoes for a client while it was 90 degrees outside. Just what I wanted to eat for dinner.
I get it when you have an assignment to make a recipe out of season, but that doesn't mean I'm ready to see them on social media.
It's mid August, and already I've seen pumpkin recipes popping up in my newsfeed. I even saw a Christmas cookie round up last week. No no no no no I'm not ready yet.
Not ready for pumpkins and pumpkin spice lattes. Not ready for sweaters or apple dumplings.
I still want daylight to last until 9 PM. I still want to go to the park in the evenings to walk. I still want my farmer's markets with their farm fresh tomatoes and peaches.
Peaches were a little late to ripen this year. Why are we trying to rush them away already?! The P word for August is peaches, not pumpkins. Peaches!
I knew I wanted to squeeze in one more summerlicious peach recipe. Problem was I already have a ton of peach recipes.
What else can I make that isn't similar?
I already made peach ice cream.
What about Peach Sorbet? Sorbet is different from ice cream because it's mainly frozen fruit juice (or puree in this case) and sugar. No eggs or dairy like ice cream usually has.
I'm not going to pretend Peach Sorbet is healthy because there is still sugar in it, but it's definitely lower in fat.
It's also only 4 ingredients to make – peaches, water, sugar, and lemon juice.
A very simple dessert that still highlights the beauty of the peaches without masking it under all kinds of flavors.
It's funny how 10 pounds of peaches go by so quickly.
They are the one of the few fruits I enjoy eating as a snack straight from the bowl I put them in, so I've been eating half of them while developing recipes with the other half.
My mom requested a peach pie for her birthday, so I'll probably end up buying a few more for that.
Back to the sorbet. Make sure your peaches are ripe and juicy.
If they aren't quite ready, put them in a brown bag with a banana to speed things up. You definitely don't want to use underripe peaches for sorbet.
Make sure you check out my step by step photos on How To Peel Peaches before you get started.
Peach Sorbet
Ingredients
1/2 cup sugar
1/2 cup water
1 pound peaches, peeled, pitted, and chopped (roughly 3 large peaches - learn How To Peel Peaches)
2 tablespoons lemon juice
Instructions
In a small saucepan, bring the sugar and water to a boil, whisking often. Boil for 1 minute then remove from the heat.
In a blender, blend together the peaches, sugar water, and lemon juice. Pour through a fine mesh strainer into a large bowl, discarding any solids left behind. Refrigerate until cold, about 1 hour.
Churn the peach mixture according to your ice cream maker's instructions then freeze until firm, preferably overnight.
More Frozen Recipes

Peaches and Cream Ice Cream

Peach Pie Yogurt Pops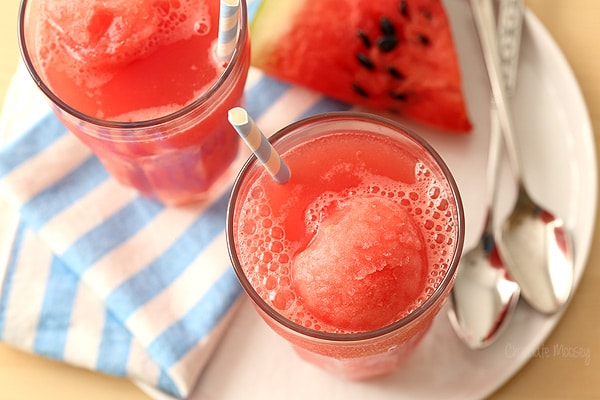 Watermelon Sorbet Floats
This post may contain affiliate links. As an Amazon Associate and member of other affiliate programs, I earn from qualifying purchase.