Candied Cherry and Bacon Chocolate Chip Ice Cream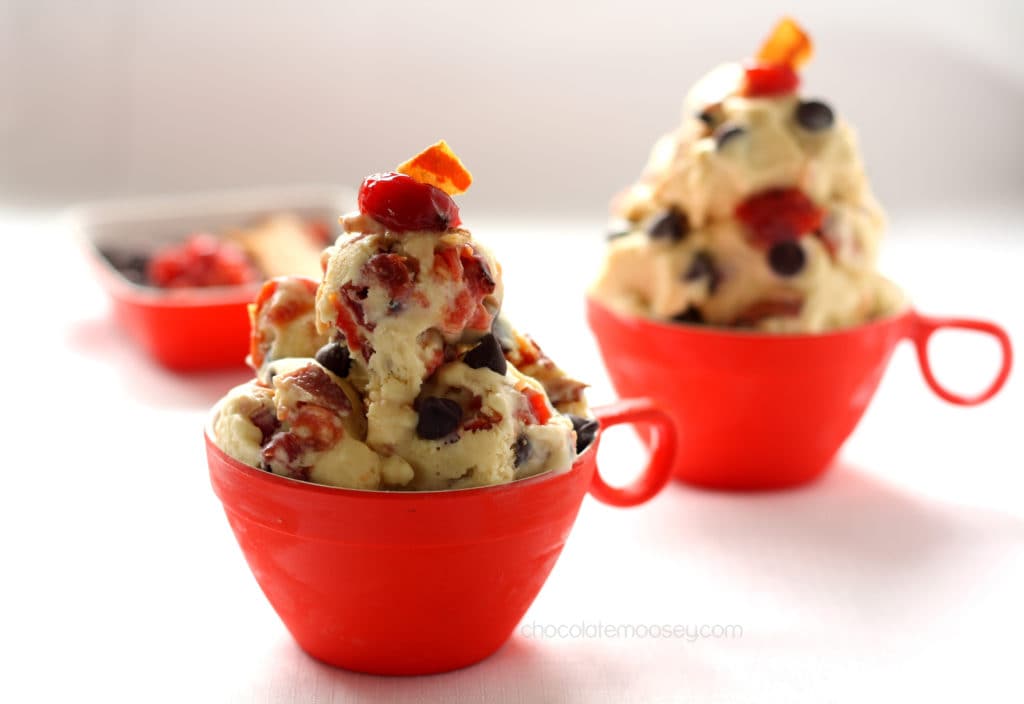 It wouldn't be #icecreamweek unless I did something crazy, right? This Candied Cherry and Bacon Chocolate Chip Ice Cream is dedicated to
Susan of Girl in the Little Red Kitchen
. When I posted a sneak peek of my German Chocolate Ice Cream Sandwich Cookies, she asked if there was bacon in it (the picture wasn't labeled and the pecans weren't distinct enough). I said no, and then I started thinking. Could I squeeze in a recipe using bacon? Bacon. Chocolate chip. Hey I have candied cherries in the fridge. What if I make ice cream
after my favorite cookie
? And so it was born – Candied Cherry and Bacon Chocolate Chip Ice Cream – brown sugar ice cream packed with plenty of bacon, candied cherries, and semisweet chocolate chips.
Despite what you may think, bacon, cherry, and chocolate chips go very well together. It's one of my favorite flavor trios. The crispy, salty bacon. The sweet candied cherries. The decadent crunchy chocolate chips. I chose a brown sugar ice cream to mimic chocolate chip cookies. The base came from Love and Olive Oil's
The Cookie Dough Lover's Book
minus the cookie dough pieces. Instead, I added chopped up cooked bacon, cherries I had candied a few weeks ago, and chocolate chips. If you don't have candied cherries, you can sub chopped maraschino cherries.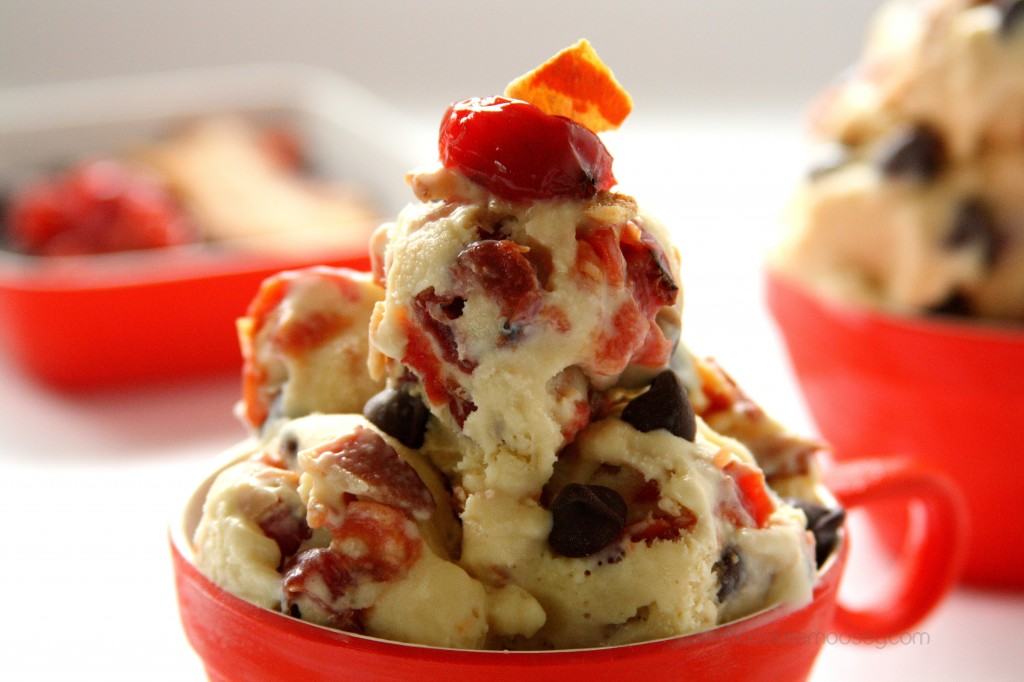 I love ice cream packed with mix-ins, not ones where you only get four pieces in a whole scoop. You bet I dumped a bunch of bacon, cherries, and chocolate chips in. Every spoonful is one big flavor party in your mouth.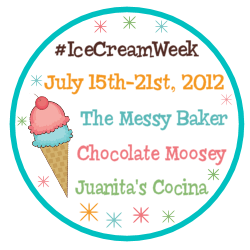 One more day of #icecreamweek left! Be sure to stop by
Juanita's Cocina
and
The Messy Baker
for their frozen treats today then come back tomorrow where we will have a link-up party! Add your ice cream recipes to our link-up tool (very easy) and join in on the fun.
Candied Cherry and Bacon Chocolate Chip Ice Cream
Make the candied cherries ahead of time. They can be kept in the refrigerator for up to two weeks. You can substitute 1/2 cup chopped maraschino cherries instead.
Ingredients
Candied Cherries:
1/2 pound (8 oz) sour cherries, pitted
3/4 cup water
1/2 cup sugar
1 tsp lemon juice
Few drops of almond extract
Ice Cream:
1 cup heavy whipping cream
1/2 cup whole milk
2 Tbsp sugar
1/4 cup brown sugar
Pinch of salt
2 egg yolks
1/2 tsp vanilla extract
1/2 cup cooked bacon, chopped
1/4 cup semisweet chocolate chips
Instructions
Make the candied cherries
In a medium saucepan, heat the cherries, water, sugar, and lemon juice until it starts to boil.
Turn the heat down to low and cook for 25 minutes, stirring frequently during the last 10 minutes to ensure they are not sticking.
Once the syrup is reduced to the consistency of maple syrup, remove from the heat and add the almond extract. Let the cherries cool in their syrup.
After cool, drain the cherries in a strainer over a bowl for about 1 hour. Reserve 1/2 cup candied cherries; save the rest and the syrup for another recipe.
Make the ice cream base
Pour 1/2 cup cream into a medium heatproof bowl and set it in an ice bath. Place a strainer on top.
In a medium saucepan, heat the remaining 1/2 cup cream, milk, sugars, and salt until the sugars have dissolved.
In a small bowl, whisk the egg yolks. Slowly whisk in the warm milk mixture then pour it all back into the saucepan. Cook over medium heat, stirring constantly, until the mixture thickens and coats the back of a spoon with a temperature of 160-165F. Remove from the heat. Pour through the strainer into the reserved cream and stir. Whisk in the vanilla. Let cool in the ice bath until room temperature.
Cover the bowl with a lid or or plastic wrap and refrigerate until cold. Place the custard into an ice cream maker and freeze according to the company's directions or place the bowl in the freezer, whisking every 30-45 minutes to break up the ice crystals. When it is a few minutes away from being completely firm, stir in the reserved 1/2 cup candied cherries, chopped bacon, and chocolate chips.
Source: Adapted from
The Cookie Dough Lover's Cookbook
(Amazon affiliate link)
This post may contain affiliate links. As an Amazon Associate and member of other affiliate programs, I earn from qualifying purchase.