German Chocolate Ice Cream Sandwich Cookies
We are halfway through #icecreamweek already! To be honest, I didn't think I was going to make it this far. You see, people have been trying to ruin #icecreamweek. I bought a shiny new ice cream scoop over the weekend, but the cashier never put it in my bag (seriously 4 items, that's all I bought! One bag worth!). I specifically went to the store for that scoop, which I still don't have because I live 45 minutes away from the store. Then my freezer decided it was going to stop working for awhile, so you'll have to excuse my messy pictures today. I'm lucky these German Chocolate Ice Cream Sandwich Cookies even made it to the table – chewy chocolate coconut pecan cookies layered with toasted coconut ice cream and creamy coconut pecan filling. One huge delicious mess.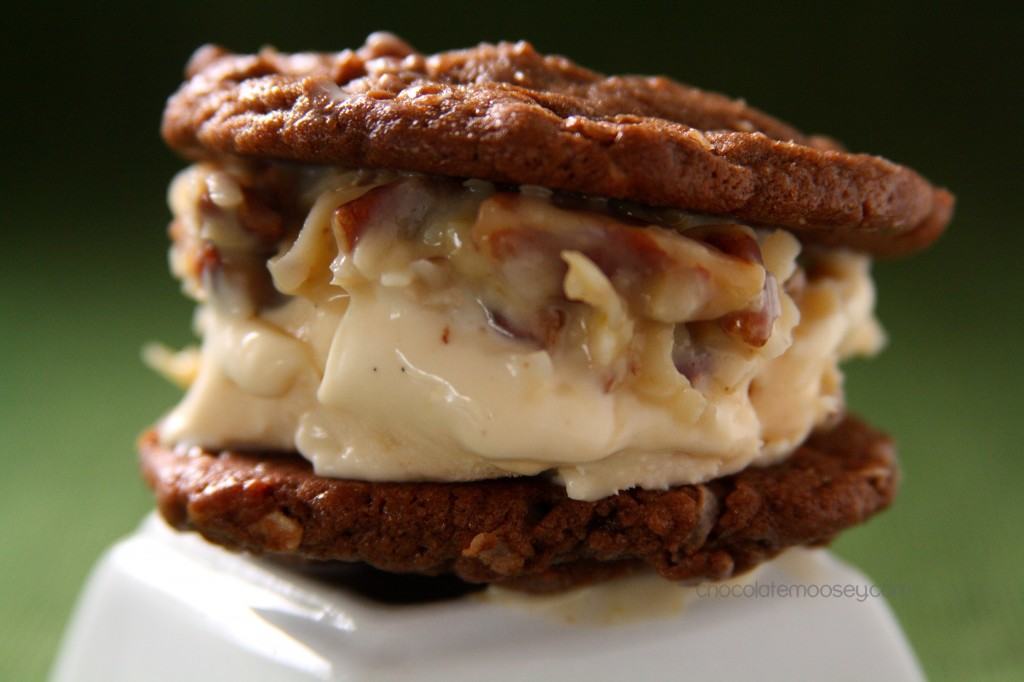 It all started Sunday afternoon. Cookies were baked, filling was done, all I needed was to assemble. I got the toasted coconut ice cream out and let it sit on the counter for a few minutes. You see, when I make homemade ice cream, it takes a few minutes to soften enough to scoop. I noticed it was softer than usual (I've made this ice cream before), so I figured maybe time slipped away and I let it warm up too long. Put it back in the freezer, prepped a little for dinner, checked on it again. Still soft. The temperature of the freezer was at 1 degrees. Hmm. I shifted things around to let the air flow and let everything freeze again then turned the freezer temperature dial down to -5 to kick on the system. Still at 1 degrees. I proceeded to assemble the cookies with the ice cream, but literally it was melting a few minutes later. I kept fighting, hoping to scoop some, freeze the cookies and let the ice cream firm up enough to take pictures. The ice cream just wasn't freezing. Still at 1 degrees. I kept switching out cookies because the first few sandwiches were soggy from the mess. I had melted ice cream everywhere – the counter, my hands, my shirt, my foot. I turned on the Quick Freeze option in the freezer and managed some pictures.
Later that night, the freezer went up to 2 degrees. Panic! I cleaned out the freezer and made a little more room. Later on, it climbed to 4 degrees. 5 degrees! Operation Put Everything But The Ice Cream and Meat in the Fridge time! That must've done the trick because before I went to bed, it was back down to 2 degrees. When I woke up the next morning, it was at -7 degrees (I left the dial on -5 degrees overnight). My conclusion is I probably packed the shelves too much, hence blocking air flow. Guess I need to start eating more.
I guess that whole fiasco made these sandwich cookies a little more realistic right? I mean if you eat one of these babies outside in the hot summer sun, it's going to melt all over. I definitely have a lot more respect for ice cream photographers. So far I've failed with two out of four photos this week from the heat. I need liquid nitrogen or something.
The cookies themselves are chewy chocolate cookies with coconut and pecan stirred in. I debated on toasting the coconut and pecans, but you don't toast them for a traditional German chocolate cake. Ok so these cookies aren't true German chocolate cookies. German chocolate cake got its name from the type of chocolate used, named after Sam German. However, the flavor profile is still the same – chocolate, coconut, pecans. The filling is cooked sweetened condensed milk with coconut and pecans stirred in, very similar to German chocolate cake frosting. The ice cream is vanilla ice cream infused with toasted coconut. Mine is homemade, but if you happen to find coconut ice cream at the store, then feel free to substitute. If you don't have an ice cream maker, make sure you check out David Lebovitz' guide to making ice cream by hand, which is a technique I highly endorse. While you're at it, buy his book too.
As far as the taste, they taste like heaven. They are chewy, crunchy, cold, and just plain delicious. The perfect ending after saving the freezer.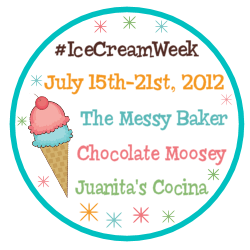 Be sure to stop by
Juanita's Cocina
and
The Messy Baker
for their #icecreamweek treats. 7 days! 21 treats! Hope you have your spoons and fat pants ready.
German Chocolate Ice Cream Sandwich Cookies
Each component needs to be made separately, but I promise the combination is worth it! Make the ice cream first, then the cookies, then the filling.
Ingredients
Toasted Coconut Ice Cream:
1/2 cup shredded coconut
1/2 cup whole milk
1 cup heavy cream
1/4 cup + 2 Tbsp sugar
Pinch of salt
1/2 vanilla bean
2 egg yolks
1/4 tsp vanilla
German Chocolate Cookies:
1 cup flour
1/4 cup cocoa powder
1/2 tsp baking soda
Pinch of salt
1/2 cup unsalted butter, room temperature
1/2 cup brown sugar
1/2 cup sugar
1 tsp vanilla extract
1 egg
1/2 cup shredded coconut
1/2 cup pecans, chopped
Coconut Pecan Filling:
7 ounces sweetened condensed milk
1 egg yolk
1/4 cup butter
1/2 tsp vanilla
2/3 cup shredded coconut
1/2 cup pecans, chopped
Instructions
Make the ice cream first: Preheat the oven to 350F. Spread the coconut on a baking sheet and toast, checking on it every 5 minutes until golden brown. Set aside and turn off the oven.
Meanwhile, in a medium saucepan, warm the milk, 1/2 cup cream, sugar and salt. Add the toasted coconut. Split the vanilla bean in half lengthwise. Scrape in the vanilla seeds and add the bean itself. Cover, remove from the heat, and let steep at room temperature for 1 hour.
After an hour, strain the mixture into another saucepan. Discard the coconut and vanilla bean. Warm the mixture.
Pour the remaining 1/2 cup cream in a large bowl and set in an ice bath.
In a separate small bowl, whisk the egg yolks with a little bit of the warm mixture. Slowly pour it back into the saucepan. Cook over medium heat until the mixture thickens and reaches 160F degrees. Strain the mixture into the reserved cream. Stir in the vanilla. Let cool to room temperature then freeze according to your method (machine or by hand).
To make the cookies: Preheat the oven to 375F degrees. Line two baking sheets with parchment paper or silicone mats.
In a medium bowl, whisk together the flour, cocoa powder, baking soda, and salt. Set aside.
In a large bowl, cream together the butter, sugars, vanilla and egg. Slowly add the dry ingredients. Stir in the coconut and pecans.
Scoop the dough by heaping tablespoons onto the cookie sheets. Bake 8-10 minutes or until the edges are firm. Let cool for 5 minutes before removing cookies to a wire rack to cool completely.
For the filling: In a medium saucepan, heat the milk, egg yolk, and butter. Cook until the butter has melted and the mixture is thickened and bubbly (keep whisking it or it will burn). Remove from the heat and whisk in vanilla, coconut and pecans. Cool before using.
To assemble: Scoop some of the ice cream onto one cookie. Add some coconut-pecan filling then top with another cookie. Repeat until all of the cookies are gone.
Source: Cookies adapted from
Pennies on a Platter
, ice cream from
The Perfect Scoop
, filling adapted from
Hershey's Make It Chocolate!
This post may contain affiliate links. As an Amazon Associate and member of other affiliate programs, I earn from qualifying purchase.