Copycat Dairy Queen Ice Cream Cake
Today is the day we all have been dreading. The end of #icecreamweek. We had so much fun sharing our 22 creations (Jennie gave us a bonus treat. Wasn't that sweet of her?), although our waistlines are pretty stoked #icecreamweek is over (except it's not in my kitchen). Instead of mourning the end, let's end with a bang! I'm talking ice cream, sprinkles, even a candle. Yes, I lit a candle for #icecreamweek. I mean this Copycat Dairy Queen Ice Cream Cake just screams celebration. You'd think I was celebrating someone's birthday. Hey, it's someone's birthday somewhere, right? We are talking a layer of chocolate ice cream topped with chopped Oreos and hot fudge sauce topped with vanilla and covered in whipped cream.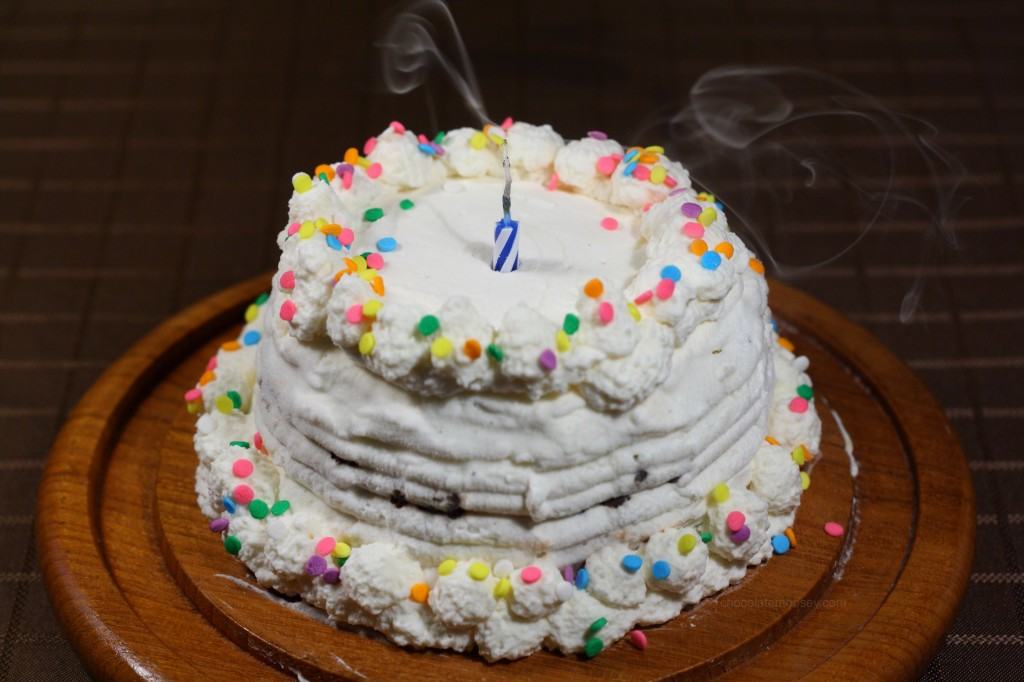 I love Dairy Queen's ice cream cake, especially the crunchy fudge part. My coworkers got me one for my birthday this year because they didn't want to bake a cake for a baker like me. Turns out it is super duper easy to make at home. You just need some patience because you have to freeze the cake after you add a component. Plan to make this cake at least a day ahead of time so you have enough freezing time. As you can see, I made a mini ice cream cake in a 4-inch springform pan. However, you can use a 9-inch springform pan with the same technique. Just multiply the ingredient list by 3.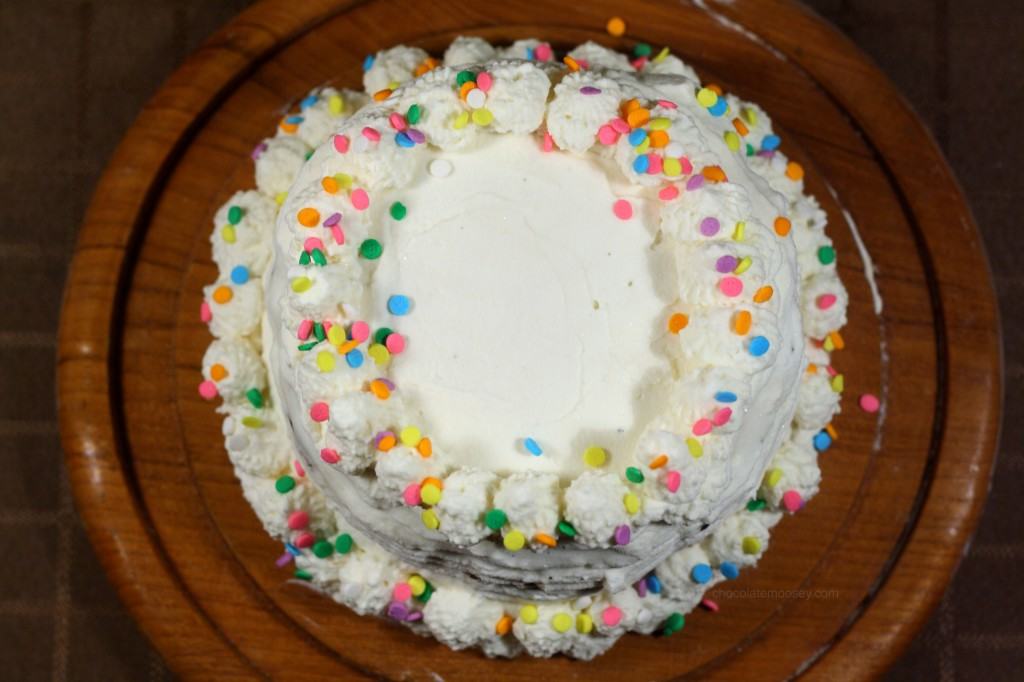 This Copycat Dairy Queen Ice Cream Cake is very versatile. Your typical cake is chocolate ice cream on the bottom and vanilla ice cream on the top, but you can use any flavor combination imaginable – chocolate and peanut butter, banana and chocolate, coconut and banana, brownie and cake batter, or just choose one flavor for both layers. Homemade or store-bought, nobody will judge. The middle is chopped up Oreo cookies mixed with hot fudge sauce, but you can mix it up with your favorite cookie (vanilla wafers, gingersnaps, chocolate chip, peanut butter, etc) and your favorite thick dessert sauce (caramel sauce comes to mind). Seriously, go wild.
This particular cake is Nutella ice cream, chopped regular Oreos mixed with my
Nutella Espresso Hot Fudge Sauce
, and store-bought vanilla ice cream (ran out of time and room for homemade. Tragic, I know). Then I frosted the outside with regular whipped cream. I need one of those cake spinning things so I can turn my cake as I frost it. Instead, it kept running away from me. Bad cake. I smoothed out the whipped cream with a knife then used this plastic tool thing with teeth to make the lines. Then I piped around the edges and decorated with sprinkles.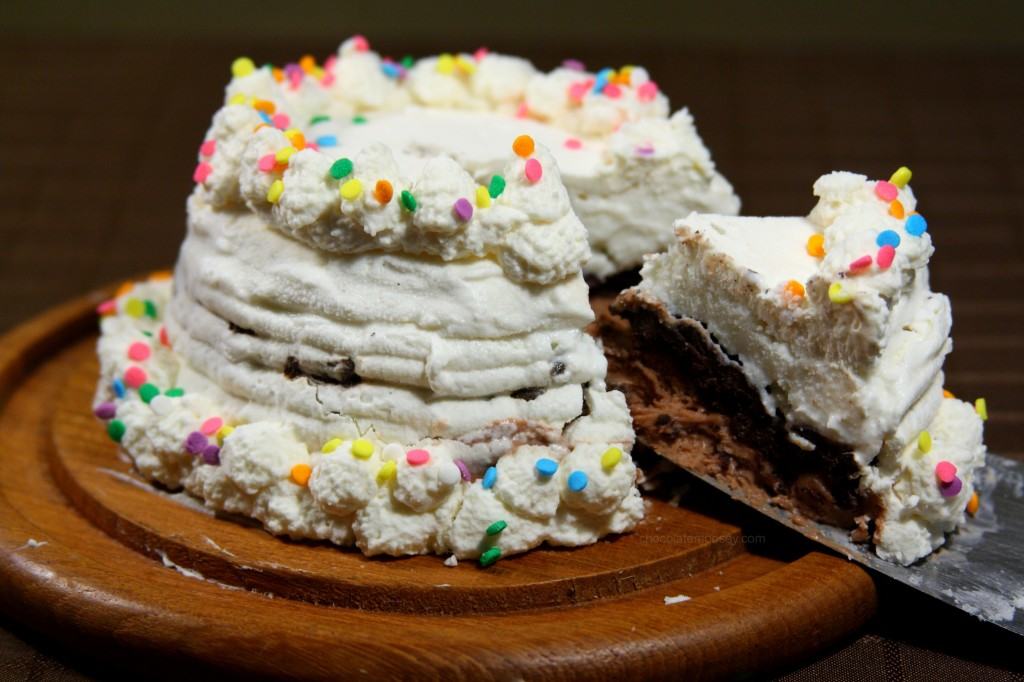 I'm pretty ambitious when it comes to recipes because I try to keep it homemade as possible. However, I know a few people who freak out over that thought, so here's the super duper duper easy ingredient list: store-bought chocolate ice cream, store-bought vanilla ice cream, Oreo cookies, store-bought hot fudge or chocolate syrup, cool whip. In a pinch, you could use whipped cream in a can and just smooth it all out with a knife.
Grab a slice of cake and check out these ice cream recipes from other bloggers! First up,
Susan from The Girl in the Little Red Kitchen
posted an ice cream round-up. Next,
Jen
,
Jennie
, and I decided to have a linky party today. That means if you have a frozen treat-related post, you can add your link to the widget.
Copycat Dairy Queen Ice Cream Cake
Plan on making this cake at least a day ahead of time. If you want to use a 9-inch pan, multiply the ingredients by 3.
Ingredients
Few scoops of chocolate ice cream
1/4 cup Oreo cookies, chopped into small pieces (not crumbs)
2 Tbsp hot fudge sauce
Few scoops of vanilla ice cream
1/2 cup heavy whipping cream
1 Tbsp powdered sugar
Few drops of vanilla extract
Sprinkles
Instructions
Start with the chocolate ice cream: Let it soften enough so you can spread it easily with a knife, but do not let it melt too much. Fill a 4-inch springform pan about 1/3 of the way full, smoothing out the layer. Freeze until firm.
Next, do the cookie layer: Mix the Oreo pieces and hot fudge sauce together then spread evenly on top of the chocolate ice cream layer. Freeze until firm.
Top with the vanilla ice cream: Let it soften enough so you can spread it easily with a knife, but do not let it melt too much. Fill the rest of the pan, smoothing out the layer. Freeze until firm.
Cover with whipped cream: In a medium bowl, beat the cream and sugar until stiff peaks form (when you pull the beaters straight up, the peaks should keep their shape). Spread most of it evenly on the top and sides of the cake until everything is covered. Put any remaining cream into a piping bag and decorate as desired. Top with sprinkles. Freeze until firm before serving.

');

This post may contain affiliate links. As an Amazon Associate and member of other affiliate programs, I earn from qualifying purchase.