Buffalo Ranch Caramel Popcorn
This small batch Buffalo Ranch Caramel Popcorn is sweet, salty, spicy, and crunchy all rolled into one bite. Serve this spicy caramel popcorn for Game Day or for movie night.

Everyone knows me as a sweets kind of girl, but honestly my weakness is snacks. Chips, nachos, popcorn, cheese puffs, crackers, beef jerky, even some weird wasabi nori snacks I buy at the local Asian market. I have pretty great self control around desserts, probably because I know that eating a dozen cookies is bad, but snacks? Once I ate a whole sleeve of Town House crackers as is, no dip or spread necessary. I know that's bad for me too, but for whatever reason it doesn't click in my brain. It's why I can't buy bags of potato chips because nobody else is around to eat them. I do keep a bag of popcorn kernels in my pantry so I'm not completely snackless. Hey, if I'm going to snack, might as well work for it, right? I'm not talking microwave popcorn either. I'm talking oil and kernels in a pan and heat until popping. It may not be much work, but I do have to stand by the stove shaking the pan around.
If I'm going to spend my calories snacking, then it needs to be worth it. Take this Buffalo Ranch Caramel Popcorn for example. Totally worth it. You got sweet, salty, spicy, and crunchy all rolled into one recipe. Even though I was reaching for a cold glass of water (I used too much hot sauce the first time around), I couldn't stop eating it. Good thing I only made a small batch of it. Since the recipe is based off of buffalo chicken wings (without the chicken part of course), this spicy caramel popcorn would be perfect to munch on during Game Day. And if it's no longer football season, movie night at home works too.
I first saw this recipe for buffalo wing popcorn in an issue of Bon Appetit magazine. Instantly I was intrigued and saved the recipe. At first I thought it would be a basic popcorn recipe with some cayenne sprinkled on top, but it was actually a spicy caramel popcorn made with hot sauce. Caramel popcorn and…hot sauce? Bon Appetit wouldn't have published it if it wasn't good, right? And right they were indeed as it was spicy, salty, sweet, and just plain addicting. I added my own touch with some ranch seasoning mix because after all, you can't have buffalo sauce without ranch.
I don't want to scare you, but you do need to be extra careful when boiling the sugar as it's super hot, hotter than boiling water. Don't have any distractions in the kitchen and make sure you leave an open path to your sink. Years and years ago I burned my finger while making caramel, so I'm extra cautious. Also, as tempting as it may be to lick the spatula when stirring the sauce with the popcorn, please don't. Your unburned taste buds will thank you.
Buffalo Ranch Caramel Popcorn
Yield: 2 cups
Prep Time: 15 minutes
Cook Time: 35 minutes
Total Time: 50 minutes
This small batch Buffalo Ranch Caramel Popcorn is sweet, salty, spicy, and crunchy all rolled into one bite. Serve this spicy caramel popcorn for Game Day or for movie night.
Ingredients
3 1/2 cups unsalted freshly-popped popcorn*
1/3 cup granulated sugar
2 tablespoons water
2 tablespoons hot sauce
1 tablespoon unsalted butter
1 tablespoon dry ranch seasoning mix
1/2 teaspoon salt
1/4 teaspoon baking soda
1/8 teaspoon ground cayenne pepper
Instructions
Preheat oven to 300F. Line an 8x8 pan or a rimmed baking sheet with parchment paper. Lightly spray a large mixing bowl with cooking spray and add the popcorn.
In a medium saucepan over medium-high heat, bring the sugar and water to a boil, stirring to dissolve sugar. Boil until it turns a deep amber color, swirling pan occasionally, roughly 5-10 minutes. Don't let it get too dark or it'll continue to cook and burn.
Remove from the heat and very carefully stir in the hot sauce and butter (mixture will bubble vigorously - take extra care to not let it splash onto your skin). Return to a boil and cook another 3 minutes.
Remove from heat and stir in ranch mix, salt, baking soda, and cayenne. Working quickly and carefully, pour caramel mixture over popcorn and stir to coat.
Spread the popcorn into a single layer in the prepared pan or baking sheet. Bake 10 minutes then stir. Bake an additional 5-10 minutes or until dry (it's ok if the popcorn is still slightly wet as it'll dry some more when cooling). Let cool completely before serving. Store in an airtight container for up to 2 days.
Notes
*3 1/2 cups of popped popcorn is roughly equal to 2 tablespoons unpopped kernels plus 1 tablespoon vegetable oil. To make popcorn on the stove: Find a pot with a wide bottom and a lid. Add the oil and stir to coat the bottom. Add the kernels and shake the pan until coated. Turn on the heat. Shake the pan every so often so the kernels move around a bit. After what seems like forever, a kernel should pop. Once that happens, add your lid. Once the popping stops, remove the pan from the heat. Pour into a giant bowl and let cool for a bit. Sift through popcorn to remove any unpopped kernels and possible burnt pieces.
Adapted from
Bon Appetit
More Popcorn Recipes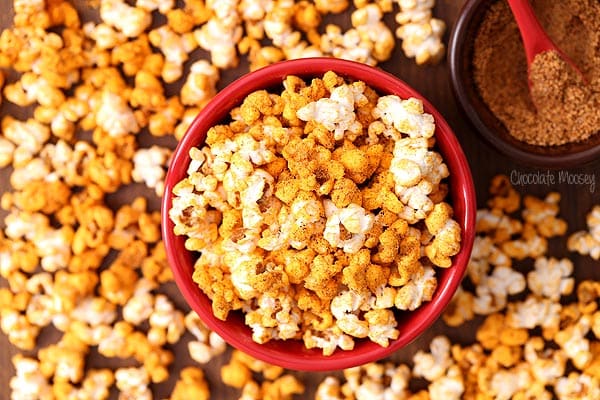 Chili Cheese Popcorn
This post may contain affiliate links. As an Amazon Associate and member of other affiliate programs, I earn from qualifying purchase.