Vanilla Honey Almond Cake
Warm up your oven with this irresistible Vanilla Honey Almond Cake with a triple dose of almond flavor and a generous brushing of vanilla honey.
Hello, Winter. I see that you have finally made your appearance, albeit rather late in the season, dumping multiple inches of snow on my car, freezing its doors shuts so neighbors are left thinking I'm crazy for kicking my car (FYI kicking your frozen car door does loosen it enough to finally pry the door open). The wind chill has become unbearable in the mornings and somehow managed to drop from -4 to -9 as the day progressed. The sun is out; how can the temperature be getting worse? You definitely spoiled us with your warm December. I guess we got too confident in thinking we lucked out skipping winter this year.
The best way for me to warm up my apartment is by turning on the oven (in addition to cranking up the heat and snuggling under a blanket, of course). Summer may be the season of no bake recipes, but winter is where it's at with baking because it conveniently doubles up as a heat source. Today's baking adventure is the opposite of my usual chocolate creations with Vanilla Honey Almond Cake. I never knew how much I loved almond until I had an almond stuffed croissant from a local French bakery. I don't even think almond was in my top 10 until that bite. Often times I think of almond as a mix in rather than the star of dessert, which is why I tripled the almond flavor in this almond cake with almond flour, almond extract, and of course plenty of fresh almonds. Top it off with a generous brushing of vanilla honey to tie it altogether.
What is almond flour? Almond flour is essentially ground almonds and is often used in place of flour made from wheat. Not only does it add a healthy boost of protein to recipes, it's also gluten free and low carb for those of you with those dietary needs. Although I'm neither of those things, I personally used
Bob Red Mill
's almond flour in my honey vanilla almond cake because I wanted an extra emphasis on the almond flavor. I didn't want it to be just another cake with a handful of almonds thrown in; I wanted it to be an in-your-face almond cake. With the almond flour, almond extract, and sliced almonds on top, there is no doubt that this is almond cake.
Believe it or not, I accidentally made this almond cake gluten free. It certainly wasn't my goal, but it is a nice perk for those who live a gluten free lifestyle. Just make sure you use gluten free baking powder if you're making this cake for a friend as not all baking powders are gluten free.
For more information about Bob's Red Mill, please visit their
website
and say hello on
Facebook
,
Twitter
, and
Instagram
.
Vanilla Honey Almond Cake
Yield: 8-10 servings
Prep Time: 20 minutes
Cook Time: 35 minutes
Total Time: 55 minutes
Warm up your oven with this irresistible Vanilla Honey Almond Cake with a triple dose of almond flavor and a generous brushing of vanilla honey.
Ingredients
4 egg yolks
1/4 cup honey
1 teaspoon almond extract
1 teaspoon vanilla bean paste*
1 3/4 cup almond flour
1 teaspoon baking powder
1/2 teaspoon salt
4 egg whites
1/4 cup granulated sugar
1 teaspoon lemon juice
Topping
2 tablespoons honey
1 tablespoon vanilla bean paste*
1/2 cup sliced almonds, toasted
Instructions
Preheat oven to 350F. Lightly grease an 8.5-inch or 9-inch springform pan.
In a large bowl with a whisk, beat together the egg yolks, honey, almond extract, and vanilla bean paste until smooth and yellow, 1-2 minutes. Whisk in the almond flour, baking powder, and salt. The mixture will be dry, almost like dough instead of cake batter.
In another large bowl (preferably a stand mixer with whisk attachment), beat the egg whites until they start to thicken. Gradually beat in the sugar and lemon juice and continue beating until soft peaks form (when you pull the beater up, peaks will form but fall over).
Using a rubber spatula, fold in 1/3 of the egg whites into the batter until it starts to loosen then gradually fold in the rest of the egg whites. The batter should be light, fluffy, and smooth.
Spread the batter into the prepared pan then bake 30-35 minutes or until golden brown and a toothpick inserted in the center comes out clean.
For the topping: In a small bowl, whisk together the honey and vanilla bean paste. Cool the cake 10 minutes then remove the sides of the pan. Immediately brush the top with the honey mixture then top with almonds. Cool before serving.
Notes
*To substitute for the vanilla bean paste, use vanilla extract + seeds from 1 vanilla bean
**It's very important your mixing bowl and beaters are very clean when beating the egg whites. Any trace of fat will cause the eggs to not whip properly.
Source: Cake base adapted from
King Arthur Flour
More Cake Recipes

Apple Cinnamon Coffee Cake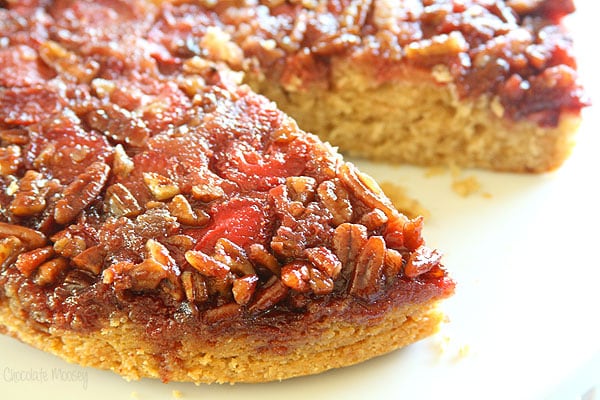 Award-Winning Strawberry Pecan Upside Down Spice Cake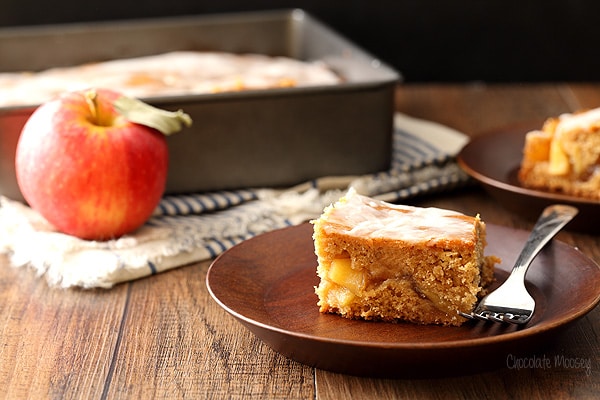 Apple Fritter Cake

Apple Butter Crumb Cake
Disclosure: This post is sponsored by Bob's Red Mill. Thank you for supporting me and the companies I work with as sponsored posts help pay for the costs of running Chocolate Moosey, including website hosting and groceries for recipe development.
This post may contain affiliate links. As an Amazon Associate and member of other affiliate programs, I earn from qualifying purchase.