Broccoli and Cheese Mashed Potatoes
Learn how to make mashed potatoes from scratch with Broccoli and Cheese Mashed Potatoes, made even better with a secret technique. Serve them as a holiday side dish or serve all year round with steak.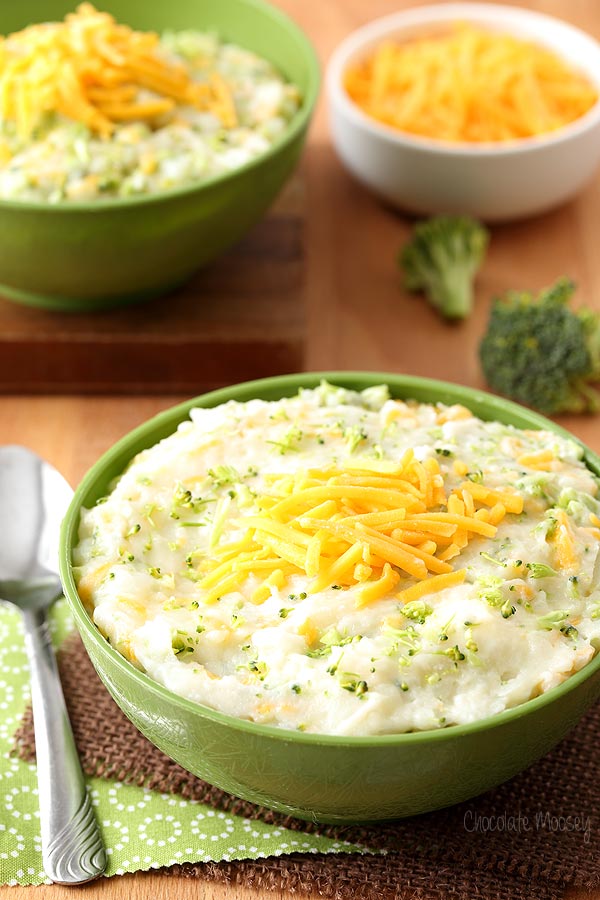 Once upon a time, I didn't know how to make mashed potatoes from scratch.
That all changed back in 2008 with my mashed potatoes for two recipe. Definitely way better than instant.
I remember at my previous job, we hired a caterer for lunch when there were training classes in session. I will never forget the one day I walked into the kitchen and caught the chef making instant mashed potatoes.
A chef. Making INSTANT mashed potatoes. Along with his assistant who baked boxed mix cupcakes. Maybe they should've paid me to cater.
What I love most about potatoes is that they are so versatile – side dish, main dish, snack, breakfast, lunch, dinner, sometimes even dessert (spudnuts anyone?).
You can serve them casually on a random Tuesday night or you can dress them up for the holidays.
With Easter coming up, there is always one potato dish at the table, whether it is stove top scalloped potatoes or mashed.
This year, I decided to change up my usual mashed potato recipe and make Broccoli and Cheese Mashed Potatoes, mainly because I love broccoli and I love cheese. I love potatoes and I love garlic. I love butter and I love milk.
Do you love these things too? Good because that's the entire ingredient list, so you'll love these broccoli mashed potatoes too.
Making small batch mashed potatoes is easier than you think.
When I was telling someone I cook for myself, she told me that she would have trouble cooking such a small amount of food as she was used to cooking for her family, including mashed potatoes.
After several years of making potatoes for myself, 1 pound Idaho potatoes makes about 4 servings of mashed potatoes.
You can scale it down even more by making only 1/2 pound potatoes, which makes just enough for 2 servings.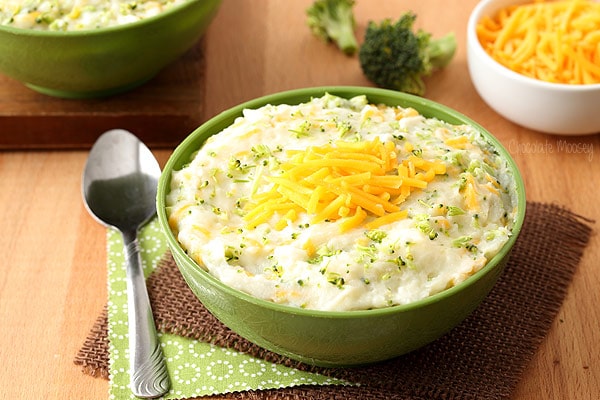 Even though these Broccoli and Cheese Mashed Potatoes are both Easter friendly, personally I love eating them all year round.
For the broccoli, I chopped it finely in my food processor, but you can also use your knife if you don't have one.
I personally don't need to serve them with gravy, but if you need a good gravy recipe, check out my homemade gravy without drippings or vegan mushroom gravy.
Oh and how could I forget my secret technique to making mashed potatoes even better – adding whole garlic cloves to the potatoes.
Seriously you won't believe the difference as you can taste the fresh garlic without that raw garlic taste.

Broccoli and Cheese Mashed Potatoes
Yield: 4 servings
Prep Time: 20 minutes
Cook Time: 15 minutes
Total Time: 35 minutes
Learn how to make mashed potatoes from scratch with these Broccoli and Cheese Mashed Potatoes, made even better with a secret technique.
Ingredients
1 pound Idaho® potatoes, peeled and cubed (roughly 2 large potatoes)
3 whole garlic cloves, peeled
1/2 cup (4 ounces) unsalted butter, softened and cut into 8 pieces
1/2 teaspoon salt
1/2 cup whole milk
3/4 cup finely chopped fresh broccoli*
1 cup shredded cheddar cheese
Instructions
Bring a large pot of water to a rolling boil. Once boiling, add the potatoes and garlic cloves. Cook until soft but not overdone, roughly 12-15 minutes. Drain.
In a large mixing bowl (or by hand with a potato masher), beat the cooked potatoes until mashed and smooth (do not overbeat). Beat in the butter and salt until completely incorporated then slowly beat in the milk. Stir in the broccoli and cheese. Serve immediately.
Notes
*I used a food processor to finely chop the broccoli, but you can also hand chop with your knife. Just make sure they are finely chopped into really tiny pieces.
More Potato Recipes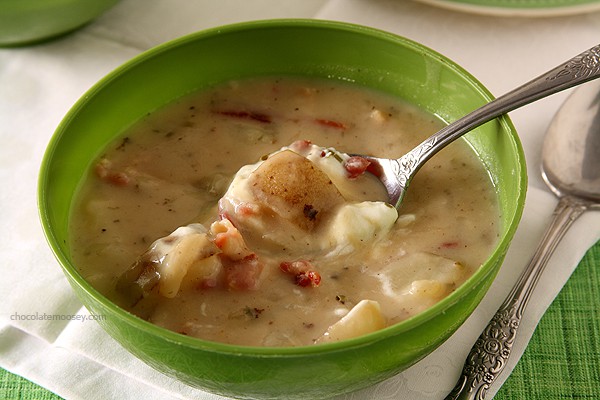 Baked Potato Soup

Italian Potato Salad
This post may contain affiliate links. As an Amazon Associate and member of other affiliate programs, I earn from qualifying purchase.