Beef Stir Fry Kabobs
Have you ever been bugged by the U.S. Census before? They ask you all of these ridiculous and somewhat evasive questions about your lifestyle. And once they pick you for their survey, they won't leave you alone for a year (wait until I tell you about that part). Anyway, I would like to thank the U.S. Census for almost ruining my plans with these Beef Stir Fry Kabobs – cubes of beef brushed with a sweet chili soy sauce mixture and threaded with mushrooms, broccoli, and bell peppers that you can either throw on the grill (or broil if a thunderstorm is rolling in). Dinner that can still be thrown together regardless of interruptions.
It all started with a letter in the mail, alerting me that I have been picked for this survey. However, they don't actually give you the questions. A representative will show up unannounced to ask you in person. Oh joy. I came home the next day with a "sorry we missed you notice" and "to call this number to reschedule." I did what most people would do and ignored it. A few weeks later, while I was in the middle of making dinner in unflattering sweatpants after a long day of work, I heard a knock at the door. Thinking it was my landlord who was up that weekend, I turned around and saw a random guy with a laptop. "It'll only take 10 minutes." I had to turn off what I was cooking and clear off my more-than-usual messy table. And it took more than 10 minutes. He was a chatty fellow.
A month later, while I was prepping these Beef Stir Fry Kabobs to grill before a huge thunderstorm rolled in, I get a phone call. Here is the U.S. Census calling me (on a Sunday!). Wait, what? I told him at least three times that I already answered the questions. He then tells me "it'll only take 10 minutes" (lies). When he said he would call next month, I asked why. He said, "Oh didn't the first guy tell you? We call you once a month for four months, leave you alone for eight months, then call you again for four months." And if you're thinking what's the big deal, these aren't "are you single or married" questions. These are "Do you have a savings account? A checking account? Both? When was the last time you made a deposit at the teller? At the ATM? Online? Has anyone ever bought you a prepaid gift card? Where was the gift card from? Why did they buy you this gift card? Have you used it in the last 6 months? Last month? Last week? Did you work last week? How many hours? Did you work overtime? Did you get paid overtime?"
So here I am behind on dinner prep with dark clouds looming overhead. I hurried up and got the kabobs assembled and set up my tabletop grill. I brought everything outside and turned on the grill. And I turned on the grill. Andddd I turned on the grill. Apparently the knob that controls the propane was broken. I had to hurry up and tear down everything because it started to rain. I finally got everything inside and cooked the kabobs under the broiler. I wish it had more of that charred look, but my oven is electric. You can't really char food with a coil.
Nevertheless, the kabobs tasted awesome. I love stir fry, and this is a great twist on cooking stir fry during the hot summer days. Plus it's a nice break from grilling hamburgers and hot dogs all the time. Since I love sweet chili sauce on just about anything, I subbed that into the marinade for the hoisin sauce. To make it a full meal, serve it on top of rice.

Beef Stir Fry Kabobs
Yield: 2 servings
Prep Time: 1 hour 30 minutes
Cook Time: 12 minutes
Total Time: 1 hour 42 minutes
Beef stir fry kabobs with vegetables
Ingredients
1/4 cup sweet chili sauce (store bought or homemade)
1 1/2 tablespoons beef broth or water
1 tablespoon vegetable oil
1 1/2 teaspoons soy sauce
1/2 pound beef tenderloin, cut 1-inch cubes
1 cup broccoli, cut into florets
1 cup red, yellow, orange, and/or green bell peppers, cut into chunks
1 cup mushrooms, cut in half
Hot cooked rice, to serve
Instructions
In a medium bowl, whisk together the chili sauce, beef broth/water, oil, and soy sauce. Reserve half of the mixture. Toss the beef with the remaining sauce. Marinade for at least 1 hour.
Preheat the grill or broiler. Alternatively thread the beef, broccoli, pepper, and mushrooms onto skewers (if using wooden, soak them in water before grilling). Grill covered over medium heat (or broil) for 5-6 minutes on each side or until meat reaches desired doneness and vegetables are crisp tender, basting occasionally with reserved marinade. Serve over hot cooked rice.
Notes
© Chocolate Moosey. All images and content are copyright protected. Please do not use my images without prior permission. If you want to republish a recipe, please rewrite it in your own words or link back to the post for the recipe.
Source: Adapted from
Taste Of Home
—-
If you liked these Beef Stir Fry Kabobs, you may also like these recipes:
From me: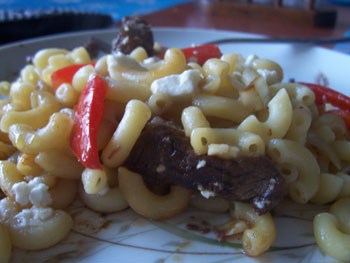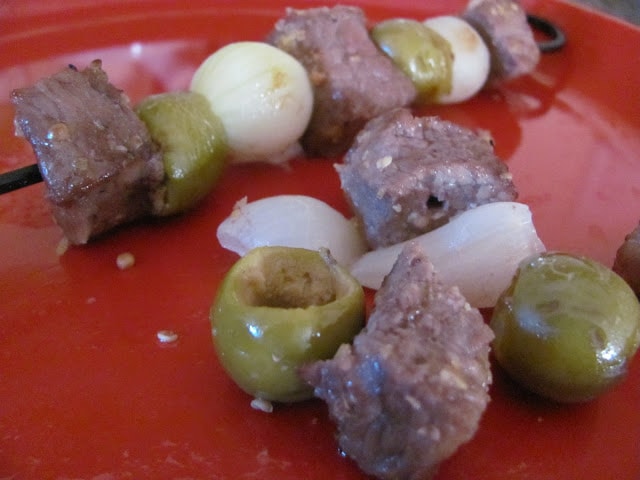 From other bloggers:
This post may contain affiliate links. As an Amazon Associate and member of other affiliate programs, I earn from qualifying purchase.