Chocolate Peanut Butter Cup Cheesecake Squares
Can you believe it's almost July already?! Seriously, it feels like just last week I was
picking strawberries
and celebrating Father's Day. Now here we are getting ready to celebrate 4th of July (and July 1st for my Canadian friends). Holidays mean parties, and the Holiday Food Bloggers are back to bring you sweet eats. I'm bringing Chocolate Peanut Butter Cup Cheesecake Squares because what's a party without cheesecake? I thought about doing something red, white, and blue, but my inspiration just wasn't there. Instead, I went with my craving and made squares of layered chocolate and peanut butter cheesecake with an Oreo crust.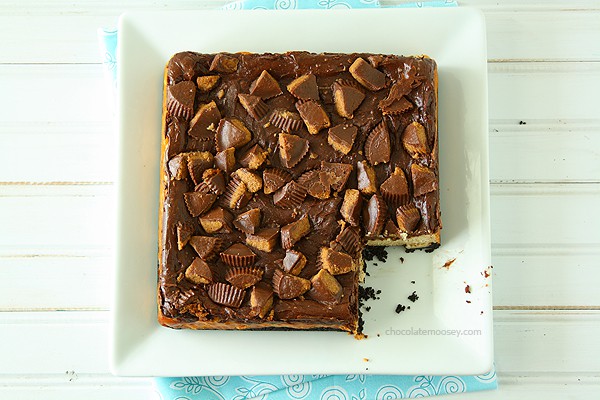 I first got the idea when I saw cheesecake squares that were layered with Nutella. Nutella and peanut butter have the same consistency, so I knew I could swap them. Then I took it one step further and sprinkled Reese's peanut butter cups on top (wait, do they even make other brands of peanut butter cups?).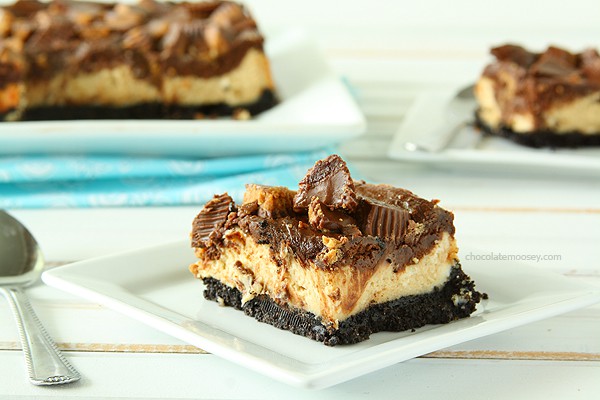 Usually if I bring food to a party, I try to make sure it is something that can be easily served. It's a lot harder trying to fit a slice of cheesecake onto your already-overflowing plate than to simply place a square on top. Now if you pile on the whole pan, then that might be a different story.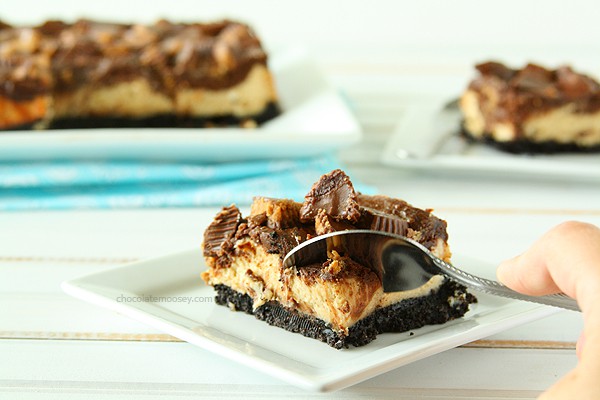 You don't need a celebration to make these cheesecake squares though, despite my coworker's reaction. He doesn't understand why I make dessert "for the hell of it." Let me get this straight – you are questioning free food? Do you know how many people would fight for free cheesecake? I bake because it releases the chaos going on inside my head. I tend to be misunderstood at work, and baking (and blogging) gives me a sense of belonging.
You may now lick the screen.

Chocolate Peanut Butter Cup Cheesecake Squares
Chocolate Peanut Butter Cup Squares
Ingredients
2 cups Oreo crumbs
4 tablespoons butter, melted
16 ounces cream cheese, softened
1/2 cup granulated sugar
2 eggs
1/4 cup heavy whipping cream
1 teaspoon vanilla
2 ounces semisweet chocolate, melted
1/2 cup peanut butter
1 cup chopped peanut butter cups
Instructions
Preheat oven to 325F degrees. Line an 8x8 pan with parchment paper (or lightly grease the pan).
In a medium bowl, mix together the Oreo crumbs and butter. Press evenly into the bottom of the pan. Bake 10-12 minutes or until set. Let cool completely.
In a large mixing bowl, beat together the cream cheese and sugar until creamy, 2-3 minutes. Beat in the eggs, one at a time, until smooth. Beat in the heavy cream and vanilla.
Remove half of the batter and place in a bowl. Beat in the melted chocolate until blended. Set aside.
With the remaining batter, beat in the peanut butter until smooth. Spread the peanut butter batter over the cooled crust then spread the chocolate batter on top. Top with the chopped peanut butter cups. Bake 35-40 minutes or until the center slightly jiggles. Cool completely to room temperature then chill in the refrigerator for at least 3 hours or overnight.
Notes
© Chocolate Moosey. All images and content are copyright protected. Please do not use my images without prior permission. If you want to republish a recipe, please rewrite it in your own words or link back to the post for the recipe.
Source: Adapted from
Tide and Thyme
—-
If you enjoyed my Chocolate Peanut Butter Cup Cheesecake Squares, you may also enjoy these recipes from me:
What's a party without awesome friends? And boy, do I have awesome friends. I teamed up with these talented bloggers who share my passion to bring you the best recipes:
1. Berry Cheesecake Crumb Tart from Hungry Couple NYC
2. California Burgers from That Skinny Chick Can Bake
3. 4th of July Ice Cream Cones from Roxana's Home Baking
4. Red, White & Blueberry Parfaits from Cravings of a Lunatic
5. Red, White & Blue Deviled Eggs from Created by Diane
6. Summer Berry Pizza from Magnolia Days
7. Sparkling Pineapple Cake Martini from The Messy Baker
8. Red, White & Bleu Mac 'N Cheese from Juanita's Cocina
9. Red, White & Blue Vanilla Bean Spritzers from Pineapple and Coconut
10. Red, White & Blue S'mores Pies from Big Bears Wife
11. Lemon Raspberry Sugarless Cookies from What Smells so Good
12. Chocolate Peanut Butter Cup Cheesecake Squares
13. Berry Trifle from Jen's Favorite Cookies
14. Watermelon Mojito Ice Pops from Girl in the Little Red Kitchen
This post may contain affiliate links. As an Amazon Associate and member of other affiliate programs, I earn from qualifying purchase.