Learn how to make these delicate and fruity Small Batch Soft Orange Cookies with Orange Cream Cheese Frosting using orange marmalade. Perfect to add to your holiday cookie tray!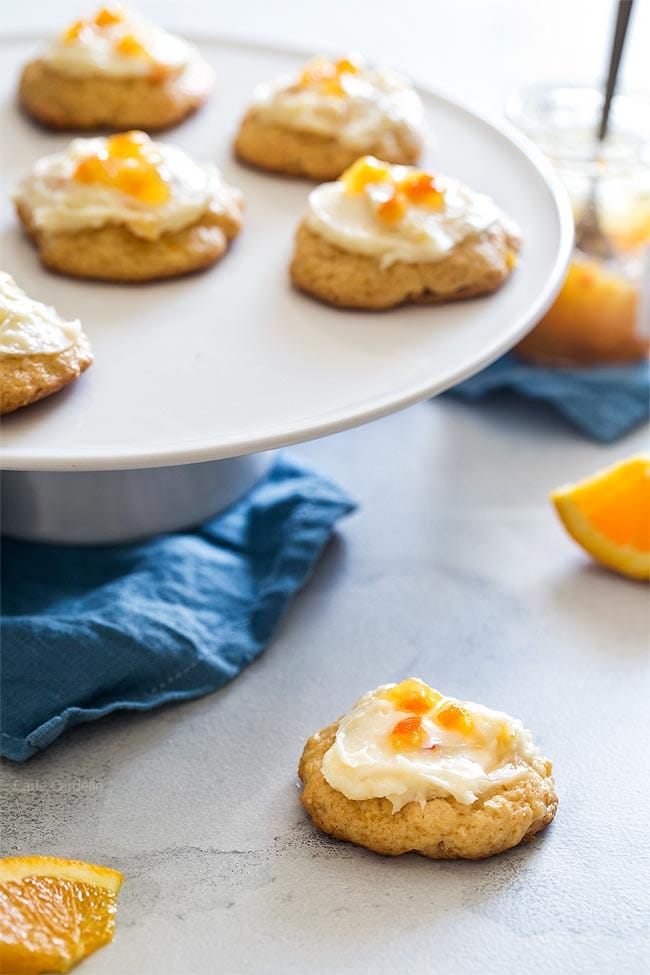 With the holidays coming up, have you started thinking about your cookie list yet? Last year I wrote about
How To Make The Best Christmas Cookie Tray
. In that post I talk about needing a variety of textures and flavors.
One cookie recipe you NEED to add this year is these Soft Orange Cookies with Orange Cream Cheese Frosting! They're really easy to make with some orange marmalade added to both the dough and the frosting.
They're soft and delicate, a nice change up from the usual chocolate chip and gingerbread. This small batch recipe makes roughly 9 cookies. A little more than half a dozen but less than most recipes which make several dozen at once.
I know the term small batch and Christmas cookies don't necessarily go hand in hand, but this allows you to bake up a variety of cookies without going overboard. If you're like me, I only have a handful of people I see for the holidays. Serving 5 dozen cookies means many cookies wasted!
There is some good and bad news with this recipe. Bad news is you have to wait for the dough to chill. The good news is you can make it ahead of time and store in the fridge or freezer until ready to serve. That helps make your holiday planning less stressful.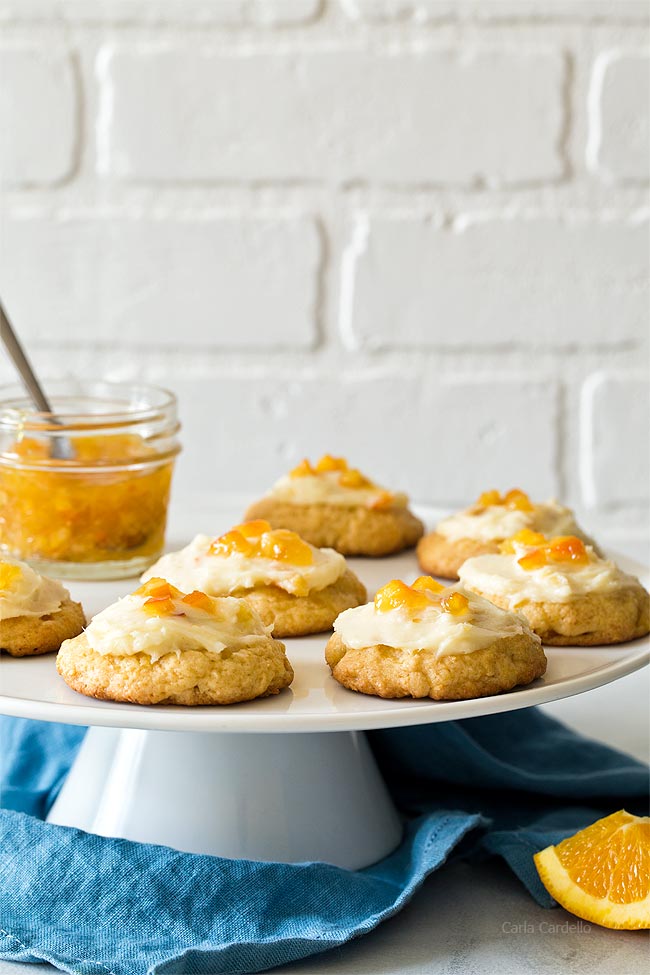 As I mentioned, this recipe makes 9 cookies. In order to make such a small quantity, that means using 1 egg yolk, which leaves you with an extra egg white. I have a list of recipes using
leftover egg whites
so it doesn't go to waste. I highly recommend making my
Flourless Chocolate Cookies
(also perfect for the holidays!)
To give these cookies their orange flavor, I used
La Vieja Fabrica
– a fruit spread made with fresh fruit pieces.
Their Sweet Orange flavor is similar to orange marmalade in both texture and taste. Their cooking process allows them to retain the natural texture, color, and flavor of the fruit, which means the spread tastes homemade without you having to make it. This saves you time while you're in the middle of the busy holiday season.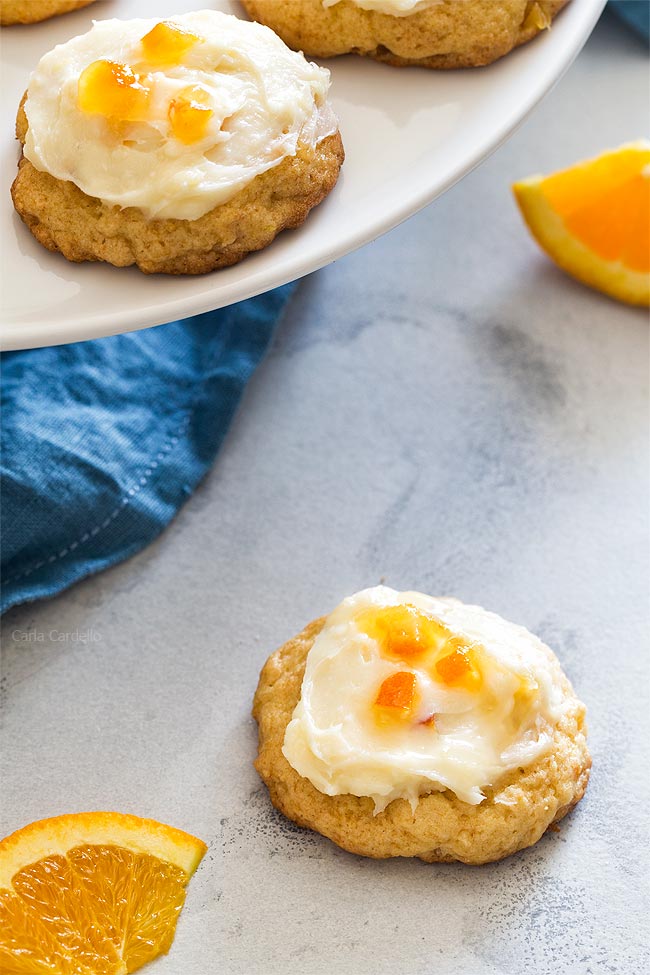 For the frosting, I cut my
Small Batch Cream Cheese Frosting
in half then added some orange marmalade. This gives the cookie some tang and creaminess on top to complement the soft texture underneath.
Bonus – With Halloween soon, you can add some black sprinkles on top for Halloween colors!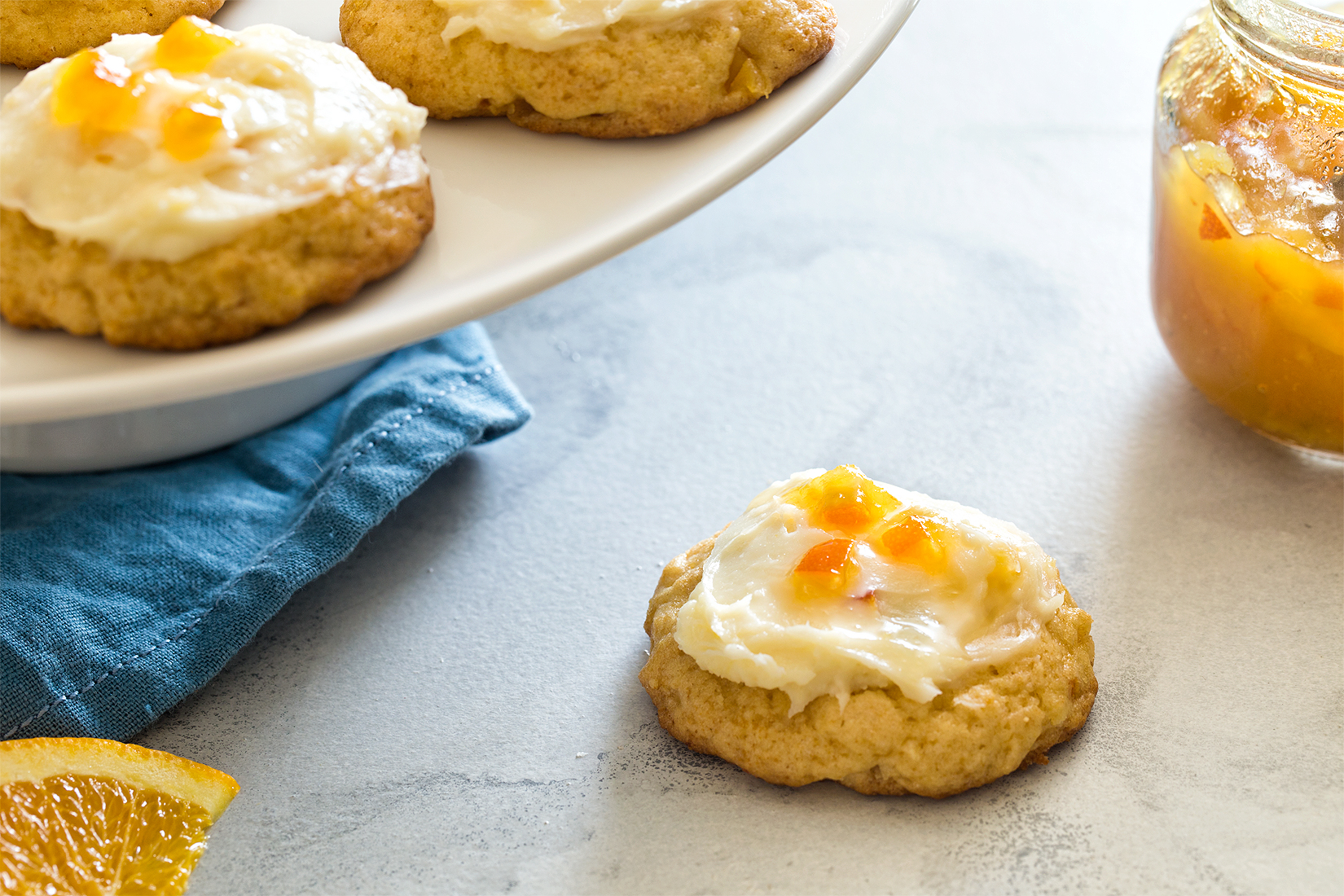 Small Batch Soft Orange Cookies
Prep Time:
1 hour
20 minutes
Total Time:
1 hour
30 minutes
Ingredients
3/4 cup all-purpose flour
1/4 teaspoon salt
1/8 teaspoon baking soda
1/4 cup granulated sugar
2 tablespoons unsalted butter, softened
1 tablespoon orange zest
1 egg yolk
1/2 teaspoon vanilla extract
1/4 cup La Vieja Fabrica Sweet Orange Fruit Preserves
Orange Cream Cheese Frosting
2 tablespoons unsalted butter, softened
2 ounces full-fat cream cheese, softened
1/4 cup powdered sugar, sifted
Pinch of salt
1/8 teaspoon vanilla extract
1 tablespoon La Vieja Fabrica Sweet Orange Fruit Preserves
Instructions
In a medium bowl, stir together the flour, salt, and baking soda.
In a large mixing bowl, beat together the sugar, butter, and orange zest until light and fluffy, about 1-2 minutes.
Beat in the egg yolk and vanilla then beat in the fruit preserves.
Gradually beat in the flour mixture until incorporated and a dough forms. Wrap dough in plastic wrap then refrigerate until cold, about 1 hour.
Preheat oven to 350F. Line a baking sheet with parchment paper.
Using a #40 cookie scoop or by hand, roll the dough into 1 1/2-inch balls then place on the baking sheet about 2 inches apart.
Bake 8-10 minutes or until golden brown and set. Cool on the sheet for 5 minutes then transfer cookies to a wire rack to finish cooling.
For the frosting:
Nutrition Information:
Serving Size:

1
Amount Per Serving:
Calories:

979
Total Fat:

30g
Saturated Fat:

16g
Cholesterol:

255mg
Sodium:

955mg
Carbohydrates:

163g
Sugar:

86g
Protein:

14g
More Soft Frosted Cookies For The Holidays
Disclosure: This post is sponsored by Mario Camacho Foods and also contains Amazon affiliate links. Thank you for supporting me and the companies I work with as sponsored posts help pay for website hosting and groceries.