No more boring white rice when you add Pecan Cranberry Rice Pilaf with Caramelized Onions to the table! Serve it as a festive and hearty side dish for Christmas dinner or alongside meat as a comforting winter meal.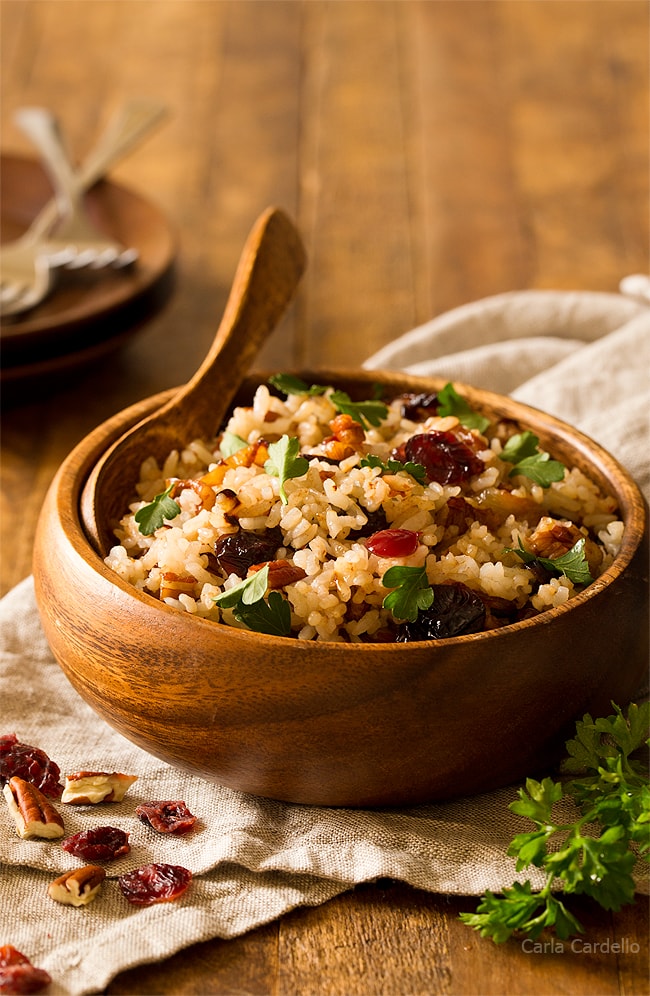 Now that we talked about
how to make the best cookie tray
, how about something a little savory to get you through the holidays?
As much as I love cookies, at some point you need to eat real food so you aren't in a constant sugar coma.
One request I got from you is to include more side dishes. Since we're almost halfway through December, I wanted to make something festive and easy to serve for Christmas dinner (although if you don't celebrate Christmas, it still makes a delicious winter side dish).
I don't think I can get any more holiday than Pecan Cranberry Rice Pilaf with Caramelized Onions (unless I add candy canes or something. Which I'm not). Cranberries and pecans seem to be prominent flavors for winter. Why not add them to dinner?
After frying up some onion in butter, you then add pecans, dried cranberries, and of course rice. It's buttery and toasty with some sweetness and crunch.
Whether you're serving lamb chops for Christmas dinner or honey mustard chicken thighs for a normal everyday meal, cranberry rice pilaf is hearty side dish that complements meat well.
What is rice pilaf? Rice pilaf is a side dish where you fry the rice in oil or butter for a minute or so before you finish cooking it.
The difference between white rice and rice pilaf is you boil white rice in water which has little flavor while rice pilaf has much more flavor from the fat.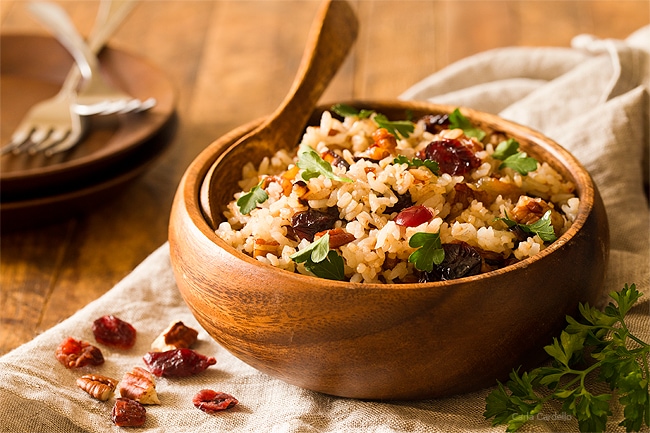 You often fry a few vegetables first before adding the rice, usually onion and carrots. In this case, we're frying up some caramelized onion.
Caramelizing onions takes some time, but they're oh so worth it. They are cooked low and slow in butter for about 20 minutes until they turn a nice golden brown color. You might need to make a double batch as you, uh, taste test during the process.
To make cooking rice pilaf even faster, I used
Veetee Rice
which cooks in only a few minutes without adding any liquid. You don't need to wait for broth to come to a boil and be absorbed by the rice. Just add and fry for 2-3 minutes until soft. I used their white long grain rice, which you can find near you via their
store locator
.
It's ideal to use when you forget to include a side dish with your meal. Or you're making Christmas dinner and you're trying to cook everything at once. Or you made Slow Cooker Gyro Rice Bowls and don't want to wait for traditional rice to cook.
And if you find yourself with leftover holiday ham, you can use it up in my Hawaiian Fried Rice recipe.
Pecan Cranberry Rice Pilaf with Caramelized Onions
Ingredients
2 tablespoons unsalted butter
Half of a small onion, sliced
1/2 cup chopped pecans
1/2 cup dried cranberries
1/2 teaspoon salt
1 tray Veetee Dine-In Long Grain White Rice
1 tablespoon fresh chopped parsley
Instructions
In a large skillet, melt the butter. Add the sliced onions and a big pinch of salt. Cook for 20 minutes or until golden brown, stirring every few minutes and scraping any bits that form on the bottom.
Add the pecans, cranberries, and salt. Cook for 2-3 minutes or until the pecans are toasted.
Crumble the rice into the pan. Stir to coat and cook for 2-3 minutes or until softened. Stir in the parsley.
Disclosure: This post is sponsored by Veetee Rice. Thank you for supporting me and the companies I work with as sponsored posts help pay for website hosting and groceries.